A Softer Touch
27 Mar 2014
Love brings new light to Robert Maniscalco's work
By JASON A. ZWIKER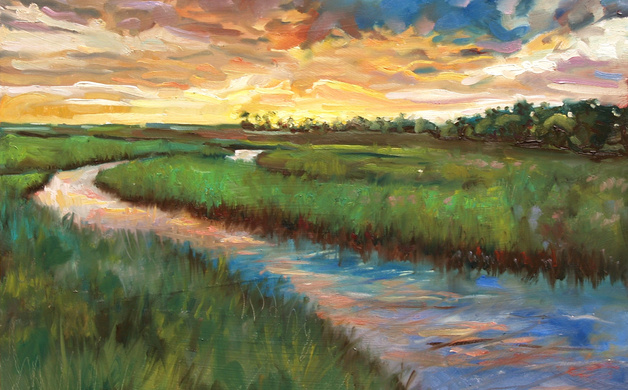 Cate's son was going through a troubled time in his life. His artistic talent was obvious: he painted canvas after canvas, releasing the strange and beautiful scenes that played in his mind. But he still needed guidance, an experienced artist to teach him how to channel that creative energy and focus it in a way that would help him achieve his goals.
Cate knew the perfect person to call: her childhood friend, Robert Maniscalco, who grew up just down the road from her in St. Clair Shores, Michigan.
Even though Maniscalco was now 900 miles away, living in Charleston, he was happy to help. His mentoring of her son had a happy side effect. It brought him and Cate back together, closer than ever. They married in the summer of 2012.
"Cate was the missing piece in my life," he says. "She's brought a softer touch to my life, my work, my art."
This intersection of family and art is nothing new for Maniscalco. Painting is a family tradition for him. His father, Joseph Maniscalco, with whom he apprenticed in the early 1980s, is an internationally renowned portrait artist.
The light and shadow, mood and character, that distinguish Maniscalco's work are well rooted in those early days. His methods are in the classical tradition of Rembrandt, Velazquez, and Sargent. He has now been painting commissioned portraits and fine art for over 30 years. Today, his works are part of over 850 private and public collections.
Before coming to Charleston, Maniscalco lived in Detroit, New York City, and New Orleans. He not only painted, but also worked as an actor and director. In Detroit, he was the host of Art Beat, a celebrated PBS series, and he has also shared his vision in two portrait painting instructional DVDs called The Power of Positive Painting.
While those classical painting methods remain timeless, Maniscalco has found that marketing – the way in which an artist interacts with the community and finds new clients – has changed dramatically in the early years of the twenty-first century and is continuing to change, all the time.
He credits Cate with modernizing his approach to that. "Ideas can be very delicate," he says. "Sometimes you just need someone to listen and say, 'That does sound good'. I feel free now. I've felt that way since we've been together. I feel more open to exploring possibilities."
These days, his acting and artistic talents often go hand in hand at social events. He'll show up dressed as Picasso, John Sargent, or an artistic take on Quick Draw McGraw, depending on the party theme and age level of the party guests.
"It's a lot of fun to dress up as one of them while I'm doing sketches for guests at a party," he says. "There's a famous story of how Picasso would do a sketch on a napkin to pay for a dinner. I always add little touches like that while I'm in character to make it more fun for everyone."
When he's not painting portraits or performing, he's busy putting pen to paper. One of his current passions is writing plays, including a play about Vincent Van Gogh with a modern spin that he would love to see at Spoleto one day.
He is also hard at work on fine art projects depicting scenes and faces of the South Carolina Lowcountry. Future plans include exploring the globe, traveling to different parts of the world, gathering reference material, and creating exhibits in support of causes that would help people in need.
Giving back to his community is an important part of his life and work. He is a tireless advocate for the arts, benefits charitable causes such as medical research and the fight against homelessness through the donation of his work, and has a great interest in the artistic advancement of Charleston.
"A big part of my mission as an artist is education," he says. He loves the way in which painting puts the mind in another place and sees the benefit this can have for people with chronic pain and illness. "The meditative process of painting takes your mind out of your body."
He and Cate are fond of hosting "Brush with Wine" events, sharing the joy of creating truly wonderful art with others. Not only do these evenings produce an abundance of great art, they are also all-pressure-off ways for people to get together and simply have a great time. Maniscalco uses The Power of Positive Painting, a system he developed that breaks the complexity of painting down into easy to understand steps, to make the process of learning fun and relaxing for everyone involved.
One piece that Maniscalco would very much like to see added to this mix is a Charleston atelier, dedicated to the teaching of traditional painting methods.
The benefits of bringing artists together to learn and create would be substantial. It would be another piece clicked into a puzzle that has been taking shape quite nicely over the last several years. And with decades of experience as a professional artists behind him and nothing but new ideas ahead of him, Maniscalco is in prime position to be a vital part of that.
"What's happening in Charleston right now is this explosion of the avante-garde," he says. "Artists are less afraid to take risks now. They're exploring new possibilities, new ways of expressing themselves. It's an amazing time to be here." 843-486-3161, maniscalcogallery.com