A Strong Economic Engine
01 Jul 2012
Charleston's port serves as a springboard to the world, and Jim Newsome stands at the helm leading the way for viable expansion and growth efforts.
By DENISE K. JAMES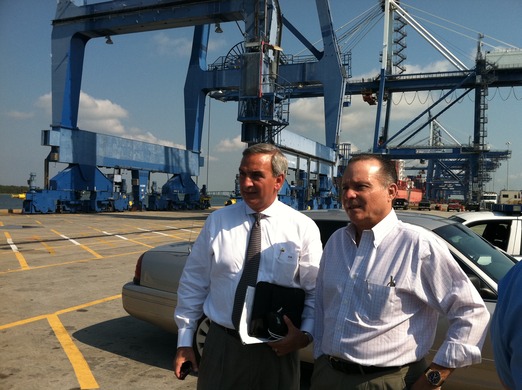 Jim Newsome, President & CEO of the South Carolina Ports Authority, has always had a life near water. While growing up in his hometown of Savannah, GA, Newsome spent plenty of enjoyable Saturday afternoons with his father, who, at the time, was Director of Operations at the Georgia Ports Authority.
"We would even bring the family dog along," Newsome recalls. "It's no wonder that I became engaged in ports and in the shipping business; I learned about it at a young age and it piqued my interest."
Newsome later attended the University of Tennessee-Knoxville and studied logistics and transportation. His career, spanning the time between his college graduation and relocating to the Charleston area in 2009, included working with Nedlloyd, a large shipping line in Atlanta, GA, as well as Hapag-Lloyd out of Atlanta, and briefly New Jersey.
"While I was working with Hapag-Lloyd I was promoted to President of the Americas," says Newsome. "I commuted for eight months between New Jersey, where my new position was located, and Atlanta. Then, I was offered my current position in Charleston and I accepted it."
Working with the container shipping lines for thirty years was rewarding, according to Newsome, but when he became the leader of the South Carolina Ports Authority, he was ready for the change.
"I had always been in container shipping and I had always liked it," he says. "But I wanted a new challenge – and this is a phenomenal port to be part of in terms of the folks who work here and the physical attributes of the port."
"What do you mean by physical attributes?" I ask.
"Well, this is an ocean harbor," he explains. "It's easy to maintain because of that fact. There's a short entrance from the sea to the dock. We also enjoy decent highway access from all over the Southeast."
Newsome focuses a great deal on exports, many local, which is a fact that may surprise people at first.
"In the last five years, I would say that the country has been recommitting to a healthy amount of exports," he says. "Just a few years ago, we would have never believed that today we would export as much as we import. But China, for example, is growing a larger middle class, and those people desire agricultural products made in the United States. We also have customers in Denmark, Germany, Singapore, Japan and elsewhere; I do a good bit of traveling. It's definitely a global business."
Newsome is optimistic regarding the number of goods that South Carolina alone is producing and exporting.
"If you make the right products, the world will ask that you export them; it's as simple as that," he says. "A port is an economic engine for a state, and we've become very volume-focused in Charleston. We're exporting cars by BMW, for example, and tires from Michelin. We also move a lot of refrigerated poultry."
One of the primary reasons that Newsome is passionate about his job is because of the opportunity to work with Charleston's maritime community. He notes that the amount of growth Charleston's port is experiencing is a collaborative effort.
"I'm responsible for about 500 members of our port staff but, in a way, the livelihood of the entire maritime community," he says. "We need to make sure that the opportunities to work in this industry are growing – and they are."
The growing opportunities in our port system are due to abundant changes, including deepening the Charleston harbor and the establishment of an enhanced, but still modest, presence of cruise ships.
"We're investing a total of 1.3 billion dollars in the next ten years for new infrastructure to help this port prosper," says Newsome.
That may sound like a lot of money, but Newsome is quick to point out that Charleston is actually one of the most economical harbors to work with, especially when it comes to deepening the harbor.
"Because of the port's proximity to the ocean, we have one of the least expensive harbors to deepen," he says. "We actually already have the deepest harbor in the southeast region; it's 45 feet deep at low tide. Our aim, however, is to make the harbor at least 50 feet deep. That way we can accommodate large ships any time of day, not just during high tide. We have an excellent partner in the Army Corps of Engineers to work with in deepening our harbor."
Happily, the state of South Carolina is helping out with the costs of the harbor project.
"We don't own the harbor; the federal government does," says Newsome. "Still, it has to be run just like a business in order to prosper. The state legislature has been extremely supportive; South Carolina will share 60% of the cost and is in the process of reserving the entire cost of the deepening."
Besides deepening the harbor, the South Carolina Ports Authority is developing 280 acres of new terminal space at the former Navy Base over the next several years.
"Ultimately, to grow the port, you have to increase the cargo base and update the technology," says Newsome. "We're working on all of that."
The new cruise ship terminal has been a hot topic for Charleston residents, and Newsome feels confident in the city's gain from it.
"We've had Carnival Cruise Lines leaving from Charleston the last two years and it has been excellent for the port," he says. "We've engaged the community regarding the redevelopment of Union Pier; everyone agrees that the pier ought to be redeveloped, even those opposed to the cruise ships."
"What would you say to those who are opposed?" I ask him.
"We've limited ourselves voluntarily to 104 cruise ships per year," Newsome says. "The market isn't larger than that. It's just one ship at a time, no more than what we've always had. What will change will be the operation—it will become more efficient, and that's a good thing."
Newsome's "extracurricular" activities include serving on the Board of the Governors at the College of Charleston's Business School, which he claims is rewarding.
"It's great; I get to mentor business students who are interested in logistics and transportation, among other responsibilities," he says.
His personal life is rich in passion for the coast; he says that water has always represented a source of peace for him.
"My favorite thing to do in the Lowcountry is to sit on the beach and read a book," he says with a smile. "Right now, I'm enjoying Bob Lutz's book, Car Guys Vs. Bean Counters. I prefer to read nonfiction."
During down time, Newsome and family enjoy retreating to their condominium on Hilton Head Island, playing golf, and just being together.
"It feels good to see my family and get out of the public eye for a while," he says, grinning. "I'm not all about busy events but I do like to enjoy the local restaurants. My favorites are Halls Chophouse, Trattoria Lucca, Langdon's and Red Drum in Mount Pleasant, and all the Maverick restaurants."
Perhaps the most memorable thing about Newsome is his love for South Carolina's blend of progress with the past–a characteristic that, he feels, is symbolized by the Charleston port.
"This port is historic; it has been around for 340 years," he says. "We would never want to repudiate that history. The state of South Carolina has a healthy respect for tradition, but there's a distinct nod to the modern. The Port of Charleston represents that."