The joy of fly fishing is a deep rooted obsession for guide and store owner Scott Davis.
By JASON A. ZWIKER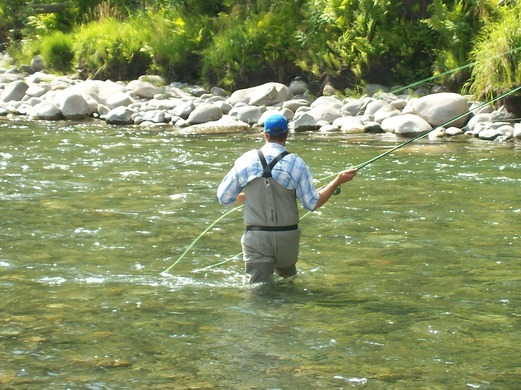 It can be a blissful, meditative ease that melts your worries away or a white knuckle ride. It just depends on whether or not the fish come out to play.
Scott Davis has always enjoyed fly fishing. He caught that bug from his dad and granddad. Sometime during high school, however, "like to" turned into an outright obsession.
Today, he's living his dream at Lowcountry Fly Shop. He launched the business a couple years back with Michael Bruner. It's not only the go-to place for gear, it's also a place to rub elbows and swap stories with fellow fly fishers.
"There's just something about fly fishing," Davis says. "It takes you over. There's always another step you can take." When he speaks about it, you can hear his admiration for the strange mix of simplicity and complexity fly fishing presents. On one level, it's just you, a rod, and a fly. Maybe a boat if you don't want to disappear into the pluff mud in route to the flooded grass flats.
"When the redfish go in there to eat crabs, the heads go down and the tails pop up," he says. "So you know where to cast." That's where the art - the obsession - begins. Learning where the fish you want will be and when they'll be there. How's your casting? Is there room to improve? As well, the flies aren't machine made, they're hand tied, which introduces a whole new skill set.
"You can always find ways to make a fly better, make it your own." In fact, fly fishers are apt to be doing exactly that, tying flies, on the days when they're not on the water.
Fly-tying lessons at Lowcountry Fly Shop are a great way for the beginner to get his or her feet wet (metaphorically, of course: the real feet-wetting comes later, once the flies are tied). The classes are free and range from the basics of selecting hooks and other materials to advanced "social hour" sessions for comparing techniques with peers.
Once you get the basics down, the possibilities are endless. Saltwater fly fishing? Near shore trips with an experienced guide are an excellent way to let the work week slip away. There is also considerable pleasure in simply casting line with the sand between your toes and the surf bubbling around your ankles.
"A lot of people fish local ponds," he says. "The brim and bass are everywhere. Those are good to get younger kids interested in it, because they're so accessible and bite so easy."
When he's not talking trout flies, bass bugs, or saltwater flies in the shop, Davis is on the water. He might be up close and personal with the fish in some of his favorite shallow waters around Charleston or he might be your guide on a Lowcountry charter, sight fishing for redfish or spot tail bass. Either way, he's doing what he loves best in the place he loves best.
While the fishing is abundant right here in the Lowcountry, Davis and Bruner are captains who also understand the love of travel. Fishing trips up to North Carolina or through the Florida Everglades - even jaunts up to Alaska to take a crack at that famous salmon – it's definitely doable if it's a place where fish are jumping. "We try to host a travel group at least every couple of months," Davis says. "And they fill up really fast. We might even do something completely wild one year and host a trip somewhere like Bolivia or Africa. Wherever we end up, we'll be having a great time."
The best way to learn fly fishing, according to Davis, is just to do it, preferably with someone with a bit of experience. "The best part, though, is that even if you're not so good at it in the beginning, you'll still be having fun."
You can hear the joy amp up in his voice as he describes it. "The shallow waters, where you can see everything, that's where you want to be." The fine art is in casting the line, creating the perfect motion for this fly and this fish at this time. Make those stars align and the fish just can't help but strike.
But that's just the start. Once the bait is bit, the battle begins. "When it's on, your heat will never beat like that," he says. "The feeling is amazing!"
Lowcountry Fly Shop
280 West Coleman Blvd.
843.388.5337
www.lowcountryflyshop.com