A Talent for Paint
07 Jul 2016
Going above and beyond and a little TV notoriety has paid dividends for this family-run business
By BRIAN SHERMAN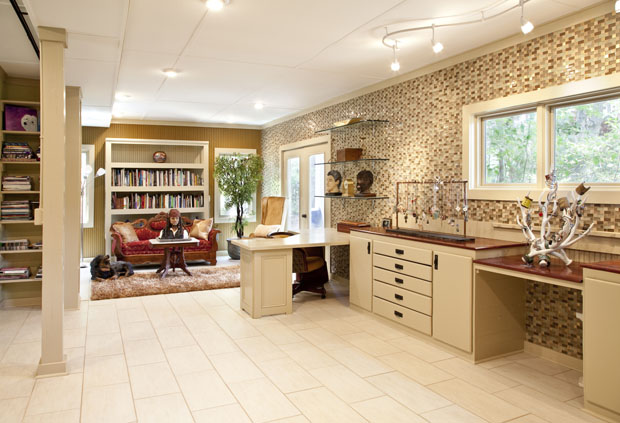 At the age of 21, Tommy Welch abandoned his dreams of playing golf for a living and launched what he hoped would someday be the number one painting business in the Southeast.
Over the past 13 years, he has exceeded his lofty aspirations. 1st Class Painting now does interior and exterior painting, as well as flooring, carpentry and masonry work, for residential and commercial customers from Moncks Corner to Seabrook Island. But the company's reputation has spread well beyond its Lowcountry roots.
Welch and his crew now travel regularly to handle projects for clients such as Reebok, Puma, Kate Spade, Apple and Starbucks, and in places as far away as Greenville, Florida and Washington D.C. Their fame has been spread even further by the reach of television. 1st Class Painting has been featured three times on the Food Network's "Restaurant Impossible," and Welch was recently notified that his company would be showcasing its talents on an upcoming episode of "American Rehab."
Fame hasn't affected the way Welch operates his family-run business: Welch's sister is the office manager; his brothers-in-law are project managers; his mother is the head estimator; and his wife is the lead designer.
"Our customers just love the fact that it's a family business," Welch said. "They know that if they're not talking to me, they're talking with a member of the family."
Welch's parents owned a painting business, but his original plans were to avoid following in their footsteps. He grew up in Los Angeles and in the Lowcountry, and was playing third base for Charleston Southern University when an arm injury curtailed his baseball career. Later, he "fell in love with golf" and landed a job as the assistant pro at Legend Oaks. Though dreams of a golf career soon came to an end, that job helped him get his fledgling painting business off the ground back in 2003.
"I gave my business card to all the people I was giving lessons to," he explained.
His parents' business gave Welch his initial exposure to the film industry. His mom and dad painted the set for "Nightjohn," and, as a young teenager, he was an extra (a kid in church) for the 1996, made-for-TV Disney movie.
Nearly two decades later, Welch was back in the television business on "Restaurant Impossible," in Summerville in February 2015, Augusta in February 2016 and Raleigh a month later. He said eight or nine members of his crew make the trip for each TV show, and they must complete the job in less than half the time of a normal project. Sleep is optional – or maybe impossible.
"We have to work much faster than normal. We have to turn a week's job into a two-day job. There's no sleeping. We work around the clock," he explained.
Did his crew's appearance on the TV show help his business?
"It's definitely a branding tool," Welch pointed out. "You have to have thick skin, though, because other contractors are going to be envious. But our crew was able to showcase their talents on a national scale."
Welch landed the TV appearance because he agreed to do the work for the Summerville episode at no charge. The show put out the word that volunteer painters were needed and Welch responded, which turned out to be the right move.
"About seven or eight weeks later, I got a call from New York to see if we would be interested in getting paid to do the episodes in Augusta and Raleigh," he explained.
It makes perfect sense that Welch volunteered to work without pay for the Summerville edition of "Restaurant Impossible." From the beginning, the company has been community oriented and dedicated to helping others. Welch and his crew have been on mission trips, where they did construction work in Nicaragua and Costa Rica through Building Love, a nonprofit that builds, renovates and repairs homes around the world. And Welch remains involved in the sport he loves by coaching the Summerville Vapors, a 9-and-under baseball team.
1st Class Painting's mission statement says it all: "We are a purpose driven company that serves through faith to our community, our team and our customers. We just happen to do it through painting and remodeling."
Dedication to the community does not tell the whole story though. Welch pointed out that when he started the business, he promised his wife, MeLinda, he was going to build a first-class company.
"I told her I wanted to put everything I had into it," he said. "If we have to come back two or three times to make sure the job is done right, we're going to do that. We are in it for the long run. We honor our word. If we tell you we'll be there at 8, we'll be there by 8. It's the little things that are really the big things."