Colonial Lake Makeover
07 Jul 2016
Charleston's historic Colonial Lake gets a major makeover
By HOLLY FISHER
Photos by SEA STAR ARTS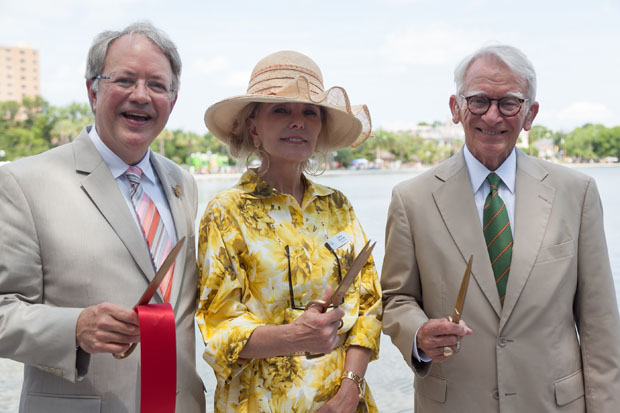 About a dozen years ago, South Carolina native and businesswoman Darla Moore and her husband, Richard Rainwater, bought a house in downtown Charleston. As they walked the streets and explored the city, they were impressed with the historic homes and architecture, but realized the same care and attention wasn't being paid to the city's pubic green spaces.
Rainwater – who passed away in 2015 – challenged his wife to "do something." Moore began researching the idea of a conservancy – a nonprofit that would raise the bar for Charleston's parks. When she presented the idea to her husband he said, "I thought you'd just give everyone a window box."
So at the June 4 grand opening of Colonial Lake, Moore presented to the crowd "Charleston's largest window box" – a project of the Charleston Parks Conservancy she founded in December 2006.
The renovation to one of the city's most historic public spaces – a partnership between the Conservancy and the City of Charleston – was several years in the making. After public meetings, planning and fundraising, construction on the park began in January 2015. It was an extensive project that included new and additional sidewalks, upgrades to the lake's infrastructure as well as major horticultural additions spearheaded by the Charleston Parks Conservancy.
"Colonial Lake has always been a special place in Charleston. However, we saw that this space could be even more lovely and help us set a new standard for beauty in the public realm," said Moore. "We're thrilled with the result of this wonderful partnership with the City of Charleston and the hard work of so many dedicated volunteers."
Power of Park Angels
As the construction project was nearly complete in early spring, the Conservancy and its Park Angel volunteers began their work in the gardens surrounding the lake. The Conservancy has added 20,000 plants to the park, thanks to help from individuals, groups and community members.
The Conservancy is introducing a new style to Colonial Lake while retaining the love for tradition here in the Lowcountry. The overall goal is to create a garden that varies with the seasons while reflecting aspects of Charleston's history and the beauty of the Lowcountry.
Serpentine hedges are traditional in formalized gardens. Jim Martin, the Conservancy's program director, included the serpentine hedge in the lake's horticultural blueprints to serve as a "living fence" between the park and the surrounding streets while providing an aesthetic pattern to the lakeside.
The hedge – planted with Chinese Podocarpus – will weave through the north and south sides of the park and provide hints of enclosed spaces. As the Podocarpus grows, the hedge will eventually provide viewing portals that look onto an accent in the park's gardens.
Other highlights of the park renovation include additional open space and more shade trees, as well as new sidewalks and expanded space for walking and jogging. Some of the project's most complex work involved creating an improved water control system so that the water within the Colonial Lake basin efficiently flows in and out from its source, the Ashley River. In addition, repairs to the 140 year-old tabby seawall required significant research to develop the oyster shell/sand mixture to closely match the original mixture, with consultation from the Scottish Lime Centre Trust and others to ensure that the repairs will last for another 140 years. charlestonparksconservancy.org