A Thanksgiving Celebration
17 Nov 2012
Delicious recipes for the classic holiday feast, plus some clever new ideas that will have you going back for seconds.
By LINDA TYRRELL » Photos by JULIA HIRST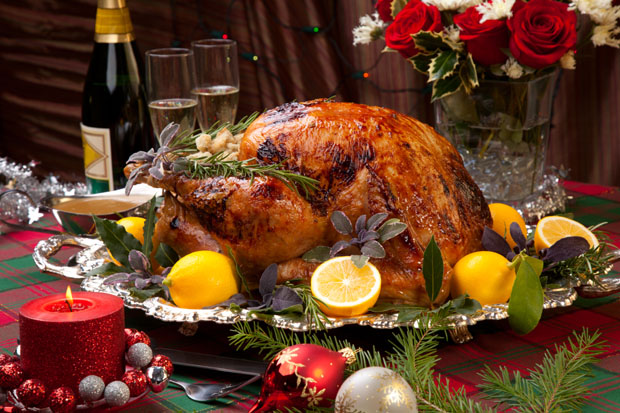 Lobster Bisque
Makes 8 servings
Prep 20 minutes
Cook 1 hour, 10 minutes
2 (2-1/2 lb) lobsters, steamed
4 tablespoons butter, divided
1/2 cup dry sherry
1 shallot, sliced
1 small fennel bulb, sliced
1 celery stalk, sliced
4 garlic cloves, pressed
2 teaspoons black peppercorns
2 bay leaves
4 cups fish stock
4 cups water
2 tablespoons cornstarch
1/4 cup tomato paste
1/2 cup heavy cream
Garnish, fresh thyme
Twist off claws and tails from lobsters. Remove and discard green tomalley and organs from bodies, reserving shells. Remove meat from claws and tails, reserving shells. Coarsely chop meat, and transfer to a bowl. Cover and chill.
Melt 2 tablespoons butter in a large saucepan over medium heat. Add lobster shells, cook, stirring occasionally 6-8 minutes or until lightly browned. Add sherry and cook 2 minutes or until liquid has almost evaporated. Stir in shallot and next 5 ingredients. Cook 3-5 minutes or until vegetables are tender. Add fish stock and 4 cups water. Cover, bring to a boil, then reduce heat to medium-low and simmer 40 minutes. Pour mixture through a fine wire-mesh strainer into a large liquid measuring cup, discarding solids. Wipe saucepan clean.
Melt remaining 2 tablespoons butter in saucepan over medium heat. Whisk in tomato paste and cornstarch. Cook, whisking constantly for 2 minutes. Whisk in broth mixture, bring to a boil and reduce heat to low. Stir in cream and chopped lobster meat, reserving a few large pieces. Simmer 5 minutes or until lobster meat is thoroughly heated. Top with large lobster pieces, and garnish if desired.
Turkey with Pan Gravy
Makes 8 servings
Prep 30 minutes Bake 3 hours Stand 30 minutes
1 (14 pound) whole turkey
2 medium onions, quartered; plus 2 cups, peeled and chopped (about 2 more onions)
4 celery stalks, chopped (about 2 cups)
4 carrots, peeled and chopped (about 2 cups)
1 bunch fresh sage
1 bunch fresh rosemary
1 bunch fresh thyme
1 bunch fresh savory leaves
Kosher salt and freshly ground black pepper
1/2 cup unsalted butter, softened
1/2 cup water
1 cup heavy cream
3 tablespoons all-purpose flour
Remove the center oven rack and preheat oven to 325 degrees F. Remove the giblets and neck from the turkey and rinse. Reserve for the dressing. 2. Place chopped onions, celery, and carrots in the bottom of the roasting pan. Pick a few herbs off the stalks and add to the vegetables. Set aside.
Pat dry the turkey with paper towels. Season the cavity with kosher salt (approximately 2 tablespoons). Place the quartered onion and the remaining herbs inside the turkey cavity. Cover the tips of the wings with aluminum foil and truss the turkey.
Rub the turkey with the softened butter. Place the turkey in the roasting pan breast side up on a roasting rack.
Place the turkey in the oven with the lid on. Baste every hour starting after the first 1 1/2 hours. Cook until an instant read thermometer inserted in the leg meat near the hip joint reads 160 degrees F (approximately 3 hours). Remove the lid and turn the oven up to 400 degrees F. Continue to cook the turkey for 20 to 25 minutes, until the turkey skin is golden and an instant-read thermometer inserted in the leg meat near the hip joint reads 175 degrees F. Remove the turkey from the pan and let it rest in a warm place for 20 minutes before carving.
Place roasting pan over medium heat and add 1/2 cup of water. Use a wooden spoon to help release the drippings from the bottom of the pan. Using a fine sieve, strain drippings into a medium saucepot. Place the saucepot over medium heat.
Gravy:
Whisk the cream and flour together in a small bowl to create a smooth paste. Add a 1/2 cup of the pan drippings to the cream mixture and whisk together. Pour the cream mixture into the saucepot and whisk together. Cook for approximately 2 to 3 minutes and reduce heat to medium low. Simmer for 15 minutes. Season with salt and pepper. Serve with the perfect turkey.
Cranberry Sauce
Makes 1 3/4 cups
Prep 4 minutes Cook 20 minutes
1 (12 oz) package cranberries
3/4 cup sugar
2 teaspoons orange zest
1/2 cup fresh orange juice
1/4 cup water
Combine ingredients in a medium saucepan over medium heat, bring to boil. Reduce heat and simmer, stirring occasionally, 15 minutes or until mixture is slightly thickened.
Sage and Mushroom Stuffing
Makes 8 servings
Prep 15 minutes Cook 50 minutes
Canola oil, cooking spray
2 (10-ounce) packages white button mushrooms
3 tablespoons canola oil
1 medium onion, diced
3 stalks celery, diced
1 tablespoon chopped fresh sage leaves
1 teaspoon chopped fresh thyme leaves
2 eggs, beaten
2 (14.5-ounce) cans chicken broth
1 loaf day old French bread, diced into 1/2-inch cubes
Salt and freshly ground black pepper
Preheat the oven to 350 degrees F. Spray a 9 by 13-inch baking dish with cooking spray. Remove the mushroom caps from the stems. Reserve the caps for the online round 2 recipe Stuffed Mushrooms. Roughly chop the stems and set aside.
In a large skillet over medium-high heat, add the canola oil. Stir in the onions and celery and cook until softened slightly, about 2 minutes. Add the mushroom stems and herbs and continue to cook until the mushrooms are browned and the vegetables are slightly tender, about 5 minutes.
Whisk together the eggs and chicken broth in a large bowl. Add the cubed bread and toss to coat all of the bread. Stir in the cooked onions and mushroom mixture and toss to combine. Season with salt and pepper, to taste. Transfer to the baking dish and bake, covered loosely with foil, for 40 to 50 minutes. Remove the foil for the last 10 minutes of cooking time to brown the top. Remove from the oven and serve.
Pumpkin Cheesecake with Bourbon Spiked Cream
Makes 12 servings
Prep 40 minutes Cook 1 hour, 15 minutes
For the cheesecake:
1 1/2 cups vanilla wafer crumbs (about 45 crushed wafers)
1 cup pecans, ground
1 stick unsalted butter, melted
2 pounds cream cheese, cubed and softened
1 cup packed light brown sugar
6 large eggs
1/2 cup heavy cream
1/2 cup all-purpose flour
Pinch of salt
1/2 teaspoon ground cinnamon
1 teaspoon pure vanilla extract
2 cups canned pure pumpkin
For the toppings:
2 cups sweetened whipped cream
Dash of bourbon
3/4 cup half-and-half
1 tablespoon unsalted butter
8 ounces semisweet chocolate chips (1 1/3 cups)
1/4 teaspoon pure vanilla extract
Prepare the cheesecake: Preheat the oven to 350 degrees F. Combine the wafer crumbs, ground pecans and melted butter in a bowl. Press into the bottom of a 12-inch spring-form pan. In a food processor fitted with the metal blade, mix the cream cheese until smooth. Add the brown sugar and process until blended. Add the eggs one at a time, processing until fully incorporated, then blend in the heavy cream. Add the flour, salt, cinnamon and vanilla and blend until smooth. Add the pumpkin and blend until smooth.
Pour the filling over the crust in the pan. Bake 1 hour, 15 minutes, or until the cheesecake is just set. Remove from the oven. Use a knife to loosen the cake from the side of the pan; this will prevent it from splitting down the center. Let cool completely before slicing.
Meanwhile, make the toppings: Combine the whipped cream and bourbon in a bowl and mix until blended. For the chocolate sauce, combine the half-and-half and butter in a small heavy-bottomed saucepan over medium heat. Heat until a thin, paper-like skin appears on top; do not boil. Add the chocolate chips and vanilla and stir until the chocolate melts and the mixture is smooth. Remove from the heat and let cool.
Remove the side of the spring-form pan and slice the cheesecake. Top each piece with a drizzle of chocolate sauce and some bourbon whipped cream.
Creamy Garlic Mashed Potatoes
Makes 10 servings
Prep 20 minutes Cook 30 minutes
3 1/2 pounds russet potatoes
2 tablespoons kosher salt
16 fluid ounces (2 cups) half-and-half
6 cloves garlic, crushed
6 ounces grated Parmesan
Peel and dice potatoes, making sure all are relatively the same size. Place in a large saucepan, add the salt, and cover with water. Bring to a boil over medium-high heat and then reduce heat to maintain a rolling boil. Cook until potatoes fall apart when poked with a fork.
Heat the half-and-half and the garlic in a medium saucepan over medium heat until simmering. Remove from heat and set aside.
Remove the potatoes from the heat and drain off the water. Mash and add the garlic-cream mixture and Parmesan; stir to combine. Let stand for 5 minutes so that mixture thickens and then serve.
Sautéed Swiss Chard with Bacon
Makes 4 servings
Prep 10 minutes Cook 10 minutes
Olive oil, for pan
1 cup bacon, cut into 1/4-inch dice
2 cloves garlic, smashed
Pinch crushed red pepper flakes
1 bunch Swiss chard, stems removed and cut into 1/2-inch lengths, leaves cut into 1 1/2-inch lengths
1/2 cup chicken or vegetable stock
Kosher salt
Coat a large sauté pan lightly with olive oil and add the diced bacon, garlic, and crushed red pepper. Bring the pan to medium-high heat. When the garlic has turned a lovely golden brown, remove from the pan and discard. At this point the bacon should start to become brown and crispy. Add the Swiss chard stems and the stock and cook until the stock has mostly evaporated. Add the Swiss chard leaves and sauté until they are wilted. Season with salt.
SET THE PERFECT TABLE
1. Create a peaceful space for seasonal dining with neutral linens. Natural-hued placemats act as a canvas for your holiday meal, highlighting your golden-brown turkey and cranberry sauce as vivid centerpieces.
2. Small bouquets set in everyday glasses liven up the table without overpowering it. Display a few on a windowsill to complete the look of the room.
3. No matter the size of the festivity, guests should have enough room to enjoy it. Measure 2 feet from each plate center to the neighboring plate center for the optimum space.