Treasure Isles
17 Nov 2013
Small but gorgeous, Vieques and St. John come with all the tropical island swag of their neighbors, but without the crowds.
By Katie McElveen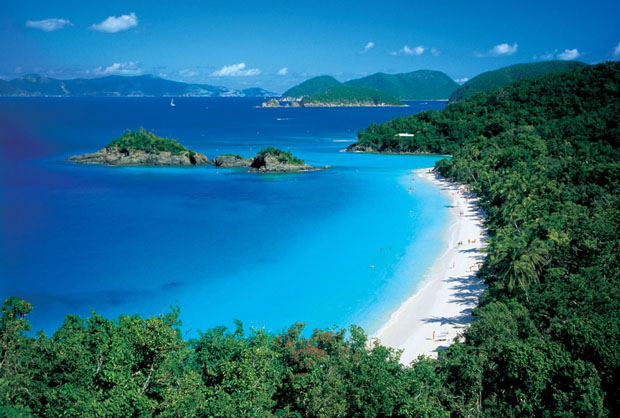 St. John
As with all great beach days, our afternoon on Salt Pond Bay went by in a lazy blur of naps, strolls and swims punctuated by the quiet murmur of waves on the sand. But I never thought I'd discover art on the beach. I'd followed a short trail away from the sea toward a place called Drunk Bay. Ten minutes later, I found myself on a rocky stretch of windswept coastline. It took a moment, but as I looked around I realized that the entire beach been decorated with sculptures fashioned from stones, driftwood, shells and other ocean detritus. Obviously it had taken weeks to create this "pop up" gallery, but in that time, no one had knocked down the carefully constructed rock towers, or kicked over the figures that had been tucked into crevices and perched atop giant boulders. "There's not much space left because we haven't had a storm in awhile," commented an artist as she put the finishing touches on a work. "When a storm hits, everything gets washed away and we get to start all over again."
That live-and-let-live attitude sums up the vibe on St. John. Low-key and casual, it's the smallest of the three US Virgin Islands, but what St. John lacks in size it more than makes up for in charm. More than half of the island is taken up by Virgin Islands National Park, a shady, trail-covered swath of land where you're likely to run into a deer or wild donkey (they were brought to the island to work the sugar plantations) as you make your way over hills dotted with plantation ruins. Beyond Salt Pond Bay, the island is rimmed with a huge variety of beaches that range from tiny private coves accessible only by water or trail to magnificent stretches of sugar-soft sand. Another favorite was Honeymoon Beach, where we bobbed in the calm turquoise sea to our hearts' content, then walked to the adjacent Caneel Bay Resort for cocktails on the porch.
Within Cruz Bay, the larger of the island's two towns, you'll find cute shops mixed in with the restaurants, bars and cafes tucked into alleys, perched on porches and sitting smack dab on the beach. We ended most beach days sipping Presidente beers and Margaritas as we watched the ferry from St. Thomas come and go from the porch at Spyglass restaurant; dinners – local mahi at Fish Trap, Asian-inflected dishes with a postcard-worthy at Asolare and Thai at Rhumb Lines – were fresh, delicious and casual. We weren't sure about getting carry out ribs from Candi's BBQ and Grill – the not-mobile food truck is located next to a gas station near the car ferry – until we spotted Candi in the back chopping cabbage for cole slaw. "I make everything here, including the come-back sauce for the ribs," she said. "I call it come-back because once you try it, you'll come back for more!" She was right.
The hills of St. John are dotted with lavish villas complete with pools, maid service and million-dollar views, and as much as we loved the idea of such posh digs, we wanted to be able to walk into town. A friend told us about Seashore Allure, where we stayed in a spacious two-bedroom condo complete with stainless-steel appliances, flat-screen televisions, carved wood furnishings, hardwood floors and spa showers that Delbert Parsons, who owns the building, tiled himself using local shells. He also picked us up at the ferry, took us to the grocery store and delivered us to the condo. Caneel Bay, with its seven beaches, tennis courts, spa, restaurants and 170 acres lush, donkey-inhabited grounds, is another option. Once the estate of Laurence Rockefeller, the sprawling property sits on the edge of the national park and is a St. John classic.
Vieques
Thom Denton is laughing as he looks out over the Caribbean from the expansive balcony of North Point Villa, one of several private rental homes he and his group Bravos Boyz manages on the island of Vieques and rents through FlipKey.com. "It was so rustic when we got here, just a few little guest houses and cafes. But it had such potential. The vibe was great. The beaches were gorgeous. It was just a matter of time."
That was 13-years ago. Since then, the tiny tropical isle located just a shell's throw from the eastern tip of Puerto Rico has more than lived up the Denton's expectations. There's a W hotel. Fabulous restaurants. Stunning oceanfront villas that come complete with chefs, on-call massage therapists and provisioning services. Even better, the island has retained its funky, friendly personality. And the beaches are often deserted enough to support a Robinson Crusoe fantasy – albeit one with a beach bar within striking distance.
Case in point: On our way to a stand-up paddleboard adventure, we parked the jeep under a grove of sea grapes and walked onto an unspoiled landscape of golden sand, azure water and swaying palms that was Navio Bay. Later, as we cut through the calm waters of Sun Bay on as we bobbled on our paddleboards, we spotted a few wild horses, descendants of steeds brought over by conquistadors in the 16th century, resting in the shade.
Like St. John, Vieques is a two-town island. Isabelle II is small, but lined with stylish shops like the beautifully curated Siddhia Hutchinson gallery and Funky Beehive, with its sea glass jewelry and pretty beach cover-ups. Esperanza, a narrow beachfront neighborhood of small hotels, open-air restaurants and welcoming bars is the culinary epicenter of the island. Our dinner at El Quenepo started with, what we learned, was a nightly tradition. After we'd ordered our drinks and taken a sip or two, we carried them outside of the restaurant and across the street to the plaza, where a group had gathered to watch the sunset. Afterwards, we returned to El Quenepo, where we dunked hunks of sourdough bread raised from a starter carried by hand from Seattle into plates of savory homemade tomato jam scented with garlic and rosemary. Courses like sweet corn crepes stuffed with crab, avocado and chipotle cream fraiche and a gourmet version of mofongo – the plantain mash had been fashioned into a bowl, fried and filled with seafood – followed.
Away from town, restaurants are equally fetching. Lanterns light the interior space at Next Course, which is tucked into a curve in the road in the middle of the island, but we preferred the scene under the grove of avocado, starfruit and mango trees that shades the deck outside. Grilled local fish and avocado salad stole the show, but grilled lobster topped with truffled risotto ran a close second. Be sure to ask for one of Kaila's homemade cookies to take home for a late night treat. Around the corner, Tin Box grows much of its own produce and fills its raw bar with clams and oysters delivered daily from Massachusetts. "Ten minutes ago, these greens were growing right down there," said owner Mike Duffy as he delivered my salad and pointed toward the restaurant's garden. Duffy, whose brother Tim owns the infamous Duffy's Love Shack on St. Thomas, opened Tin Box in March in a former tool sharpening shed. The salad was fantastic – young mustard greens added just the right touch of spice – but I was glad to have dining companions so I could dig into house-cured bacon and ribs, as well as cornbread slathered with butter and a sprinkling of smoked paprika. "My family has spent a lot of time in the Caribbean," says Duffy. "We've had restaurants here for years. I'm glad I came back and decided to open my own place. It's a fabulous island, not like anywhere else."