Advocates for Art
02 Jul 2023
Local artists on the transformative power of creating something new
By Sharon Antonacio
It seems to be a recurring theme about art: using your hands to create, no matter what it may turn out to be, has a calming and grounding quality. Away from computer screens or an iPhone, an artist can be found in us all, using any medium, whether it be paint, metal, or pencil, boosting our spirits and comforting our minds.
Three local Charleston-area artists are testaments to the healing power of art. Creating something that has never existed before helps our state of mind and makes our heart smile at the same time. How lucky that we in the Lowcountry get to enjoy the results.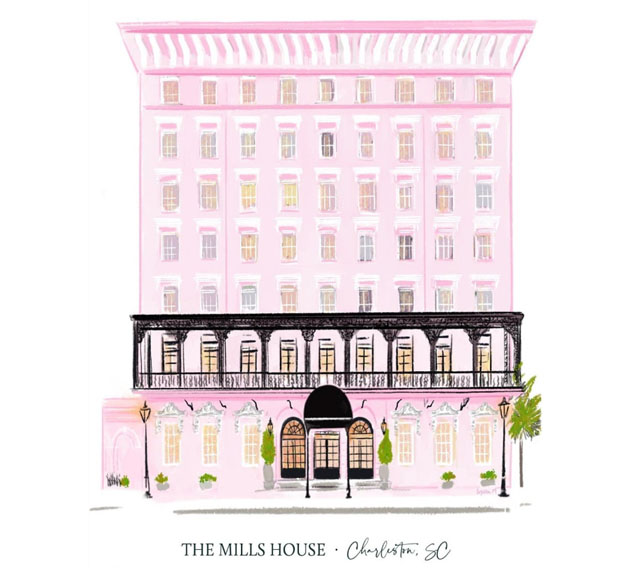 Rebecca Meixner
Rebecca Illustrated, Wedding, Business and Travel Illustrator
Johns Island
Rebecca Meixner attended the Art Institute of Pittsburgh and has a degree in Marketing from NYU, but it is in the Lowcountry where she found a way to draw and create the beauty that she knew existed in her heart.
Her early interest in art began when she broke her ankle at an early age. She remembers her mother giving her a "Gingham Girls" coloring books to keep herself busy during the downtime.
She eventually moved on to colored pencils, with her favorite medium becoming acrylics and gouache, a paint similar to watercolor, but with the addition of a white pigment.
Her artistic trajectory turned to illustration when she became a stay-at-home mom.
"The Ipad changed my life in 2008 as a stay-at-home mom. I began designing business cards and custom wedding invitations and I've never looked back," she said.
Meixner has had the opportunity to work with the likes of Martha Stewart and Cosmopolitan to create her watercolor paintings of businesses and venues. However, it was an accident that she ended up in Charleston.
Her husband fell in 2019, leaving him partially paralyzed. He requested moving to Charleston to aid his recovery and she was happy to make this bold step for her and her family. She made a life here by using her hands to create what she knew best, focusing on the beautiful things in life has been a way to cope.
"Drawing and painting things in life has manifested more positive outcomes for me and my family," she said. Meixner is a believer in the art of creating as a stress reliever and confidence booster. She has witnessed this personally through weaving art into her life especially when life threw her family a big curveball. "Focusing on the beautiful things in life has been my way to cope."
She does custom illustrations for events, invitations and more along with a line of greeting cards that showcase Charleston scenes. Find her at rebeccaillustrated.com and on Instagram @rebecca.illustrated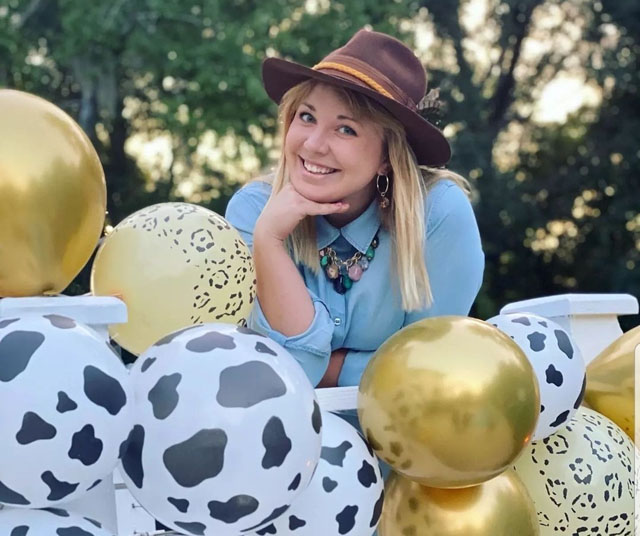 Jena Heaton
Jena Heaton Art
Original paintings, landscapes, abstracts, and pet portraits
Mount Pleasant
Originally from Greenville, SC, Jena Heaton was encouraged from a young age by creative parents to explore her artistic side. She could not take enough art classes in high school and couldn't wait to delve into the many areas of art in college, such as printmaking, sculpture, ceramics, photography and jewelry making. She headed to Clemson and majored in Fine Art.
She was profoundly influenced by one of her teachers in a high school photography class named Miss Cooke.
It was how Jena found out how to express and be herself through her art, listening to her own instincts and not putting other people's opinions over her own.
"I love the idea that art gives everyone a chance to feel positively creative. You don't need to know how to draw or paint, but to appreciate what it is to engineer something that wasn't there before, it grows your brain and soul."
Great advice for both life and art, as well as a wonderful foundation for the balance of mental and physical well-being.
Jena Heaton can be found on the web at jenaheatonart.com and on Instagram @jenaheatonart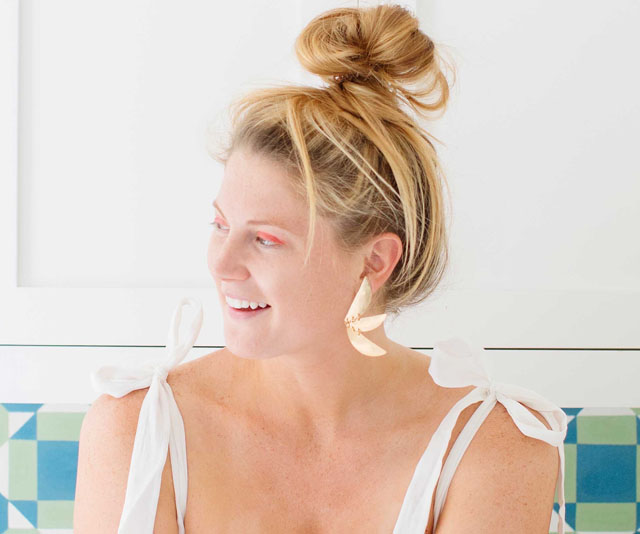 Ashley Martin
Goldbug, Jewelry and Coastal Goods
Sullivan's Island
Ashley Martin has always loved expressing herself through her creativity.
"I'm admittedly an introvert and felt it important for me to express myself visually," Martin says.
She was initially attracted to fashion design but didn't love the manufacturing world of fashion, so she ended up gravitating back to her first love: jewelry making and design. She has found her niche and her store, Goldbug, has been a tried and true staple in Sullivan's Island for all things jewelry and chic coastal wear.
A native of Charlotte, Martin has a BFA from UNC and a Masters in Fashion Design from SCAD. She found that an interest in one artistic expression can lead to another.
"Using my hands to create things holds a meditative quality for me and I feel so grateful that I have figured out a way to make it a cornerstone of what I do," she said.
Follow on Instagram @goldbug_si