All in the Family
07 May 2016
As one of the oldest exterminators in Charleston, this family-run business has a loyal following and years of experience
By TERI ERRICO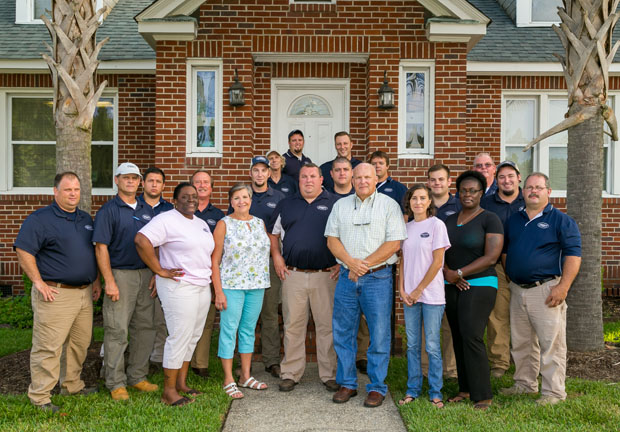 You don't get much more family-run than Ledford's Termite and Pest Control, so don't be fooled by other businesses who claim they have always been family-owned too! Started in 1975 by Charles R. Ledford, the company has only been owned by the Ledford family—never bought, never sold, and it's no surprise why.
On a recent Thursday afternoon, current President and CEO Charlie E. Ledford is hard at work with his wife Susan, talking about his dad Charles R., their son Charles S., and watching the 4th-generation Ledford playing in his office. It's the type of business that would have made Norman Rockwell proud—and also, Charles R. who suffered a severe heart attack just after he opened the company and sadly passed away in 1984. It was then that Charlie and his wife stepped up to take over the business, and they have happily helped customers in the Charleston, Columbia and Florence/Sumter areas with their pest problems ever since.
Growing up, Charlie was always involved in the family business, and worked part-time with his father as a teen. Upon graduating college in 1977, however, he was set to take a job at a phone company when life seemed to push him in another direction—the morning of his second interview, his father suffered a heart attack. Charlie cancelled the interview due to the severity of the situation and headed to his father's side. In that moment, he had to decide whether to stay and take over the family business, or close it since it was just starting out. He was 22 years old.
"We prayed about it, thought about it and thought, 'Well, we'll just jump in with both feet!'" Susan says with both conviction and a reminiscent laugh. "At that time, they had two trucks, and Charlie, his father and one other employee. Now we have 40 employees and three locations."
Charlie continues the story, "There were three of us at that point, and I came in to help them stay on their feet and keep everything moving. And once I got into it, I just never left." He adds, "I grew up in this business though. I'm 62 and grew up riding around in the truck with my daddy. And that's pretty much the same for my son, riding around with me. It's just a natural fit."
Today, the Ledfords serve three locations in South Carolina with a number of services, including termite treatments, wood infestation reports for real estate closings, soil treatments for new construction prior to a commercial building or house being built, and vapor barriers. They also offer pest control and termite work, mosquito services for special events or monthly services during the mosquito season, and low-risk pest control services
Customers will feel confident knowing that the staff of 40 that Susan mentioned includes a large percentage of highly-trained technicians, both termite and pest control, who are licensed by the state. All of the technicians receive training throughout the year that keeps them up-to-date and fully-informed on safety, available chemicals, proper application of those chemicals and new regulations regarding pest control.
Should it be confusing which of these employees is the Ledford in charge, you can always call them by their nicknames, given to them by former WOKE radio host, Harry Weaver. When Weaver met Charles R. Ledford back in the '70s, he nicknamed him "Big Foot," due to the rubber overshoes he had on, and the moniker stuck for decades to come. Charlie, now owner, became "Little Foot" and Weaver dubbed Charles S., now a full-time employee, "Tiny Foot."
This just shows how well-known, well-respected, and well-loved the Ledford family is within the community—especially as so many of their clients have been customers for years and years. Take Porter Gaud, for example, who have used Ledford's Termite and Pest Control for more than 15 years or Agent Owned Realty Co. for 20. On the company's testimonials page, Angie Gainey Bailey of The Agent Owned says to the Ledfords, "We have been doing business together now for more than 20 years. Many termite companies have come and gone, but you have been here and will always be here because of the time and care you take with your customers. I am proud that I recommended you, and my client couldn't be happier."
The company's employees are also just as dedicated, Susan says. "A lot of our employees have been here for years. Actually, one of the ladies who worked in the office was here for 30 years, retired two years ago, and now is back working part-time!"
"We have people who have been here since day one when we started and are still carrying on traditions," Charlie says, "but we're probably one of the oldest exterminators in town that are owned by the same family." And they probably always will be. ledfordspestcontrol.com