Charleston's enviable seafood restaurants come in all shapes and sizes, from upscale, fancy eateries to hole-in-the-wall shacks right on the side of the road. Here are 25 of the best seafood restaurants in Charleston SC.
By JENNA-LEY JAMISON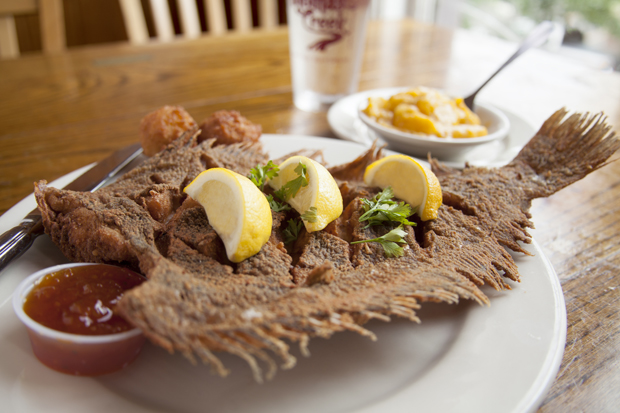 BLU Restaurant & Bar
This beachfront bar and grill is located inside the Tides Hotel on Folly Beach — just yards away from the pier. Dine inside the formal eating room or grab a drink and find a cozy seat on one of the colorful lounge chairs or sofas adjacent to the bar, where drinks are discounted for Happy Hour 4-7 p.m. weekdays. From décor to food presentation, modern chic is the theme, giving the eatery a funky, upscale vibe sure to grab the attention of all who dine inside. Dinner entrees are priced in the $20 range with $6 sides that'll be sure to make your mouth water. Choose from among grain roasted mustard cauliflower, Geechie boy grits, smashed fingerling potatoes or butternut squash risotto and braised collard greens. But don't forget an after-dinner cocktail or fresh dessert: the traditional warm brownie, fruit cobbler, gelato, crème brulee or assorted cheese plate. 843-588-6658, blufollybeach.com
Boathouse at Breach Inlet
At least a century of history fills this wooden boathouse-shaped eatery, whose builders and owners have prided themselves on providing patrons with more than good food; they also offer a time capsule of days gone by, with 100-year-old row boats as decor and early 20th century pictures along its walls. Located on the Isle of Palms, this restaurant is authentic in every aspect of the coastal life. Not only was it built on property where a bait shop once operated, but it also rests across the street from where the Hunley submarine launched during the Civil War. Customers can also be sure they'll dine on recipes made with seafood that's been pulled from local waterways and vegetables and meat straight from area farms. Most importantly, wherever you sit or choose to eat inside the Boathouse, there's one thing you can count on: feeling connected to the sea. 843-886-8000, boathouserestaurants.com
Charleston Crab House
Whether the craving for crab hits you in the heart of the city or a little farther east in the Lowcountry, the Crab House can ease your appetite for authentic seafood and "everything crab-a-licious". The business offers two area locations: James Island and downtown Charleston. The particular crustacean is the heart of a number of dishes including chilled blue crap dip, crab stuffed mushrooms and fiddler crab cakes. But those are just the appetizers. The main menu includes raw bar favorites and steamed dishes. Try fried soft blue shell crab or the Lowcountry crab cakes. But if you're not a fan of crab, the eatery offers a variety of other seafood and non-seafood options that may tickle your palate. From chicken and steak to lobster and shrimp, there's hardly any meal the Crab House doesn't provide. 843-795-1963, charlestoncrabhouse.com
Charleston Harbor Fish House

Nestled along a Lowcountry waterway with an unforgettable backdrop of Charleston's most beloved infrastructure, the Ravenel Bridge, this seafood restaurant is a popular spot to grab local market staples and daily fish specials. Choose from lobster, shrimp, crab, mussels and any other sea creature found locally and beyond, depending on the season. Try recipe favorites Creole shrimp and grits, cedar plank salmon and pecan-crusted grilled grouper or any of the menu's inland options—southern fried chicken, filet mignon and ribs. When you're done with dining, travel to the Fish House rooftop for outdoor relaxation or a colorful sunset experience, all while sipping on a frozen margarita or mojito at the elevated Bridge Bar. Customers can also observe nearby tourist attractions like the USS Yorktown, marina and Patriots Point. 843-284-7070, charlestonharborfishhouse.com
Fleet Landing
This waterfront dining location was the brainchild of Tradd Newton, who at age 21, envisioned transforming the site from an historic naval building into a seafood eatery. His dream became a reality in 2004. And over the years, it's gained national attention, particularly from a piece Food & Wine Magazine published on the restaurant in its "Where to Go Next" column. Good local seafood doesn't have to be expensive. And that's evident with just one glance at Fleet's menu. There's nothing pretentious about the atmosphere, and a majority of meals fall under $10 including peel n' eat shrimp, she-crab soup, fried calamari and oysters. Kids can also enjoy smaller seafood portions with their own crafted menu. The kitchen also offers blue-plate specials and food options other than seafood. 843-722-8100, fleetlanding.net
Grill 225
Dubbed "Charleston's premiere prime steakhouse," this local favorite is housed within East Bay Street's Market Pavilion Hotel, ranked by Travel & Leisure Magazine as a top hotel in the world. Trip Advisor also honored Grill 225 with a 2015 Certificate of Excellence. The eatery is most known for its chilly "Nitrotine," a cocktail infused with liquid nitrogen and chilled to negative 325 degrees. Don't try just one; sip on 16 different flavors of this colorful drink, including the "Refreshtini," a mix of Hendricks gin and cucumber-infused lemonade, or "Cotton Candy," made with Cotton Candy vodka, X-rated Fusion liqueur, pink lemonade, a splash of grenadine, a sugar rim and a cloud of cotton candy towering over it. Though known for its steak entrees, this hot Charleston dining spot also includes a number of seafood dishes from chilled options — oysters, shrimp cocktail and colossal crab cocktail — to hot, fresh combinations — Macadamia crusted Red Snapper, poached salmon and pan-seared flounder. 843-723-0500, marketpavillion.com/grill225
Hank's Seafood
Voted Charleston's best seafood restaurant each year for the last decade, this saloon-style eatery is perhaps the classiest deal in town, located in the middle of downtown's Historic District. Even the history of the restaurant's location has an upscale vibe, with the building once housing a 1970s disco club named after Garden & Gun magazine. From décor to flavor, everything about Hanks is a reflection of its surrounding Southern environment and promise to impress. Waiters come dressed in white dinner jackets and tables topped with the finest white linens. Top menu favorites include the Charleston oyster stew, roasted grouper, signature pan-fried crab cakes and seafood served in plated towers — because presentation is just as significant as taste. And wash it all down with a signature oyster shooter, cocktail and seasonal sangria or choose from a lengthy list of domestic or imported premium whiskeys. 843-723-3474, hanksseafoodrestaurant.com

Hyman's Seafood
Built on five generations of family, this Lowcountry building dates back to the 19th century and got its start as a location for an underwear distributor. It received its current title in the 1980s and also houses Aaron's Deli. The location remains a revolving door of customers who enjoy the mix of seafood and history, keeping the operation a successful business in the heart of Charleston's downtown melting pot of eateries. The facility still contains a wrought-iron staircase and its bricks, their original oyster mortar. Old Hollywood encounters were also once frequent at the Charleston Place Hotel next door, where a number of movie stars rented rooms over the years. After each visit, a celebrity's picture was placed on the restaurant's wall as evidence they had once dined there. 843-723-6000, hymanseafood.com
Locklear's Beach City Grill
Relax any day of the week at this laid-back dive on Folly Beach. There's no shortage of menu options whether you're looking for a bite to eat for breakfast, lunch or dinner. The grill prides itself on one of its unique and "award winning" dishes: The Eggplant Tower. Served with grilled sourdough, this dish incorporates slices of fried eggplant layered with basil, mushrooms, onions, tomatoes, artichoke hearts, bell peppers, black and green olives — all topped with a melted blend of parmesan and mozzarella cheeses. But if you're sunbathing nearby on one of Charleston's most popular beaches, chances are you stopped in for a bite of the sea. In that case, Locklear's has a variety of sandwiches, pasta, entrees and appetizers complete with a touch of seafood cuisine. Try the Alaskan snow crab legs, lobster or country shrimp and scallops — a dish that combines the two favorites with tomatoes, ham, garlic cream sauce and parmesan cheese. 843-588-6412, locklearsbeachcitygrill.com
Lokal Seabar
Located on Johns Island, owner Michael Petrillo opened this restaurant in August 2014 and also operates as its head chef. The building was revived from its former life as Rosebank Farms Café after his business Crave Catering took it over. He restored it and made it a popular seafood destination with a raw bar, craft cocktails, ceviches and other cooked menu items. Petrillo's culinary experience dates back more than a quarter of a century and includes cooking American and European cuisine, working and training around the country and abroad. He even spent time at a Brazilian and Caribbean fusion café in the Netherlands. Menu items range from the oyster or shrimp Po Boy sandwich to lobster pot pie, jambalaya, crispy salmon roll and Manhattan seafood chowder. 843-764-9027, lokalseabar.com
Marina Variety Store and Restaurant
Since the 1960s the Altine Family's two-fold operation has served Charleston residents and Lowcountry visitors at every meal time and even catered to larger area events, including wedding celebrations and corporate galas. The restaurant offers a beautiful view of the Charleston City Marina and at least seven top dishes known as "Salty Mike's Favorites." One favorite on the list includes a seafood of your choice — oysters, shrimp or flounder — over eggs and hash browns. A second favorite — perhaps for the more adventurous palate — combines marinated alligator and grilled shrimp, topped with peasant gravy and a side of eggs. Hawaiian bread French toast and chicken and waffles are listed among the "sweet's corner" side of the menu. Have more simple taste buds? Choose a sandwich, salad or wrap. 843-723-6325, varietystorerestaurant.com
Morgan Creek Grill
Tropical dining fills both resumes of the two top chefs inside this Isle of Palms restaurant. Executive Chef Bert Ottmers and Chef de Cuisine Paul Saner each spent time during their seasoned careers working in kitchens on the island of St. Croix, among other locations throughout the nation. Enjoy their seafood creations — think cilantro crusted tuna or potato crusted flounder — while overlooking the Intracoastal Waterway on either the top deck for lunch or lower deck for dinner. There are even gluten-free options and a light fare menu for customers on special diets. Fresh fish dishes can also be prepared three different ways: "Island," blackened with grits, collards and mango salsa; "pumpkin seed crusted," mashed potatoes and asparagus in a tomato cream sauce; and "simply grilled," with rice and mixed vegetables in a lemon caper compound butter. 843-886-8980, morgancreekgrill.com
Pearlz Oyster Bar
Craving raw, fried or steamed oysters? Try one of two locations in the Lowcountry: downtown Charleston and West Ashley. Oysters can be ordered on the half shell for under $14 and washed down with a $5 shooter mixed with a touch of spice and pepper vodka. Perhaps the most unique menu items Pearlz has to offer is a dish similar to baked oysters Rockefeller, which is prepared with bacon, lump crab and crawfish. But don't think Pearlz can't satisfy the appetites of non-seafood eaters. The eatery also offers an array of common menu items — pasta, steak, salad and tacos — that if necessary can be tweaked to include seafood. From 4-7 p.m. Monday through Friday enjoy Happy Hour with discounts on appetizers, raw bar staples, and of course, an array of alcoholic beverages. 843-577-5755, pearlzoysterbar.com
RB's Seafood Restaurant
This nautical-themed Mount Pleasant eatery on Shem Creek is the realization of a childhood dream for Ronnie Boals. Eventual owner of eight different food operations along the waterway, RB's has been one of his fondest eateries because of its transformation from a 35-seat space to its larger current size. It's also stood the test of time, preserving even after fire destroyed the building in 2002. It rose to new heights the following year and continues to be a popular place for casual, family dining. Try it's "world famous" crab dip, a 40-year family tradition, or its fresh gulf oysters, peel-n-eat shrimp or mussels. Or keep it simple but still tasty with a chicken finger or chicken wing plate paired with a hot pile of onion rings. There's also soup, sandwiches, salads and burgers to fill your stomach. 843-881-0466, rbsonshemcreek.com
Red's Ice House
Red's is all about tradition and community ties. The site is the former business spot for the area's well-known ice and fish packing business of Mt. Pleasant native Lewis Hughes "Red" Simmons. His services catered to many local shrimpers from the late 1950s to the late 1990s. But even after his death, family turned the location into another successful business in his name, making a restaurant a central dining hangout for community members looking for unforgettable pub food on the eastern side of the Ravenel Bridge. Built overlooking Shem Creek, it's also a No. 1 hotspot for surveying the waterway's boat-goers. A second restaurant location can be found on Seabrook Island. And you'll be sure to get your shrimp fix at either spot. The kitchen offers everything from barbecued shrimp, wrapped and skewered shrimp, grilled shrimp, coconut shrimp, buffalo shrimp and shrimp n' cheddar fritters, to name a few. Voted Best Bar in South Carolina in 2013 and Top 50 Bars in America 2013. 843-388-0003, redsicehouse.com
Rita's Seaside Grille
Lounge back in a chair, breath in the salt air and listen to the sound of waves breaking on the Folly Beach seashore. Or take in the tunes of any number of local bands who play live sets at the restaurant almost every night of the week. That's the atmosphere at Rita's, where customers can engage all five senses during every dining experience. Its owners, the Hall family, understand good food and customer satisfaction because they've been part of the restaurant and hotel business for decades. And you don't have to wait until lunch or dinner to feast at Rita's. You can flock to the location for breakfast, brunch — or late-night cocktails. Relax and sip on one of five different mimosa blends or one of three Bloody Mary varieties including the "Prickly Pickle" and "Black & Blue." 843-588-2525, ritasseasidegrille.com
Shem Creek Bar & Grill
One of a number of bar/restaurants along the area waterway, this eatery stands apart from its local competitors in a number of ways. It not only offers alcoholic milkshakes to satisfy a sweet tooth, cool down your body on a hot, humid night and give you just enough relaxation to keep you coming back for more, but it's also tucked behind a jungle of island plants giving customers the feel that they're hiding from the rest of the world. Surrounded by an oasis of permanent summertime imagery, feast on menu specialties like "dirty" shrimp n' grits made with a spicy sausage/bacon gravy, "Damn good" crab cakes, or the Spicy Seafood Newberg, a blend of shrimp, crab and fish in a cream sauce served over fried grits. Try a number of seafood platters fried or opt for "naked" — a healthier option in which entrees are grilled and tossed with butter, lemon and a special "shem spice." 843-884-8102, shemcreekbarandgrill.com
Sullivan's Restaurant
Try all your classic seafood favorites at this causal, family-owned restaurant named after its island location. Select a seasonal beer and feast on she-crab soup, shrimp n' grits, fried flounder, popcorn shrimp, bacon-wrapped shrimp, oysters or a juicy burger. And don't be afraid to bring the whole family — kiddos, too. They'll fit right in with the laid-back atmosphere and finger foods. Choose also to dine inside or talk as loud as you want on the outside patio. Pair any meal with a Southern comfort side such as mac n' cheese, collard greens, Cole slaw, rice or fries. But don't forget about the hushpuppies — the one seafood meal staple that completes every entrée — or a souvenir T-shirt sold inside. 843-883-3222, sullivansrestaurant.org
The Oyster House
Charleston's Oyster House restaurant features an array of oyster menu items that might make it challenging to choose just one dish. Start out with a Vodka-infused "Southern Belle" oyster shooter before moving on to the bbq oysters and grits, an oyster slider or wrap, a traditional baked Oyster Rockefeller meal or the fried, fire-roasted plank oysters topped with garlic butter, bread crumbs and parmesan. Even the smaller-sized plates, priced at $5-$14, incorporate unique flavors. The garlic mussels come in a white wine sauce with scallions; then there's bacon-wrapped stuffed shrimp, pimento cheese fritters, fried calamari with banana peppers and wasabi crusted tuna with a ginger soy glaze and seaweed salad. Signature entrees range in price from $20-29 and include seafood plates as well as chicken and ribeye. But any meal can be "accessorized" with one of the following options: fried oysters, crab cake, lobster tail and fried or grilled shrimp or chicken. 843-723-1151, oysterhouse.menu
Vickery's Bar & Grill
Originally started in Atlanta by a trio of men and "Dave" the canine, as the story goes, the eatery Vickery's Crescent Avenue Bar & Grill was a simple hangout for a drink and a cheeseburger. But it branched out to the Holy City in the 1990s, and two other locations were established. That includes Vickery's 1313 Shrimp Boat Lane Bar & Grill on Shem Creek, where boaters often park their vessels for a quick bite to eat. The restaurant is known for its award-winning oyster bisque, which over the years has received top honors at the Charleston Oyster Festival. Other popular entrees include seared grouper, shrimp linguine and Lowcountry sauté, a combination of shrimp, crab meat and crawfish tails mixed in bourbon butter — all served over grits and topped with crispy, fried oysters. 843-884-4440, vickerys.com
Water's Edge
Watch the sky glow orange with an evening sunset over Shem Creek or wave at the local shrimpers catching fresh food — all while eating your favorite seafood dishes. The dining area overlooks the water on an upper floor of the restaurant; the bottom floor houses the famous Cabana bar, which connects you with the water via an 80-foot dock. Even the colder months can't shut the bar down because a heater keeps customers warm while they sip. Charleston native Jimmy Purcell established the seafood operation and also boasts the title of Executive Chef. The swanky eatery offers an award-winning wine selection of more than 450 options, giving it a top honor each year with the Wine Spectator Award of Excellence. In addition to daily lunch and dinner, checkout the special Sunday brunch menu that offers everything from waffles, French toast and omelets to crabcake benedicts and smoked salmon. 843-884-4074, waters-edge-restaurant.com
More seafood spots worthy of a bite...
Amen Street Fish & Raw Bar This downtown Charleston joint will catch your attention with its décor as much as its menu. A large oyster-shell light fixture hangs from the ceiling as a warm, nautical welcome near the front door. Take a seat in a booth or the bar extending the length of the narrow room and order a favorite raw seafood dish. amenstreet.com
Bubba Gump Shrimp Co American seafood favorites — shrimp mac n' cheese and shrimp gumbo — along with award-winning baby back ribs keep this downtown Charleston operation a preferred destination for family fun. Even dogs can tag along and lounge on the patio area. The eatery also offers a gluten-free menu. bubbagump.com
Fish Unlike any other seafood gig in town, this King Street kitchen mixes French cuisine with Asian flavors. Innovative cuisine is this eatery's claim to fame, from tilefish and trout to octopus and tofu steak. Even the desserts are uniquely unusual — grapefruit yogurt mousse and eggnog ice cream pop. fishrestaurantcharleston.com
Noisy Oyster Stop in at one of two locations — North Charleston or downtown Charleston — and fill up on a half or whole shell of raw or steamed oysters paired with a frozen daiquiri or pina colada. If you need something light, try the new citrus salmon salad for lunch or dinner. noisyoysterseafood.com
The Grill & Island Bar Described by Trip Advisor as "Lowcountry meets Food Channel," this Folly Beach favorite offers daily food and drink specials like "Margarita" Mondays and "Wing & Wine it" Wednesdays. Menu items include lasagna seafood, grilled shrimp with Thai herb and Chile noodles, and the grilled cheese & veal meatloaf. Brunch is available on weekends. follygrill.com