Seeing the World
07 May 2016
Leslie Pratt-Thomas creates works of light and life
By JASON A. ZWIKER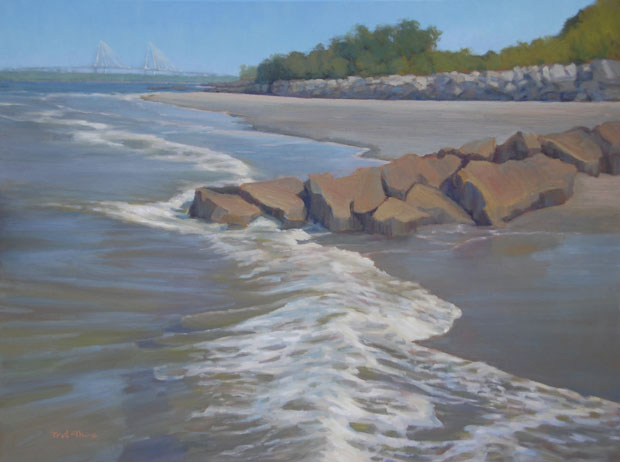 When Leslie Pratt-Thomas returned to Ontario as an adult to study painting with renowned artist Ian Roberts, she was struck by a sense of coming home, of reconnecting with the natural beauty of the Canadian outdoors - the red maple, the simple lines of birch trees against a brilliant sky - on a deeper, more mature level.
"They stay in our bones," she says. "The places we knew early in life."
Leslie and the other artists in the workshop met by day in a small weathered schoolhouse in the countryside, moving fabrics, fruits, and other things around, working out compositions, studies of light and shadow. They were learning to see in a new way, to notice what catches the eye, draws it into a painting.
It was more than just a visit to the place she lived when she was young. She was coming home to herself as an artist.
Today, Leslie is always creating, bringing light and life to works in her studio or painting Lowcountry landscapes en plein air. Her work has a soft, dreamlike quality, drawing on a great respect for wildlife, nature, and the way light plays upon the world.
As she tells the story, it all began with a casual suggestion from her good friend Anne Darby Parker in the mid 1990s. "One day, she just said, 'Leslie, you're artistic, you like to draw. Let's both take painting classes.' So, we did and it hit us both like a ton of bricks." In fact, that casual suggestion was the starting point for not one but two artistic careers - Anne Darby Parker is now an artist with the Charleston Artist Collective.
Following that first plunge into painting, Leslie continued studying for nearly a decade to learn the craft, side by side with painters such as Elizabeth "Emmy" Bronson and Martin Ahrens. For several years after, she set up tents at Spoleto, showing her professional work there. That's when Julie Cooke, owner and director of Edward Dare Gallery in downtown Charleston and Sandpiper Gallery on Sullivan's Island, happened upon her work. Soon after, Leslie began showing in both of those galleries as well as in many other exhibitions, both national and international.
When another close friend of Leslie's, South Carolina Poet Laureate Marjory Wentworth, wrote her children's book Shackles, she asked Leslie to illustrate. "The story was inspired when Marjory's children actually dug up real shackles when they were playing in their backyard on Sullivan's Island," Leslie recalls. "It was an amazing experience, working on that project and it actually helped me through a very difficult time in my life."
One of Leslie's best known paintings, I Can Fly, was chosen for the cover of the novel Swimming Lessons by New York Times best-selling author Mary Alice Monroe. The painting, a warm portrait of a girl stretching her arms toward the sky while standing on a rock at the beach, was inspired by a day when Leslie happened to be taking her sons out surfing. The painting reflects a simple, blissful moment easily recognizable by all those who love the Lowcountry and its many beaches.
Since their earliest days as painters, she and Anne Darby Parker have continued to paint Lowcountry scenes in the natural light of the great outdoors. The Sullivan's Island Plein Air Painters, a group they started with other local artists, has met once a week for nearly two decades straight. "We meet and paint together and it's just fantastic," Leslie says. "People come and go and some of the regulars aren't really regular, but it's a lot of fun and it's been a very good way to build camaraderie with other artists. Artists need that in our lives because art can be a very solitary pursuit at times."
Leslie has also discovered a love for teaching others to appreciate the many ways in which art can enrich life. Every week, she meets with a small, select group of students.
"After you start painting, you really do look at the world differently," she says. "It's fun to see that change in people as they start examining their world in a different way―as they learn to really see all of the colors as the sky goes to zenith, to see where the warm parts are in the clouds, to see little things about color and light they may never have noticed before." pratt-thomasstudio.com