An Extraordinary Life
24 May 2023
Vibrant Senior Living Communities in Charleston
A retirement community can bring security, connection, and an overall
positive quality of life. With so many options, the decision can feel daunting. Here
are some of Charleston's top senior living neighborhoods—each with a unique charm and an
abundance of amenities—for those who want to spend their golden years in comfort and style.
Restore at Carolina Park
1588 Bloom St.
Mt. Pleasant
www. restoreatcp.com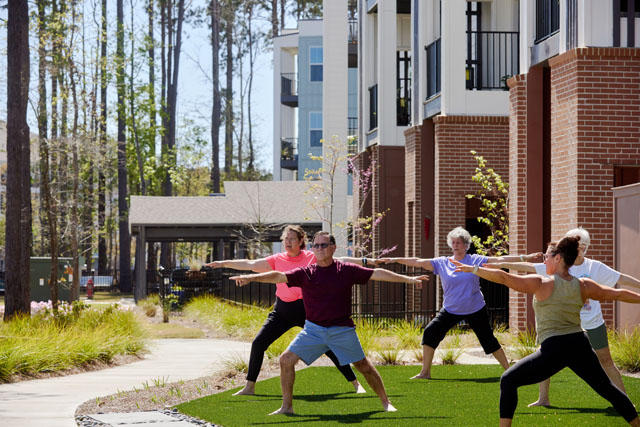 As Mount Pleasant's first active adult community for 55+, Restore at Carolina Park is
dedicated to making "your next fifty your best fifty." The neighborhood boasts a range
of choices to accommodate the many stages of retirement.
"Imagine modern living along with a dedicated lifestyle and fitness program, where the
only thing you need to worry about is figuring out which activities to enjoy first," said Amie Dufek, Senior
Property Manager.
Move-in ready apartments are designed in one-and two-bedroom layouts, with granite
countertops, stainless steel appliances and designer lighting. Select units feature private fenced yards, ideal for those with a furry friend.
For seniors who want more space with a Southern charm, the Lowcountry-inspired cottages strike a
balance between simple and modern. They are a bit larger than the apartments, with
two-three- and four-bedroom layouts. Here, residents have water views and plenty of
indoor and outdoor living space.
The Marsh Assisted Living and Memory Care facility in the community provides a helping hand to retirees who require daily assistance. The facility prides itself on its first-class accommodations, restaurant-style meals and uncompromising care.
Restore at Carolina Park is just minutes from historic Charleston, and with so much to do
on the property, the options are endless. An 8,000-square-foot Wellness and Recreation
Center is a resident favorite for fitness with a juice bar reward. Those looking to catch
some rays can lounge at the resort-style pool, or kickstart a competitive match of
pickleball or bocce on the facility courts.
The fitness results are real. Dufek says one of their 85-year-old residents, Paul Price,
recently trekked across national parks in six states.
"A year ago, it would have been a major struggle," Price says. "Due to the fitness and
balance classes I have been taking here, and my walks around the lake, I was able to
enjoy this great trip."
Bishop Gadsden
1 Bishop Gadsden Wy.
Charleston
www.bishopgadsden.org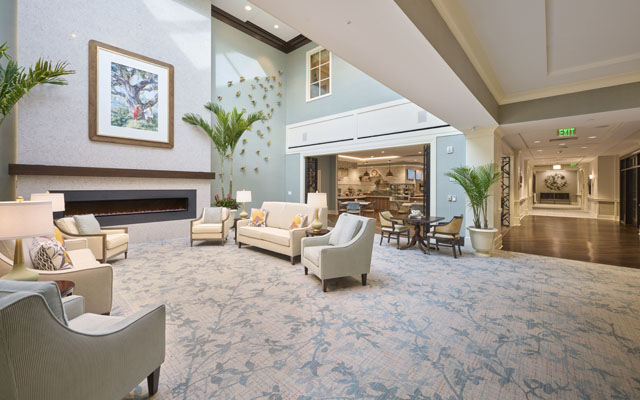 Situated on 100 acres of lush greenery, Bishop Gadsden has a rich history of excellence
in senior care. Originally created as a church in 1850, Bishop Gadsden underwent multiple moves,
ultimately transitioning into the faith-based retirement community for ages 62 and up that it is known for today.
"With the philosophy that senior living environments should not be diminished and
Isolated, but rather vibrant, inspirational, and involved in the greater community, Bishop
Gadsden became a leader in the senior living evolution," said Kimberly Borts, Vice President of Mission and Communications.
Open to all seniors, the community offers customizable apartments only steps from fitness
facilities, shopping, dining and more. The cottage floor plans are designed with space
in mind, featuring Georgian architecture, light-filled windows and a gourmet kitchen.
Hostesses and hosts gravitate towards living in the new Wando Cottages with a two-story
layout and generous front porch. Sparkling lake views are visible from the Quay flats,
offering either social or secluded living.
Nestled under historic oak trees, the Gadsden Glen Center for Health & Rehab
balances superior care with peaceful touches including a spa, gardens, and screened-in
porches for relaxing with friends.
"In this warm and welcoming environment, neighbors become lifelong friends, and
team members grow into extended family," Borts says. "Our campus buzzes with energy
day through night as friendly faces, delightful activities, culinary options and social
engagements abound."
Borts adds that the team works hard to build rapport with residents' family members to create
confidence in the Bishop Gadsden team. The care is impeccable; one resident's 87-year-old father-in-law entered the rehab facilities a few days before Christmas. Not only did he receive necessary therapy, but he was also able to participate in holiday events like orchestra performances and gingerbread house decoration.
"Throughout our 173 years, Bishop Gadsden has proudly welcomed thousands of
residents," Borts says. "Words cannot express the sincere appreciation we feel when an
individual selects our community to live their extraordinary life."
Franke at Seaside
1500 Franke Drive
Mt. Pleasant.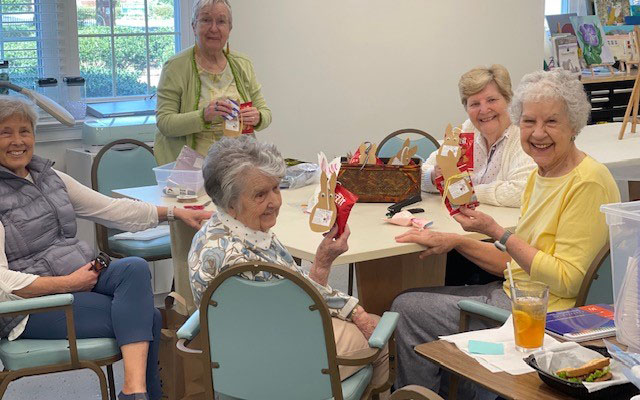 This community is a true haven, embodying tranquility with its swaying Spanish moss and
picturesque lagoons. Franke at Seaside is truly on the cutting edge of progress, with two on-site server robots and opportunities to teach, moderate discussions and serve in an advisory capacity for policy development and special initiatives.
The rental apartments offer all of the perks of a vibrant, engaged community without a
large entrance fee. For residents who enjoy serene views and close proximity to
amenities, the apartments and patio homes are a perfect choice.
Franke at Seaside also provides a selection of options for those who require more
specialized care with options for assisted living, memory support, rehabilitation and
nursing care.
Even those in long-term care have plenty of opportunities for enrichment and
Encouragement, with a visit to the beauty salon or barbershop or meet
a friend for a meal. Long-term residents can enjoy a visit from a volunteer, or listen
to a devotion from the full-time chaplain.
Because of the tailored approach to care and close-knit community it fosters, it's not
unusual for many of the independent living residents to stay at Franke at Seaside for
upwards of 15 or 20 years—creating a true neighborhood feel.
"Franke residents are absolutely the best ambassadors for prospects wondering what
life is like here," said DeAnne Vane, Director of Marketing. "They always go out of
their way to tell them how much they love it."
Vane adds that the residents are quick welcomers to newcomers, embracing
them with genuine kindness, showing them the ropes and helping them feel at home.
"This camaraderie and positive energy seems to permeate the air at every turn,"
Vane says. "Prospects considering a move to Franke frequently say, 'It just feels good
when you walk in the door here.'"
South Bay - Liberty Senior Living
1400 Liberty Midtown Dr.
Mt. Pleasant
www.southbayatmountpleasant.com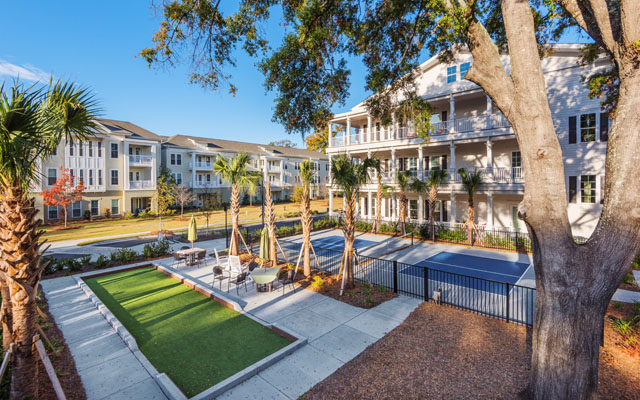 South Bay at Mount Pleasant is a luxury retirement community that offers residents stunning surroundings, a beautiful, maintenance-free apartment home, an exceptionally fulfilling lifestyle, many culinary options, and a continuum of care in place should additional healthcare services be required. It looks like a luxury resort and feels like home.
"Many of our residents make the move to South Bay because they are either born-and-raised Charlestonians or from the Mount Pleasant area. They are able to move in and reconnect with old friends and neighbors in addition to making new ones. We have reconnected so many folks and old friends since we opened our doors," said Denise Devanney, Sales and Marketing Director at South Bay.
. "We have also had residents choose South Bay as a retirement destination and have made the move from locations all across the United States. It's so wonderful when residents realize that they moved here from the same hometown; some have even grown up in the same neighborhood 50 years ago!"
South Bay is a rental life plan community, with no large upfront entrance fee, and offers residential options for Independent Living, Assisted Living and Memory Care as well as skilled nursing and rehabilitation services.
Residents of South Bay find peace of mind knowing that if their care needs change, Shem Creek Health Center is right onsite.
South Bay at Mount Pleasant offers residents a wide variety of social, recreational and cultural activities to suit a variety of interests. From shuffleboard to pickle ball and water aerobics to the symphony, there's something for each and every resident here at South Bay.
"We have such a warm and wonderful group of residents that enjoy dining in any of our three exceptional restaurants. The South Bay executive chef and culinary team have elevated the culinary experience in each of our restaurants to a level that competes with any of the well-known Charleston restaurants! The residents truly enjoy the finest meals, friendship and peace of mind here," Devanney said.