Between the Bun
24 May 2023
10 Best Burgers in Charleston
By Emma Dannenfelser
If there is one item within the lineup of iconic American cuisine, it is undeniably the classic burger. No matter what your personal palate—single patty, double patty or smashed-style—or how long you've been enjoying them, burgers will never go out of style. Charleston is home to a spectacular variety of burgers, ranging from simple and timeless to creative, inventive, and daring, all of which are sure to impress even the toughest, most seasoned burger critic in the Lowcountry.
Butcher & Bee
1085 Morrison Drive
Charleston
@butcherandbee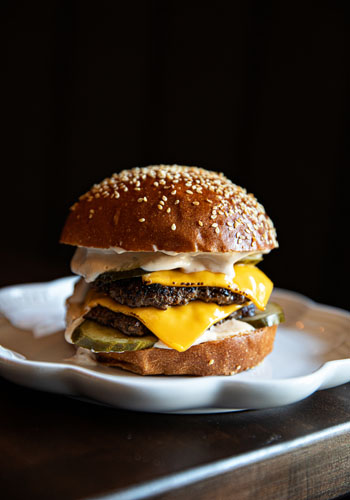 Thanks to its locally sourced ingredients and sustainably raised meats, the quality and fresh variety of the menu at Butcher & Bee stands unmatched. From shareable plates to dishes with exciting global influences, and of course an incredible burger option, you are sure to have an excellent dining experience at Butcher & Bee. The lunch menu's $18 double smashburger plate includes double patties, classic American cheese and pickles, topped off with "house fancy" sauce. The double patty extravaganza is served on a house-made brioche bun and served with fries. For an additional $4 you can add Benton's bacon to the burger and for $3 you can add fresh, local greens to liven up your meal.
Bohemian Bull
1531 Folly Road
James Island
@bohemianbull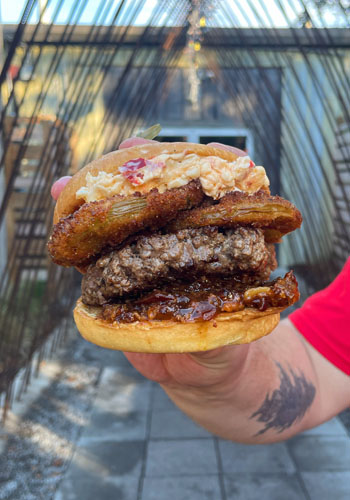 If you're looking for a lively and open-concept dining experience, look no further than Bohemian Bull in James Island. The "Boho Burgers" are all made up of Black Angus brisket and chuck that is ground-in-house and "hand-spanked," as the menu says. The extensive burger variety on the menu promises a delicious experience, whichever $14 Boho Burger you choose. The Truffle Burger is heaven-on-earth, featuring truffle mayo, friend onion rings, grilled portabella mushrooms and creamy gouda cheese, all on a potato bun. If you're in a ravenous mood, the Getting' Smash Burger will be the one for you, with two burger patties, gooey American cheese, pickles, thin-sliced onions and the Bohemian Bull "burger sauce," promising to satisfy even the hungriest guest. If you're a fan of trying new flavors and getting a kick of heat, then try the Black and Blue Burger with its blackened patty, jalapeños, bacon jam and blue cheese toppings. The That's My Jam Burger is also sure to impress any adventurous burger connoisseur, topped with bacon jam, pepper jack pimento cheese and of course, in true Southern tradition, a fried green tomato.
Big Gun Burger
137 Calhoun Street
Charleston
@biggunburger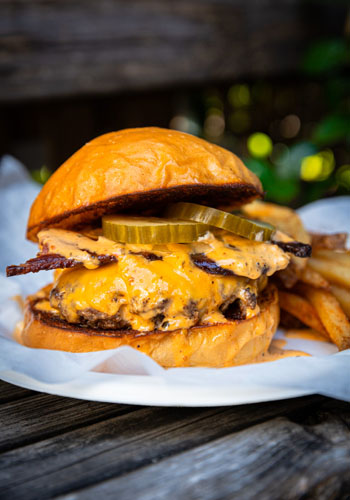 Opened in 2011, Big Gun Burger is no stranger to both locals and visitors of Charleston's downtown peninsula. Big Gun Burger has a retro, eclectic rock-n-roll atmosphere where its burgers live up to its restaurant namesake, with locally baked buns, house-made sauces and hand-cut fries. The Towering Inferno will certainly pack a punch, with pulled pork, barbeque sauce, queso fresco and spicy habanero slaw. If you're a fan of mushroom-swiss flavor, try the Thin White Duke, topped with mushrooms, bacon, swiss cheese, caramelized onions and a drizzle of horseradish mayo. The Bungalow Burger is a menu standout with bacon, caramelized onions, buttery havarti cheese, tomato and a fresh, springy dill mayo. Along with the more adventurous options, the Big Gun Burger menu wouldn't be complete without its $14 Classic Burger option, topped with American cheese, onion, pickles and "Big Gun sauce." These burgers are offered at a deep discount during happy hour from 4-6 p.m. Monday-Friday. At Big Gun Burger, you can find incredible bites seven days a week, open from noon to 2 a.m., making it the pinnacle of "restaurant by day, tipsy lounge at night."
Melvins BBQ
538 Folly Road
Charleston
@melvinsbbq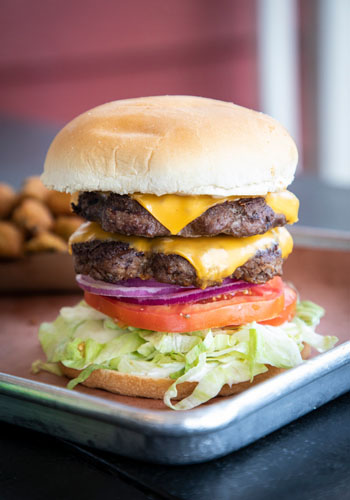 Many people know Melvin's BBQ for its award-winning BBQ, but only locals know that Melvin's serves some of the best cheeseburgers in Charleston. Owned by third generation pit-master, Melvin David Bessinger, Melvin's BBQ has been serving a variety of cheeseburgers since 1981 in Mount Pleasant and on James Island. You may ask, "What makes a Melvin's burger so special?" Although they can't share all of their secrets, the legendary taste comes from a combination of condiments: Duke's mayo and French's mustard on a toasted Captain John Derst's bun along with fresh local lettuce, tomato and onion. Whether dining with family, friends, or alone, everyone needs to try Melvin's award-winning burger! Melvins BBQ has a wide range of prices, with single burgers ranging from $8 to $22 for the Big D's Triple Bacon cheeseburger and burger, fries and drink combos ranging from $12 to $26. The basket combo includes the burger and drink, as well as fries plus onions rings and ranges from $11 to $25. Every burger on the menu can be customized with an array of spreads and veggie toppings, making Melvins BBQ the perfect burger joint for family-friendly meals.
Community Table
148 Civitas Street
Mount Pleasant
@communitytablechs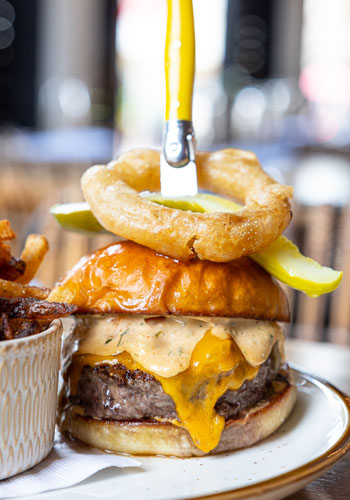 To say Community Table's dining room is beautiful is an understatement. It's a comfortable, yet upscale atmosphere and the perfect spot for a night out. The warm ambiance and premium dining experience makes Community Table in Mount Pleasant a must-try spot for brilliant menus, locally-sourced ingredients, and professionally prepared cuisine. However, the star of the show is the $18 Free Rein burger and its specialty blend of ground short rib, brisket and chuck which makes for a rich and juicy burger bursting with flavor. The Free Rein burger proves classic toppings can be done just right, with smothered onions, cheddar and mayo served on a butter brioche bun with crispy-fried onions on top. On the side, you'll find the Community Table signature hand-cut fries and, of course, extra napkins.
Tavern & Table
100 Church Street
Mt. Pleasant
@tavernandtable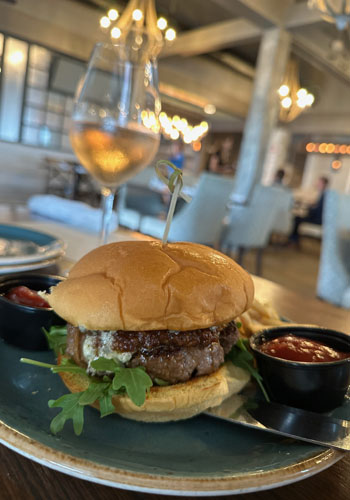 If you're looking for a straightforward and immensely satisfying burger, Tavern & Table's Double Double and bison burgers are for you. The Double Double is the most popular burger on the menu, which for $16 comes with melty American cheese, fresh shredded lettuce and thick dill pickle coins, as well as the spectacular Tavern & Table sauce. The bison burger is perfect for anyone who loves to stray off the beaten path and try something fresh and new. For $17, the Bison Burger is served with caramelized onions, mouth-watering bacon jam, blue cheese and peppery baby arugula. Both burger patties are made with the Tavern & Table "house grind," composed of the highest quality cuts of beef that are smashed with a tortilla press until crispy on the edges, while staying tender and juicy in the middle.
The Salty Dog Café
1884 Andell Bluff Boulevard
Seabrook Island
@thesaltydogcafe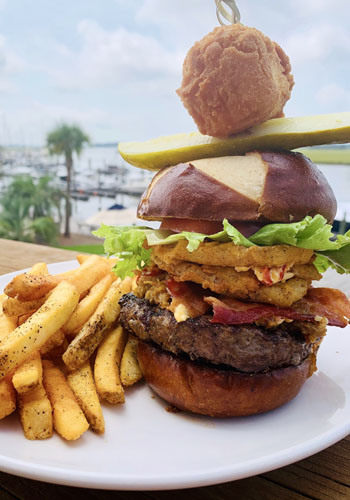 At The Salty Dog Café on Seabrook Island, the Jakezilla burger is no joking matter. In fact, it comes with a warning that "If you eat the whole thing, you probably won't have room for desert." However, skipping dessert might just be worth it because the $18 burger features a half-pound prime beef patty topped with savory bacon, tangy pimento cheese, slow-cooked and hand-pulled pork and perfectly crunchy fried onion rings. Of course, you can't forget the lettuce, tomato and generous drizzle of glossy, house-made barbeque sauce. To finish it all off, the Jakezilla is sandwiched between a toasted pretzel roll and topped with a hushpuppy and pickle spear. If you're craving something simpler, you're going to love the $15 Prime Burger, which is a classic half-pound prime beef patty served with lettuce, tomato and onion on a toasted brioche roll. Along with its beef selection, the menu also includes a $16 shrimp burger, made up of a chopped shrimp patty, seasoned with Old Bay, peppers and onions, which is then fried till golden in Panko breadcrumbs and served on a toasted brioche roll with lettuce, tomato, onion and Salty Dog's signature remoulade sauce.
Moe's Crosstown Tavern
714 Rutledge Avenue
Charleston
@moescrosstowntavern
Pub-style dinners are perfect for satisfying any craving you may have, and Moe's Crosstown Tavern's menu promises to do just that. The menu features an impressive array of burgers, all for $13.99, as well as a "build-your-own" option for $11.95. If you're a fan of bleu cheese, the Black and Bleu burger, made with blackened seasonings and bleu cheese crumbles, and the Buffalo Burger, which includes bleu cheese crumbles and hot sauce, will make your mouth water. The menu also features several inventive and unique options, such as the BLT burger that is topped with fried tomatoes, bacon, mozzarella, pesto mayo and fresh mixed greens, as well as the Rutledge, which has pimento cheese, bacon and a fried tomato. For those who insist breakfast is the most important meal of the day any time of the day, the Eye Opener will deliver all the savory flavors with the classic combo of bacon, cheddar cheese and of course, a perfectly cooked fried egg. Finally, if the classics are sounding a little too classic for you, the goat cheese and poblano burger won't disappoint.
Park & Grove
730 Rutledge Avenue
Charleston
@parkandgrovechs
If you're looking for a classy and elevated spot away from the crowds, Park & Grove will be your fix for lunch, as well as brunch. For a midday burger craving, try the $20 Smashburger, comprised of a double-stack of the signature smash patties topped with perfectly melted cheddar cheese, Park & Grove house-made steak sauce and finished with an English muffin. This fabulous take on the classic burger is served with fries and should be enjoyed with wine by the glass or by the bottle, if that's your sort of thing. If brunch is on your mind, give the Brunch Burger a try. The burger is served on an English muffin and topped with a smash patty, crispy bacon, cheddar cheese and a sunny-side-up egg, in true brunch fashion. Finally, the burger is finished with the addition of spicy mayo and a serving of breakfast potatoes on the side. An extra smash patty can be added to the Brunch Burger for $4.
Post House
101 Pitt Street
Mount Pleasant
@posthouseinn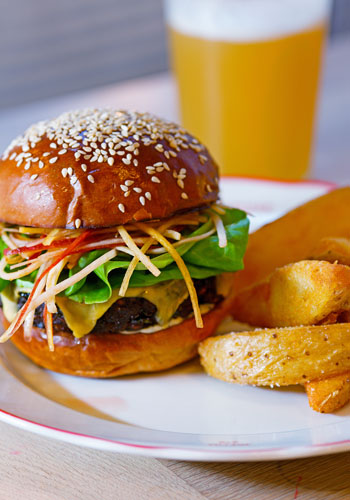 Built in 1896, the Post House restaurant at Post House Inn is a must-visit for Holy City history fanatics and burger fans alike. The coastal tavern offers a charming and cozy atmosphere that welcomes Lowcountry locals and visitors to enjoy their sophisticated and locally influenced menu. The $20 Backbar Cheeseburger features a top-tier Brasstown beef patty, onions and American cheese, along with sweet, crunchy bread and butter pickles and the mysterious Post House "special sauce." If you're looking for a satisfying vegetarian option, look no further than the $19 crispy butterbean burger. Finding an exciting and filling veggie burger is undeniably tricky, but when paired with gooey American cheese, tangy comeback sauce and a refreshing carrot slaw, the Crispy Butterbean Burger is sure to be your salty, savory burger fix. Both burger options are served with perfectly fried, thick-cut fries.