Annie Leibovitz Exhibition
29 Nov 2013
In this remarkable exhibition, icon Annie Leibovitz tells her stories of people by capturing the essence of their belongings.
By Lisa Arnold Photographs By Anne McQuary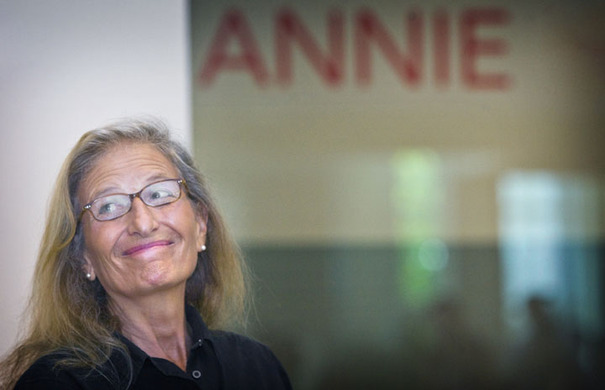 In the weeks before the debut of Pilgrimage, my mind seemed to play a virtual slideshow of Annie Leibovitz's work. There was the infamous photo of a naked John Lennon with a fully clothed Yoko Ono -- taken on December 8, 1980, just hours before he was killed. It was used as the cover of Rolling Stone.
Who can forget the August 1991 cover of Vanity Fair, featuring a very pregnant Demi Moore completely nude? And then there was the April 2008 cover of Vogue showcasing Gisele Bundchen and Lebron James.
And further, in recent years, there have been multiple photos of Lady Gaga and Rihanna for Vogue. My most recent issue of Vanity Fair includes a gorgeous photo of Kate Upton on the cover with these words, "Kate Upton Blows Out the Candle, Annie Leibovitz Snaps the Photo." Inside, still more gorgeous photos of Kate that Annie had taken.
"Just breathe" I kept telling myself knowing that in just a few short weeks I'd attend the media debut of the exhibition and a private cocktail party that she would be attending.
Annie Leibovitz has been designated a "Living Legend" by the Library of Congress – her awards are as prolific as her work (see box). Annie shot 142 covers for
Rolling Stone
. Ms. Leibovitz was the first woman to photograph Joan Armatrading for an album. (She spent four days at Joan's house capturing images.) She served as the concert-tour photographer for
The Rolling Stones Tour of the Americas '75
. Clearly, they should just give this woman an honorary Grammy because she is a rock star!
I called my fashion and profile photographer, Anne McQuary (whom I fondly refer to as Annie because she is my Annie), and asked if she could meet me on Thursday, October 3 at the Columbia Museum of Art for the press conference opening Annie Leibovitz' Pilgrimage. Her excited response was, "So you need me to capture images from the show?" I replied, "Yes, but I also need you to capture images of Annie herself!" Anne replied, "You're kidding – she's coming to Columbia?"
The morning of the event I was nervous, like a recent college graduate heading out for an interview for my dream job. "Of course" I thought, ANNIE LEIBOVITZ is coming here and I'm going to meet her. She's a living legend, one of the most famous living American artists, an individual whom has exceeded all boundaries as an artist and a woman.
As we all stood awaiting her royal arrival, the door opened and the room became silent as she entered. We sat. Annie was presented a key to the City of Columbia by Mayor Steve Benjamin and was given a proclamation by the City and Richland County declaring, Thursday, October 3, 2013, "Annie Leibovitz Day."
She headed to the podium to accept these honors and say a few words. It was readily apparent that she is humbled by all of this and it is visible how excited she is to be here and have her exhibition at the Columbia Museum of Art.
We were all drawn under her spell as Annie ushered us into the gallery to show the media a few of the photographs and explain their significance.
The first photograph in the exhibition (which is also on the cover of the book) is a photo of Niagara Falls. Having visited Niagara Falls countless times as I child, I was in awe of what this photograph captured. The raw beauty of the Falls, the power of Mother Nature and the emotions evoked when standing and staring at them.
When asked about the photo, Annie explained that it was not her vision, but her children's. She talked about visiting the falls with her three children and watching them become mesmerized by the site. She began taking photos from their perspective. Her comments brought me to tears, and we moved on.
She continued through the gallery, notepad in hand, her passion pouring from her like water down one of the Great Wonders of the World. And then a dose of more down-to-earth images. We stood before a photo of Elvis Presley's television set with bullet holes in it and she explained. "It was rumored that when Robert Goulet would appear on television, Elvis would shoot at the set."
Of course there is the photograph of Henry David Thoreau's bed from his cabin at Walden Pond. I was carried back to that very book, which has always been one of my favorites. Now I had the image of Thoreau, writing from his bed in the evening.
Another photo that she discussed was an image of Annie Oakley's ace-of hearts target. There is only one hole, which is of course through the center of the heart, likely shot from 40 feet away. Fascinating.
Later that evening at the cocktail party, Annie casually strolled in, enjoyed a glass of wine and some food and sat on the sofa and mingled – just another cocktail party guest. We had a lovely, private conversation.
I will never forget meeting her, listening to her comments, studying her images in her presence. Both Annie and Pilgrimage have left an indelible impression on me. The show really defines who she is as a person and artist; it is deep, intimate and passionate.
Later, I began thinking about the parallels between her and Annie Oakley; strong female pioneers way ahead of their time and the best at what they did. They both shot things, albeit one with a gun and one with a camera, so when I came across this quote from Annie Oakley I smiled:
"Aim at the high mark and you will hit it. No, not the first time, not the second time and maybe not the third. But keep on aiming and keep on shooting, for only practice will make you perfect. Finally, you'll hit the bull's-eye of success." - Annie Oakley
Annie Leibovitz's Pilgrimage surely hit's the bull's-eye of her personal success, and I have a feeling she will continue to keep hitting her mark. Karen Brosius and her staff at the Columbia Museum of Art have certainly also hit the bull's-eye by bringing this show to Columbia, South Carolina. See it once and I promise you will want to go back again!
About the Show
The exhibition, including 78 photographs taken between April 2009 and May 2011, is currently on view at the Columbia Museum of Art and will be there through January 5, 2014. The CMA is the only exhibition presentation in the Southeast.
Columbia Museum of Art
1515 Main Street
Columbia, South Carolina
The museum is open from 11am until 5pm Tuesday through Friday, 10am until 5pm Saturday, and Noon until 5pm on Sunday.
Admission is $12 for adults.
columbiamuseum.org
803.799.2810
Career:
Rolling Stone
Magazine from 1970 through 1983;
Vanity Fair
;
Vogue
Awards:
Commandeur in the Ordre des Arts et des Lettres
by the French government (2006); International Center of Photography's Lifetime Achievement Award (2009); ASME's first Creative Excellence Award (2009); Centenary Medal of the Royal Photographic Society in London (2009); Los Angeles Museum of Contemporary Art Award to Distinguished Women in the Arts (2012). She has also been designated a Living Legend by the Library of Congress.
---