Coming up Roses
04 Mar 2020
Due to the coronavirus outbreak, the event Swoon to the Rose will be postponed. All Charleston Parks Conservancy organized events are canceled or postponed through March 31.
Charleston Parks and Conservatory director brings his love of florals to the community
By Holly Fisher
Photos provided by the Charleston Parks Conservatory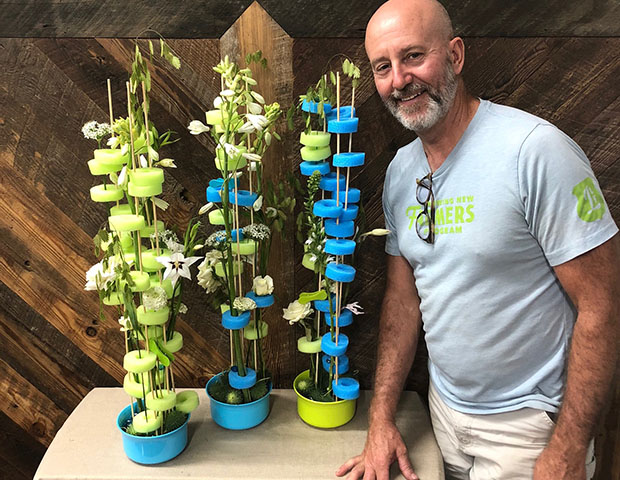 The natural landscape has always been a part of Jim Martin's life. As a child growing up on an Ohio dairy farm, Martin's happy place was in the garden. He gladly took on the tasks of weeding and watering—chores likely to elicit a groan of dismay from other kids.
But Martin was drawn to caring for the plants and the instant gratification of making a space immediately more beautiful with plants. "Your actions cause positive change," he said.
By tenth grade, Martin was locked in on a career in horticulture and had his sights set on Clemson University.
In the three decades since, Martin has worked in public horticulture. His efforts have made beloved South Carolina spaces even more beautiful.
Martin was the director of horticulture at Riverbanks Zoo & Garden in Columbia. During his 12-year tenure, Martin was instrumental in the development of the zoo's 90-acre botanical garden. He also spent five years as vice president for horticulture at Brookgreen Gardens in Murrells Inlet.
In 2007, Martin took on the role of executive director for a new nonprofit organization, Charleston Parks Conservancy. Founded by South Carolina businesswoman and philanthropist Darla Moore, the conservancy's mission was to beautify parks within the City of Charleston, ultimately better connecting people to their local green spaces.
In partnership with the City of Charleston, private donations and volunteers, the conservancy has transformed more than 20 city parks, including Allan Park, McMahon Playground at Hampton Park, Marion Square, the Rose Pavilion at Hampton Park and Wragg Square.
Martin's favorite horticultural undertaking—and the conservancy's largest project to date—was the complete renovation of the areas surrounding Colonial Lake.
Now in the role of director of horticulture at the conservancy, Martin oversees the team responsible for designing, planting and caring for the horticultural component in these public parks. The Conservancy's Park Angel volunteers enable the organization to take on such large-scale projects as Colonial Lake.
"The most gratifying thing is to see how involved people are in the parks now," Martin said. "People are coming to the parks and gardening with us once a week, twice a week and being a part of the change. People really are getting involved in what's going on in their green space."
Swoon to the Rose
This spring, Martin will combine his interest in public spaces with his passion for the floral arts. For three years, he's been quietly working on an art exhibit that will make flower art more accessible by demonstrating how simple it can be to incorporate flowers into everyday living.
Swoon to the Rose: A Flower Art Collaboration will feature the work of five floral artists, including international artist Hitomi Gilliam. The exhibit is March 26 to April 16 at the Charleston Parks Conservancy's office in West Ashley.
Swoon to the Rose is part of the Conservancy's Art in the Parks program, an effort to encourage temporary public art displays in Charleston city parks through collaborations with artists and arts organizations.
Swoon to the Rose will showcase flower art as well as host demonstrations and workshops around four themes:
Charleston and Its Rose: The rose is one of the most important flowers dating back to the beginning of civilization. Charleston has a long history with the rose and the Conservancy has been planting roses in many of the city's parks, including Colonial Lake where the Peggy Martin Rose is a springtime showstopper. In 2019, the Conservancy created the Rose Pavilion at Hampton Park where a variety of heirloom roses, including the Blush Noisette and Champney's Pink Cluster, fill the park with fragrant, colorful blooms.

Celebrating the Wall: Learn how to add flowers to wall hangings and decorations for a special occasion or everyday enjoyment.

Flower Inspiration Everyday: Flowers are more than decor for special events. Easily accessible at grocery stores and farmers markets, flowers can be a part of everyday living.

Slow Flower Power: Do you know where your flowers come from? Learn about local growers and how you can support local flower farmers. Lowcountry Flower Growers will donate flowers for the exhibits.
Swoon to the Rose also will feature Martin's floral design work—a creative endeavor that allows him to stay connected to plants but isn't always tied to his day job.
He picked up the interest 15 years ago, attending workshops, buying books and reading about floral design. He attended the Designing for Excellence workshop to study with a small group of fellow enthusiasts under four skilled teachers. It was there that he met Hitomi Gilliam, a Japanese Canadian flower artist and floral educator, whose work he greatly admired.
"There was refinement to her work," Martin said. "Her process to design has helped me realize my own style."
When Martin asked Gilliam if she would be part of a show in Charleston, she quickly accepted. Other participating designers are Jorge Uribe, owner and creative floral artist of Urban Floral
LLC in Wolcott, Connecticut; Scott Hasty, retail florist in the small southeast Texas town of
Orange; and Rebecca Raymond, a floral designer, instructor and freelancer from the Pacific
Northwest specializing in weddings and corporate work.
Making flower art more accessible
While the participating designers in Swoon to the Rose are professionals in their craft, Martin said this exhibit is aimed at everyday people who want to go beyond the vase in adding flowers to their everyday lives. He wants attendees to open their minds to new ways of using flowers.
"The No. 1 goal of Swoon to the Rose is for people to see things they haven't seen before or see things in a different way," Martin said. "We want people to be inspired to think about using flowers in a flowered art form at home."
That doesn't mean buying a $4,000 piece of art. It does mean picking up a bundle of flowers from the grocery store and incorporating them into wall art or a table piece.
That's why the pieces on display at Swoon to the Rose will be created with daily living in mind. Designers will craft their pieces thinking about how they would fit in homes ranging from 800 to 1,200 square feet with normal ceiling heights and wall space, Martin said. The pieces will serve as inspiration, and the accompanying workshops will offer a DIY experience allowing attendees to develop flower art appropriate for their own living space.
Martin said Swoon to the Rose can be summed up in four words: fresh, inspirational, modern and practical.
"We're thinking about pieces that, even when they're not flowered, you still wouldn't mind having on display," Martin said. "Then, you come home with flowers from the grocery store and you flower the wall instead of sticking them in that ordinary vase.
"Let's take an everyday thing and convert it into something special," Martin added. "I like using things people wouldn't imagine using in a design."
Want to go?
Swoon to the Rose: A Flower Art Collaboration
When: March 26 to April 16
Where: Charleston Parks Conservancy, 720 Magnolia Road, Suite 25, Charleston
Hours: 10 a.m. to 4 p.m. from Monday to Saturday
Info: www.charlestonparksconservancy.org