Artistic Improv
01 Nov 2011
Charleston Grill continues to set the bar in fine dining with its unique blend of old south and exotic cuisine
By STEPHANIE HUNT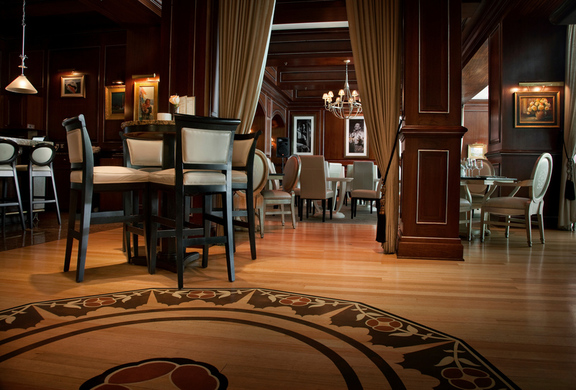 "Drumsticks" at most restaurants would mean a nice, finger-friendly piece of fried chicken. At Charleston Grill, it means the sublime, unobtrusive, flavor-packed punch of Quentin Baxter on percussion. Dreamy piano and a subdued, groovy bass play off his innovative, steady rhythm as improvisation soars, dips and tunefully swirls around the handsome dining room. Live jazz is a nightly "special" on the menu of what is arguably Charleston's culinary crown jewel, and the inimitable Quentin Baxter Ensemble cooks up an elegantly groovin' ambience that sets the mood, tone and indeed, flavor, for everything that follows.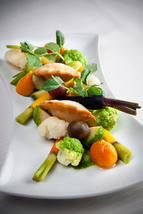 Or maybe it's that the lively jazz echoes the impeccable melding of Chef Michelle Weaver's own artistic improv? That it's the perfect acoustic complement to the way she adventures into new culinary ground, or takes a traditional dish and infuses it with her signature gustatory riff? Indeed, it's hard to distinguish which leads and which follows—the harmonic blending of all aspects of the Charleston Grill dining experience are what make it a showstopper. From the masterful food to the lithe music to the sophisticated but comfy décor, to the intuitive, attentive service—this is syncopation par excellence.
This is jazz remixed—spilling over on to plates, palates and palettes, interior design and people. Jazz, after all, is America's only truly native art form, with deep South roots and an African American heritage; it is pure, lush, Southern and very cosmopolitan, which are the perfect adjectives for Charleston Grill, and hey, just happen to be Weaver's apt and pithy menu categories. "Dividing the menu into four quadrants was my idea," says Weaver, who sharpened her knives and honed her skills as Executive Sous Chef under Bob Waggoner for 11 years before becoming Executive Chef three years ago, and is constantly challenging herself to "reach as far as I can, and not get stuck in a rut. I don't simply want to repeat what Bob did," she says. "One never wants to get compared to their mentor!"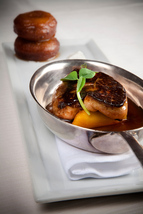 Weaver's offerings under the "Pure" heading show off her finesse with unadulterated flavor and primo ingredients. Beef carpaccio is simplicity at its most elegant. The "Lush" category is a siren call for sheer indulgence. Foie gras, caviar, buttery Maine lobster, the works—never fear, if you drool, the waitperson quietly and magically appears with a fresh linen napkin. Under "Southern" you'll find quintessential local ingredients (actually, local ingredients are featured throughout the menu, but here, Carolina Gold rice, heirloom tomatoes, fresh crab cakes standout) and classic old-fashioned, re-fashioned favorites, e.g. rich and refined Pork & Beans like Van Camps never, ever dreamed of.
But the "Cosmopolitan" section is where Weaver's creative flourish really flies. This Alabama-native who describes herself as "an old Southern soul with a large global palate," isn't afraid to play a little. When exploring another culture's cuisine (currently she's focused on Philippine cuisine) she studies it intensely, reading about the ingredients, agriculture, traditions. "I want to know why it's important in their culture, what makes it 'soul' food for them," she notes. On the menu, this translates into a dazzling South Indian Curry, or an exotic crispy shrimp sizzled up to light and delicious perfection. World flavors, fresh textures and imaginative delivery all mingle for fine dining that still has plenty of flair, and fun. "We haven't repeated one menu item in my three years as chef," Weaver says. "I challenge myself on a constant basis."
Chef Weaver and Quentin Baxter, however, are far from the only Charleston Grill luminaries. Wine at Charleston Grill has a presence, personality and a devoted following all its own, probably even its own Facebook page or Twitter flock. Under the discerning eye, and palate, of sommelier Rick Ruben, some 1300 bottles make the award-winning list, and the staff seems to know them all. You can play the field and ask Ruben and crew to customize tastings to your menu selections, or simply rely on their expertise to find one perfect pairing for your table. Don't come with a maxed out credit card, however, because such vino-refinement doesn't come cheap.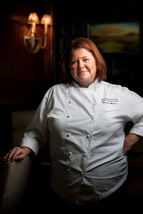 The Grill's other major player is a short, balding, bodacious personality named Mickey Bakst. As maitre d' and general manager, his imprint of warmth and unequivocal hospitality is everywhere, but most notably outside the polished wood tones and jazzy snazz of Charleston Grill. Bakst is known for bringing his robust sense of welcome, of celebrating life, to the broader Charleston community, through concocting charitable food & bev benefits that raise money, awareness and a sense of community connectedness. For sure, Charleston Grill is a high-falutin fine-dining experience, but it's also becoming pseudonymous with outreach and generosity, especially where the foodie and nonprofit worlds intersect. If "you are where you eat," as the Grill's tagline suggests, then Charleston is a better place for the fine food and fine folks at Charleston Grill.
Charleston Grill
224 King St., Charleston
843-577-4522
Open Daily, 5:30-10pm
www.charlestongrill.com