Holey City Bagels brings traditional New York recipe to the Charleston breakfast scene
By Katelyn Rutt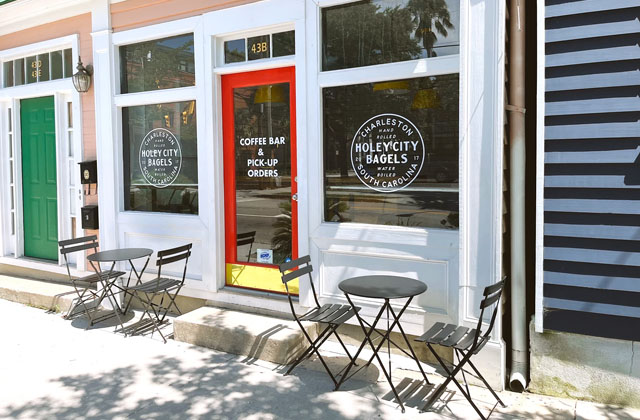 As a native New Jerseyan, Holey City Bagels Founder Greg Odachowski is no stranger to a bagel—it's practically baked into his DNA.
"Bagels are part of the cultural fabric of the northeastern United States," Odachowski says. "Bridget (my wife) and I grew up grabbing bagel sandwiches for breakfast before school and had our parents bringing home a dozen bagels with spreads on Sunday morning."
When Odachowski relocated to the Holy City in 1998, his dream of opening a bagel shop was reinvigorated as he began to notice the pattern of migration from the northeast to Charleston. It's a trend that Odachowski says seems to be only picking up steam.
The entrepreneur, a then-seventh grade social studies teacher, spent his free time developing recipes and honing his bagel rolling skills. It wasn't until 2017 that Odachowski launched the humble beginnings of a business that would eventually change his life—and the Charleston breakfast scene—forever.
"He taught himself how to make bagels on YouTube and set up a tent at the farmers market," said Bridget Byrne, Holey City Bagels Managing Partner and Greg's wife. "He had no budget, advertising, or employees, only his product. He sold out every weekend."
A weekend pop-up turned into the renovation of a 1962 airstream food truck and eventually evolved into the need for a brick and mortar that could handle a full menu and larger volume of customers. The launch was a nostalgic venture for Odachowski and Byrne, who both frequented the space—then Five Loaves Café at 43 Cannon St.—during their time at the College of Charleston. Driving to dinner one night, they saw a for lease sign on the old building, called the number and the rest was history.
From there, Odachowski's side hustle launched into a full operation in 2022 with a level of local support that has never wavered.
"The demand has been very high since day one," Odachowski says. "It was something I noticed when I was first popping up at farmers markets in 2017, and then with my food truck. That demand gave me the confidence to open a physical restaurant, which is something that can be a very scary and risky undertaking."
Odachowski says the store's opening day feedback was overwhelming, filled with customers thanking them for opening and reiterating Charleston's need for a business of its kind.
"We were the first bagel shop in this recent bagel boom in Charleston and we had to make some of it up as we went," Byrne says. "There were little to no bagel shops to compare ourselves to in the area, which presented its own set of challenges from an operational standpoint. There was a huge demand for a bagel shop for quite some time and customer expectations were rightfully very high."
With a business motto to be "one percent better every day," the couple attributes their success to two things: family and having a team that never takes shortcuts.
"We tag team all aspects of our life and I think that is the secret to our success so far," Byrne says. "We are partners in business, parents, employers, and partners in our life. We are a really good team and our strengths and weaknesses complement each other."
None of it would be possible without the amazing recipe that has given Holey City Bagels a name and made its founding duo so passionate about what they do.
"We stand apart because we are the only shop that makes bagels the traditional New York way," Odachowski says. "All of our bagels are made from scratch every day, without preservatives. They are all hand-rolled, and they are then boiled before being baked. We believe that if we keep our focus on having a quality product and the right people on our team, the results will take care of themselves."
Holey City Bagels is located at 43 Cannon St. A full menu includes breakfast and brunch bagel sandwiches, bagels and spreads, coffee, tea and more. 7 a.m. – 1 p.m. Wednesday-Sunday. Closed Monday and Tuesday. Catering is available. www.holeycitybagels.com.