Burgers, Bourbon and Beer
06 Sep 2023
Enjoy the season indoors or outdoors at Bohemian Bull's new Mt. Pleasant location
By Sophia Rodriguez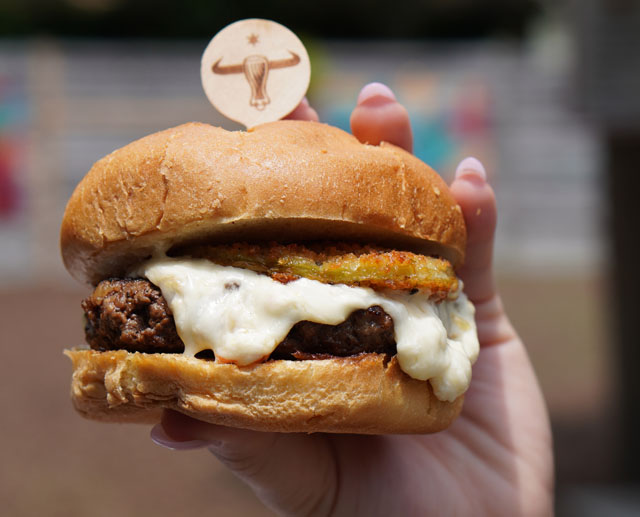 As the punishing temperatures and humidity of summer start to give way to the cooler, cozier feel of fall, people in the Charleston area start to find ways to linger outside. Drinking at a local brewery's biergarten or enjoying the ambiance at outdoor tables. And with a new Bohemian Bull location in Mt. Pleasant just a stone's throw from Boone Hall, there's no doubt it will benefit from the foot traffic at the plantation's pumpkin patch and Fright Nights this season.
When Bohemian Bull first opened its doors on James Island in 2013, the goal was to provide a comfortable hangout for locals.
"We wanted a place where family and friends could come and relax in a lively, open atmosphere," said Biel. "You could fill your belly with hearty, craveable food and wash it down with a delicious selection of craft beers, hand-selected bourbons and world-class cocktails."
One of its long-time customers, Richard Thomasson, was interested in opening a franchise in the Charleston area and found a spot East of the Cooper.
"North Mount Pleasant was the perfect fit. There was a need for more restaurants, and we felt like the family-friendly atmosphere we provided would fit right in," Biel said.
The draft menu changes daily, and the food menu is updated roughly every six months. Biel says in lieu of a head chef, employees collaborate on the menu, including kitchen staff and managers. But the restaurant has its mainstays, like its "Boho Burgers" selection, including the truffle burger. All locations boast between 25 and 30 craft beers on draft, as well as creative cocktails.
The Butterfly Key Lime Margarita is a gorgeously purple concoction that combines Los Sundays Coconut Tequila with key lime juice-infused butterfly pea flower and cream of coconut. The glass is rimmed with graham crackers and butterfly pea flower.
It's not just the great burgers and spirits that draw crowds. Bohemian Bull has always been dedicated to the dual indoor-outdoor experience—a place where it's just as easy to gather for a friendly game of outdoor bocce or enjoy live, homegrown musical acts as it is to gather for food and drink.
"Music is a big part of what we call the 'vibe.' We have the same eclectic muisic playlist at all locations. It ranges from Bob Marley to Grateful Dead to Jack White and Sturgill Simpson," said Biel. The Mt. Pleasant location has live music three times a week.
The James Island location hosts all kinds of events: everything from a farmer's market to Monday trivia nights to terrarium workshops to drag bingo during Pride Month. And then there are the seasonal events.
"Oyster roasts in the fall have always been a staple of ours," said Biel. The one on Folly Road hosts an all-you-can-eat oyster roast for $29.95 on the third Thursday of each month from November to February, complete with live music.
Biel has a long history of hospitality experience in this area and, as a result, a knack for tapping into what customers want.
"I moved to Charleston when I was 19 years old to open up The Crab House at Ripley Point in West Ashley as the kitchen manager. I went on to work for Carrabba's, Chick-fil-A, Jack's Cosmic Dogs and Mex 1 before opening Bohemian Bull," he said. He started as the general manager of Bohemian Bull, then jumped at the opportunity to purchase in 2018.
Although Bohemian Bull's origins are rooted here, its influence is felt beyond the bounds of the Lowcountry. Biel said Bohemian Bull decided to share its brand with other entrepreneurs through franchising two years ago. In that short time, two locations have opened in the Upstate, another along the Georgia-Florida border and one in the Dallas-Fort Worth metroplex.
Biel says a big part of the brand's ethos is giving back.
"Something very important to us is our motto: Eating Good, Doing Good. All Bohemian Bull locations host fundraisers throughout the year. We truly believe that we wouldn't have the success we have if it wasn't for our community, so we want to give back as much as we can."
Bohemian Bull's Lowcountry locations are at 1531 Folly Rd., James Island and 2668 N Hwy 17, Mt. Pleasant. Visit www.bohemianbull.com/locations for local menus and follow on Instagram