Balance for Mind & Body
30 Jul 2013
Find bliss with these local wellness centers
By JASON A. ZWIKER » Photographs by ASHLEY WALKER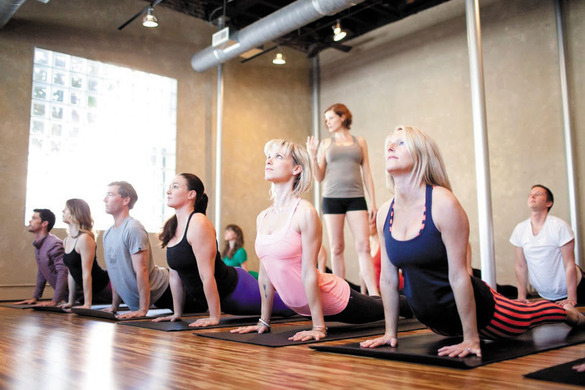 Kelly Jean Moore, co-owner of Mission Yoga, gives credit where credit is due. "There's a revolution going on right now," she says. "And it began with local, sustainable food. Chefs started cooking with it, consumers started demanding it. It started connecting people back to their communities and making them more aware of their own bodies."
For Moore, the revolution is not just about aesthetic fitness — i.e. wanting to lose weight, firm up, and look good (although those can be worthy goals) — it's about wellness inside and out. It's about you feeling like the best version of you. Being happy not just with the way your body looks but with the way it feels.
That's why Mission Yoga, which opened its doors back in January, feels so much like a welcoming community. "It's more than just a way to get a little sweat on," she says with a laugh. Classes at Mission are creatively described, based on what you'll experience in them. Whether you're feeling the need for more focus, balance, core work, or stress relief, there's a class waiting for you, at an appropriate level of challenge.
Mission Yoga is located in the historic Elliotborough neighborhood, which is slowly but surely becoming known for an abundance of local businesses with clever names, smart ideas, and youthful exuberance.
"The interest in local foods also spurred an interest in these sweet, sincere homegrown businesses," says Moore. "We're all trying to support our local communities and make our neighborhoods better places. I think that's pretty brilliant."
For those looking for more one-on-one guidance, Charleston Wellness Group offers yoga therapy, counseling, and health coaching.
"All of our services have a non-directive approach, which is what makes us unique," says Hallie Clark, a licensed professional counselor and co-founder of Charleston Wellness Group. "Rather than telling our client what they need to do, our approach offers self-directed lessons which lead to more authentic and long lasting change."
Lyn Tally, also a co-founder, adds that they strive to make wellness accessible to everyone. "We wear jeans to work," she says. "We sit on the floor. We laugh a lot."
"From a very young age, I was taught by my grandmother the value of fresh, seasonal whole foods," says holistic health coach Stephanie Burg. "She taught me the importance of knowing where food comes from as well as how it's grown." Today, Stephanie is sharing that love of healthy food with others and helping us to understand how our food choices ultimately impact how we feel.
"Stress manifests in multiple ways," Hallie notes, while reminding us that not all stress is bad. It's all about balance and about learning to recognize when a pattern in life is becoming unhealthy. "Our clients are interested in uncovering habituated patterns that are no longer serving them, creating change, and learning how to more effectively manage life's stressors."
In addition to individual services, Charleston Wellness Group also offers a variety of group classes such as "Befriend Stress", "Mindful Transformation", and "Unwind".
As amazing as the yoga classes and wellness therapies are in and of themselves, they become even more powerful when you meet the people involved and learn their stories. Kelly Jean Moore of Mission Yoga struggled with the consequences of unhealthy choices when she was young. "It's funny," she says. "Acting was my career back then. I studied how the body worked in order to improve my acting, but I never directed that knowledge to my own life experience. That didn't come until later."
Another local wellness center founder and director, Abigail McClam, learned powerful lessons about pain and about overcoming adversity when she was a child. Born premature, she contracted MRSA, an infection that destroyed her right hip. Between birth and age 18, she went under the surgical knife 16 times before the damage was repaired.
Along the way, she discovered that holistic therapies, such as acupuncture, allowed her to manage chronic pain. "It helped me understand healing from a different perspective," she says. "Often times, stress and anxiety linger in the body. This can be especially true in the neck, shoulders, and lower back. The body is holding on to patterns of stress."
She wanted to both share what she'd learned from this experience and give back, helping others as she herself was helped. She began by working as a massage therapist. Before long, she realized that it was time to bring her complete vision of wellness to fruition. Oné Respé Wellness Center was born. Established on the principles of honoring others and respecting traditions, it became a local favorite for massage and other wellness therapies.
Now, Abigail is reopening with a new name, Lotus Healing Centre, at a new location on the corner of Ashley Avenue and Spring Street. Lotus will feature not only massage therapy, but also acupuncture, biodynamic craniosacral therapy, and chiropractic care.
"Our mission is to offer affordable wellness," Abigail says. "We want people to still be able to come here even if they are on a budget."
Bottom line: there are amazing options available for anyone seeking a healthier tomorrow in Charleston.
And, hey, doesn't that perfectly complement the Charleston lifestyle? We live under warm, gorgeous skies, surrounded by slow rolling ocean waves, in one of the friendliest cities in the nation. Our food is world class. Throughout the year, there are enough art festivals, music events, and outdoor recreation opportunities to satisfy any taste.
Who wouldn't want to enjoy it all as well and fully as possible?
For more information:
Mission Yoga
125 Spring St.
843-974-4187
wearemissionyoga.com
Charleston Wellness Group
125 Spring St.
843-580-4294
charlestonwellnessgroup.com
Lotus Healing Centre
232-A Ashley Ave.
843-724-9807