Invitation to Success
29 Nov 2013
With an expert knowledge of fine stationery, Emilie Dulles helps you correspond with style
By JASON A. ZWIKER » Photos by ASHLEY WALKER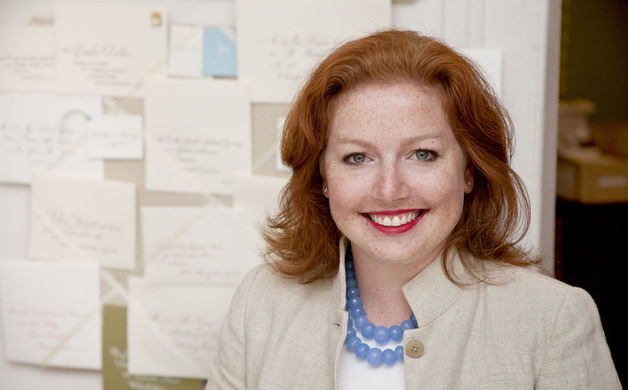 Tucked away in the high country of the canton of Vaud, not far from Gstaad, one of the most luxurious ski resorts in the Alps, there is a small municipality called Rougemont.
Named for the red rock outcroppings just to the north, it is a place where hot air balloons drift through the sky when the weather is warm, and traditional cheeses are served with fruit and nuts at the end of a meal in Alpine chalets.
It was in this idyllic and multicultural setting that Emilie Dulles was first introduced to fine stationery. At the time, the Dulles family lived in Lausanne, on the shore of Lake Geneva, where her father worked as an international corporate lawyer. On weekends, summers, and holidays, they would drive along the lake, through the Swiss villages, and up along the winding mountain roads to their secondary home in Rougemont. Her mother imported and sold fine stationery to clients who traveled there for the fairytale-like summer weather, and the winter skiing.
By nine years of age, Dulles was already hand-wrapping gifts for her mother's clients. "It was a wonderful place to spend time as a child," she says. "It exposed me to a broad range of year-round Swiss farmers, international weekenders, professionals, and crafts people."
As the business grew, Emilie traveled with her mother to trade shows in New York City and to printing facilities such as William Arthur in West Kennebunk, Maine, where she began to build her now extensive knowledge of various print processes and their requirements.
That early exposure to the inner workings of the world of engraving, letterpress, calligraphy, and etiquette has served her well. She acquired confidence in working with a multinational clientele (she is fluent in both English and French and comfortable in German and Spanish) as well as a deep appreciation for beauty and excellence. The American School in London and Princeton rounded out her education. Dulles today is the epitome of poise and professionalism.
The benefit of that commitment to excellence is clear. When brides, hosts, corporations, and other discerning clients from all around the world require professional correspondence that makes a distinct impression, they call Dulles Designs.
"The most fascinating aspect of the business for me has always been how our relationships with families evolve over time," she says. "It might begin with a birth announcement, then invitations to birthday parties, and then to a wedding."
"I am honored and so appreciative of that."
Living on Sullivan's Island and doing business in historic Charleston, Dulles is warm and cordial with a breathtaking mastery of wedding stationery suite design, print management, and event logistics. Clients from as far away as Palm Beach or the Hamptons call upon her, not only for her ability to precisely match the perfect weight of paper and style of print to a particular occasion, but also for her delicacy and discretion.
Above all, it is obvious how much she loves the work that she does. "I love beautiful, thick cotton stock with texture," she says. "I love bevel edges, picking the perfect color to match the wedding, the way the weight in hand of a well-made invitation can make such a statement about what it will feel like to be there."
When she's not at work on a project, Dulles can usually be found enjoying the Lowcountry's blissful great outdoors. "It's wonderful to walk over to the beach, bring a book, or get some sun," she says. Don't be surprised to see her fishing from the pier or taking a swing on the golf course. She enjoys outdoor sports of all kinds. During her childhood in Switzerland, she would often swoosh down the slopes on skis or skate across the frozen lakes. In 1990, she even performed in the opening ceremonies of the European Figure Skating Championship. "It was a vegetable and fruit theme, for some reason," she says with a laugh. "Each child had a life size costume. Mine was a big onion. It was a funny salad of a dance!"
And now the consummate stationer who has made so many weddings stand out with the perfect blend of paper and print has another reason to rejoice: her recent engagement to her own true love. "I've been a part of so many weddings. It's going to be fun seeing the process from the other side!" 843-805-7166, dullesdesigns.com.