Maris DeHart boutique offers attainable luxury & curated styles for life's moments
By Sophia Rodriguez
Photos by Jesse Volk and David Se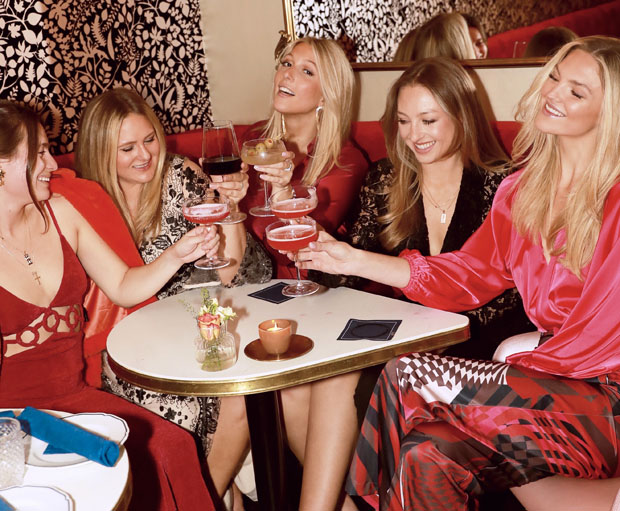 In a world of endless clothing choices and accelerated microtrends, it can be daunting for a woman to build the kind of wardrobe that makes her look and feel like her best self. While algorithms show a customer items that are in her wheelhouse, they don't create space for the unexpected. Like finding the perfect business-casual blazer that boosts your confidence at the office. Or trying on a pair of irresistible, buttery-soft pants that fit like a glove. Or even finding a new organic mud mask to try on self-care Sunday. These are the kinds of treasures you didn't know you needed until you step into a boutique filled with joie de vivre.
Maris DeHart is just the place to find those astonishing treasures. When founder Alden DeHart Haviland opened its doors in 2016, she wanted to surprise and delight customers meandering through the French Quarter.
"We aim to appeal to women of all ages, many of [whom] like to have fun with fashion and want to add unique pieces to their wardrobes or step outside their comfort zone," she said. "Having three generations of women walk into the store and each being able to find a new piece that they are excited about is the confidence we look to provide with our chic inclusivity."
The boutique lives up to its motto of "attainable luxury." Although you can peruse Maris DeHart's lookbooks online, it's certainly worth your while to go to the shop and enjoy the tactile experience.
The clothes make you ask, "What does that feel like?" The variety of textures — sequins, pleats, faux fur — all invite you to touch. And the carefully-curated accessories and gift products make excellent presents, both for friends or simply to treat yourself.
Haviland and her team have struck a good balance between elevated basics and statement items that can be easily mixed and matched. Many of the current seasonal offerings come in soft, muted shades that evoke a sense of high-end comfort, such as an ice-blue faux fur coat, cream-colored zippered peacoats and neutral sweaters. But there are also eye-catching items, such as shimmery ruffled tops, bold tiered tulle dresses, high-waisted black pleather shorts and matching blazers for more festive times. Not to mention gorgeous shoes, handbags and jewelry to complete your look.
"We share the love for statement pieces with our customers," said Haviland. "Whether it's a bright-colored faux fur jacket, feather cuff blouse, or rhinestone-embellished dresses, you're sure to find unique pieces you'll cherish in your closet for years to come." She and her team work year-round to cater styles for a variety of events, holidays, and moods.
Haviland honed her skills in New York City's Henri Bendel department store on 5th Avenue, a place she credits with teaching her all about retail customer service, visual merchandising, and curating the right combination of products. When she decided to move to Charleston in her early 20s, she made strides in retail management and started a social media management company with her fiancé. Once she got the taste for running her own business, she wanted to pour her past experiences into her own store.
The boutique's name stems from their investor's daughter coupled with Haviland's middle name. "Combining these two words created a brand name that is sentimental but unique to the Charleston retail community."
Haviland loves meeting locals who are out and about as well as tourists who are ready to shop. "I hear a lot of our customers say they came in from word-of-mouth, whether that be from locals, past visitors or our social media presence."
She also appreciates the opportunity to connect with other female business owners and promote local brands like Snaffle Bit and Holst & Lee.
Earlier this year, the company opened a concept shop in the side space across from the main boutique called Amused. Inspired by the Y2K era and "dopamine dressing," the Maris DeHart team has outfitted it to be a fashion playground with bright candy colors and a mix of coveted, trendy street styles from New York, L.A. and Miami. Haviland describes the space as "a judgment-free zone to unleash your inner child in an empowered grown woman confident way. It's your safe space to 'do it for the gram,' take all the photos, try on a fit you wouldn't normally wear, step out of the box, explore, experiment, have fun with fashion again."
While the shop is considered a women's clothing store, Haviland says its doors are open to all who crave fabulous pieces. The shop's personal stylists are passionate about working with all kinds of clients, styles and specific preferences.
"We have a constantly evolving perspective with our merchandise with classic undertones," said Haviland. "No matter what the trends are or what's happening in the world, Maris DeHart is a place where people can go to find something different or something that aligns with their already curated style. It is a place where you can feel safe to explore the creativity and freedom that clothing can offer us, no matter our surroundings."
Maris DeHart is located at 32 Vendue Range Suite 10. Shop online at www.marisdehart.com and follow on Instagram at @maris_dehart