Blind Tiger Pub
27 Mar 2014
By WENDY SWAT SNYDER » Photos by ASHLEY WALKER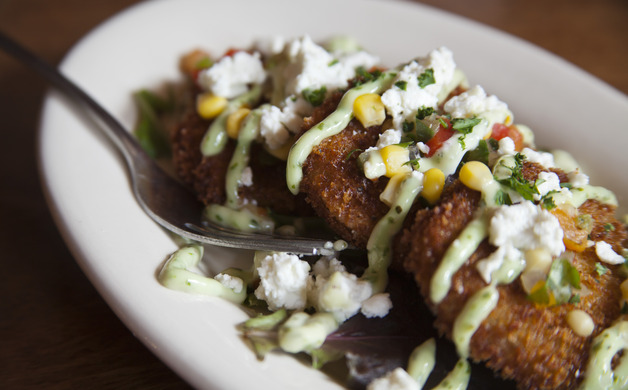 Raucous rebels and refined manners are what the Old South is all about. Those seeking a taste of Charleston's storied past, and scaled-up pub fare to boot, need not look any further than the Blind Tiger Pub. The notoriety of the Blind Tiger dates back to pre-Prohibition days, when Charlestonians were singled out for their freewheeling ways by a teetotaling governor in the South Carolina upstate. Viewing the "Holy City" as a melting pot of a variety of vices, the Honorable Ben Tillman, also known as "Pitchfork Ben", declared the sale of liquor illegal, and sent out posses to enforce the law.
Defiant bootleggers opened parlors where patrons paid to see a tiger (wink), and were served complimentary cocktails. These establishments were precursors of the speakeasy, and eventually sprouted up all over the country. Now they are celebrated throughout the Lowcountry with a variety of Charleston Brewery Tours.
Today, much of the original 19th century building housing the Blind Tiger Pub remains—dark hardwood paneling and pressed tin ceilings setting a historic tone inside the pleasantly ramshackle restaurant, and outside, courtyards of old brick archways and winding paths. Tourists, locals, and the college crowd collide here regularly for shots, beers, food elevated with farm fresh ingredients, and live music.
South Carolina native and hospitality veteran Lisa Brown has had dominion over the celebrated eatery since 2006, when she purchased the Blind Tiger and brought chef Mitch Wyman on board. "I've worked in the food business since I was 15," says Brown, who spent time in California and Vermont before resettling in Charleston. "I would come home during Spoleto and earn extra money working at Fulton Five."
"Funky fine dining" is how Wyman describes the pub's style of cuisine. The longtime Lowcountry resident's culinary journey includes a stint in the kitchen of Rue de Jean, Charleston's famed French bistro where straightforward brasserie classics rule the menu. "I'm a three-ingredient guy," he muses, adding, "I like to keep it simple—let the ingredients speak for themselves."
The no-fuss menu gets you started with a mixed bag of pub standards and a surprise or two. For example: spinach artichoke dip, a hummus plate, fried pickles, white corn fritters, and pierogies—potato dumplings pan seared in brown butter and smothered with caramelized onions, sour cream and bacon.
Fried green tomatoes are Panko-coated and deep fried until golden. The crunchy Southern classic is served with goat cheese, basil aioli, and a cucumber and roasted corn relish. It is made vegan by substituting caramelized onions and a light, sweet barbeques sauce for the cheese and aioli.
Light plates include a tarragon chicken salad served over mixed greens and fresh fruit. A duo of crab cakes made with "Mitch's Voodoo Dust" are topped with lemon aioli and served with a house salad.
Chef describes "The Greek" as a true Greek salad–no lettuces, just hearty wedges of chopped tomato, cucumber, Kalamata olives, red onions, feta, and pepperoncini tossed with a house made Greek vinaigrette. Skip the feta for a vegan version, and add chicken, salmon, Ahi tuna, or hanger steak to beef it up.
The burgers are all made with Certified Angus Beef and simply seasoned to showcase the great char-grilled flavor. The Broad Street variety features a hefty patty topped with a pair of fried green tomatoes and savory goat cheese.
The menu is rounded out with hearty offerings such as an Angus beef hanger steak sandwich, a Philly cheese steak sandwich, a Carolina pulled pork sandwich topped with house made barbeque sauce, and "Tiger Tacos" stuffed with your choice of seared Ahi tuna, beef , or organic free-range chicken.
If you're lucky, the shrimp salad will be on the daily specials board when you visit: a simple, light preparation with a crème fraiche base that lets the fresh flavor of the regionally sourced—and perfectly cooked—shrimp shine through. A mesclun salad dressed with a lemony house vinaigrette adds just the right touch of acidity to the dish.
Friday is fish fry day, and the star of the show is a lightly battered and deep-fried-until-crunchy pair of cod filets.
Food and beverage specials run Sunday through Tuesday, discounting featured menu items, specialty drinks and beers.
On Wednesdays, for instance, enjoy a generous pound-and-a-half bowlful of steaming mussels served in a classic buttery shallot and wine broth with a wedge of garlicky baguette from local artisanal bakery Normandy Farms.
The Blind Tiger website www.blindtigercharleston.com is the best way to keep up with the many specials the restaurant runs and its live music schedule. Happy Hour begins at 5pm, Monday through Friday, featuring $2.75 domestic brands and $3.75 wells.
Brown notes that spring will bring several new dishes to the menu. Pub patrons will see a few more vegetarian and vegan option, and more salads: a watermelon salad with feta and mint, and an arugula salad with dried blueberries and blueberry vinaigrette. A Sante Fe brunch dish and quinoa cakes are also on the horizon...and wait'll you see the tiger!
Blind Tiger White Corn Fritters
1 cup flour
2 cups corn meal
1 tsp salt
½ tbs baking powder
1 cup corn
½ cup yellow onion, chopped
½ jalapeno, chopped
1 tsp red pepper flakes
½ cup cilantro, chopped
½ tsp cinnamon
2 eggs
1 cup milk
¼ cup brown sugar
Mix together the first four ingredients in a bowl, ingredients five through ten in another bowl, and the last three ingredients in a third bowl. Combine all three bowls into one and mix thoroughly. Add more milk if necessary, mixture should be moist. Heat oil in a deep pan to 365 degrees and gently drop in batter using a small scooper. Cook until golden, turning once. Work in small batches to maintain temperature of oil. Drain on paper towels.
Blind Tiger
36-38 Broad St., Charleston
843-577-0088
blindtigercharleston.com