Broad Street Success
23 May 2023
Charleston's storied street continues to reinvent itself
Article and photos by Jenny Peterson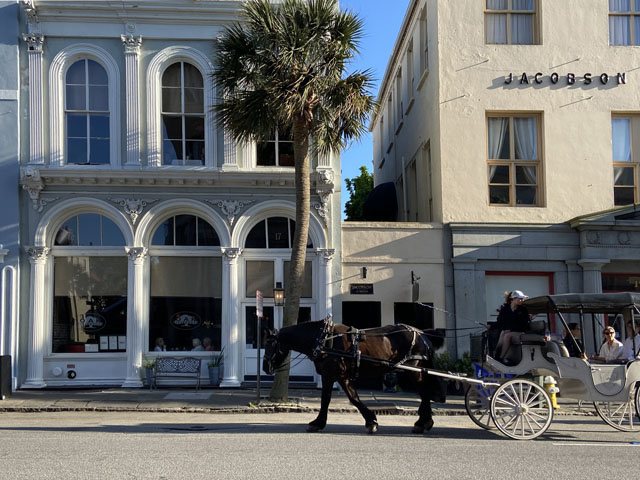 One of the most historic streets in Charleston, Broad Street crosses the Southern tip of the Charleston peninsula from the Ashley River to its terminus at the Old Exchange Building, comprising a stretch of tight buildings concentrated between King and East Bay Streets. Historically, merchants operated on the ground floor with apartments above.
"(Broad Street) has been used for parades, public gatherings and state funerals. It has been the scene of riots, duels and various crimes. Broad Street has served as the heartbeat of historic Charleston since the city's start on the peninsula in 1670s," writes authors Margaret Middleton Rivers Eastman and Robert P. Stockton in the book Broad Street and Beyond: Charleston's Historic Nexus of Power. The street even had rudimentary streetcars in the late 1800s.
Broad Street has seen many iterations—buildings served as boarding houses, drugstores and even horse stables in the 1700s and 1800s—with its most modern reputation as a haven for law offices just steps from the federal and county courthouses on the corner of Meeting and Broad Streets.
In the year 1890, a few blocks of Broad Street "sheltered 95 percent of Charleston's attorney's offices," according to Eastman and Stockton.
Today, while attorney offices and similar court-related businesses still enjoy Broad Street addresses, over the past year, the street has welcomed more lifestyles businesses, turning over a new leaf as a shopping and dining corridor.
Two fine-dining restaurants have opened on Broad Street in the past year—Sorelle, an Italian restaurant, bar, and market and French restaurant Brasserie La Banque, with a basement bar.
The Broad Street restaurants join newcomers Souchi boutique, Magnolia Medi Spa and Vignette Home Table Garden home décor, among others.
One of the newest businesses announced for Broad Street is a one-of-a-kind venture: a remote broadcast studio where elected officials and national pundits can do live commentary and interviews on national network TV.
Josh Nass, a crisis communications attorney, purchased 61 Broad St., a four-story office building, in early 2023. The existing law firm will continue to rent the space and the conference room will be transformed into the studio once the firm vacates the space.
After moving to Charleston from New York during the pandemic, Nass fell in love with the city and the history and prominence of Broad Street.
"I've always been a fan of Broad Street and South of Broad and when the building came on the market, I got to work quickly," Nass said. "Broad Street is one of Charleston's most charming, historic and architecturally favorable and appealing blocks. I want to give Broad Street the panache that it deserves."
Broad Street for all
Carriage horses pull tourists down the famous stretch on Broad Street, with a stop at the famed "Four Corners of Law" (see story on page 24). Beyond that iconic intersection, buildings on the dense commercial strip of Broad Street have more humble stories that belie their more than 350 years of history.
Historians note that Broad Street throughout its early existence comprised of varying social and economic groups living and working together in the same block, typical for European cities.
In the book, "Life on Broad Street: archaeological survey of the Hollings Judicial Center Annex," which was published in 1996 and documented archaeological studies
While building the federal courthouse on Broad Street,, authors Michael Trinkley and Debi Hacker studied and recounted Broad Street's plats in 1872 as a "densely-developed block" with a police station at the corner of Broad and Meeting Streets, horse stables nearby and a makeshift street market.
"The renters during the nineteenth century were neither very high status, nor very low. They represent a diverse mix of young and old, male and female. Some were students, others were young, single clerks. Some were widows. This middling status is perhaps what is expected in a fringe neighborhood," authors wrote.
Grand banks popped up in ornate Italian renaissance style, including the People's Bank at 18 Broad Street in 1865 and the State Bank of South Carolina at 1 Broad Street, built in 1853. However, records of businesses operating in 1883 show more middle-class digs: a business selling fruit at 89 Broad Street, a kindergarten at 91 Broad Street and a drugstore at 95 Broad Street, according to Trinkley and Hacker.
The News and Courier published at 19 Broad Street from 1873 to 1902. Freedman's Savings and Trust Company, established in 1865 at 58 Broad Street, was "a visionary enterprise for the benefit of newly freed slaves," according to Eastman and Stockton.
"The 1902 map reveals that the block changed little and continued to reveal a mixed neighborhood with commercial and residential activities taking place next door to each other," according to Trinkley and Hacker. "That included a tin shop, dentist, hardware store, pharmacy, notary public, printers and book binders."
"Occasionally other businesses were apparently rented space, such as Bernard d. Schier, who in 1882 advertised cigars and tobacco from this location," Trinkley and Hacker write. "At least one free person of color was living on the block during the antebellum. The 1831 residence of Gilbert Wall."
The street was also rumored to have house "Blind Tiger" pubs, underground bars that popped up following an 1893 law that liquor could only be purchased by the bottle and only from a government-appointed dispenser.
"The blind tiger pub at 36 Broad Street is a reminder of Charleston's colorful history," writes Eastman and Stockton.
Beyond the Business corridor
Broad Street's beauty and history extends beyond the commercial corridor, with a robust residential area with wide porches closer to the Ashley River on the Western end of Broad Street.
Along this section of Broad Street, there are some famous homes, including the Cooper O'Connor House at 180 Broad Street, where Union officers were confined by the Confederacy, and The John Rutledge House Inn at 116 Broad Street, the only home of a signer of the United States Constitution that now serves as both a living national historic landmark as well as an inn.
Beloved neighborhood grocery store, Burbage's, which located to 157 Broad Street in 1961, still serves the close-knit neighborhood today.
There's greenspace along this stretch of the street; man-made Colonial Lake was created more than 150 years ago and a $5.9 million revitalization by the Charleston Parks Conservancy in 2016 made needed repairs to the 140-year-old tabby seawall and added significant gardens and benches for visitors to enjoy.
On the Horizon
Nass said he's eager to start transforming the broadcast studio, further putting Broad Street on the map. When he made the decision to move to Charleston, he didn't consider any other area to live and work, bringing the real-life postcard image of Charleston to life.
"I just think Broad Street, in some ways, encapsulates everything Charleston has to offer in the most powerful and meaningful way," Nass said.