First Impressions
23 May 2023
First Friday Artwalks make exploring the city's art scene a breeze
Article and photos by Jenny Peterson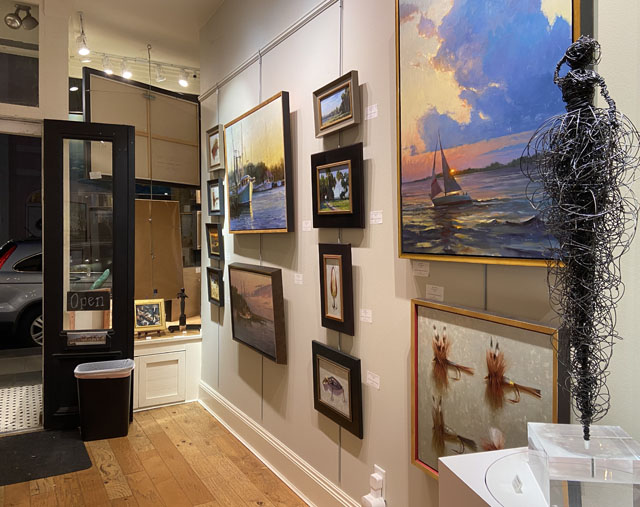 As dusk falls in Charleston on the first Friday of each month, local art galleries in the historic downtown area are abuzz, hanging balloons outside their entrances and lining up wine glasses as they welcome guests to pop in at their leisure and peruse the walls during special extended hours.
I was eager to attend my first "First Friday Artwalks," and I found that the incredible art on display is just one of the many wonders of the evening.
Organized by Charleston Gallery Association, First Friday Artwalks are held from 5-8 p.m. with around 40 galleries participating. That's nearly double the number of galleries from when the French Quarter Gallery Association created the event 20 years ago.
Simply stepping into these independent galleries is an experience in itself, with hidden courtyards, handsome brick walls and intriguing display choices.
In one gallery, there was an oil painting of the Lowcountry marsh that was so realistic it could be a photograph hanging alongside a still life with fruit. While many displays were disparate in subject, they complimented one another perfectly in color and style. I wanted to take them all home.
The casual drop-in style of the artwalk makes it open for all. If there are no set "rules" in creating art, there are no set rules for this artwalk, either.
There's no registration and no itinerary. Patrons simply use the Charleston Gallery Association's map to get locations for 40 participating galleries, all of which are in walking distance from each other, some with entrances down cobblestone streets. Guests can visit as many galleries or as few as they want.
I was pleasantly surprised to discover that galleries were filled with many different art styles and subjects at every turn. Truly art for every taste—realism, contemporary, abstract, landscape and Lowcountry scenes, jewelry and so many sculptures of figures, dancers, animals and more.
At Mary Martin Gallery of Fine Art on Broad Street, a whimsical series of colorful 3-D crowds on the beach co-mingled with a painting of a Parisian scene, of women in large hats and paintings of a large animal with a great head of hair. A resin-covered "goldfish" tank coffee table created with fish made of paper frozen in motion, welcomed patrons at the entrance.
Nearby, a canvas next to a fresh palette of paint encouraged visitors to take a brush and add to the live painting, which was an outline of a Charleston Single House. It was a unique activity that made you feel like one of the artists whose works surrounded you, even for a minute.
At Reinert Fine Art and Sculpture Garden Gallery, the varied artwork on the walls continued through the maze-like gallery from room to room and into a dreamy back courtyard. An art installation garden fountain that used three wine bottles as spouts sat below my personal favorite painting of the evening: a striking blue oil painting called "Marina Lights" by North Carolina -based artist Ann Watcher.
At each gallery, employees were more than happy to answer questions about the artwork from local, regional and national artists, delve into the history of a piece and the painting method used to create it. An employee even divulged that the artist responsible for a series of various colorful abstract strokes on display was somewhere in the crowd, sipping on a glass of wine.
I was fortunate that April's First Friday ArtWalk coincided during the Oil Painting of America 's 2023 National Exhibition & Convention, held in late March, with the award-winning works on display at Reinert Fine Art Gallery on King Street through the end of April.
Oil Painting of America's artwork submissions took over a gallery room and bright blue ribbons were affixed alongside many paintings that showcased excellence in realism. An employee at the gallery explained that the overall first-place winner was a young artist from the Western United States who perfectly captured a garden with a collection of pink roses in bloom.
For many art lovers, paintings offer a way to escape and the esteemed artists on display certainly managed this perfectly: I could feel the single-digit temperatures as I took in a wintry scene with snow blanketing the foothills of a mountain; I was immersed in the peace of a pastoral scene, felt the stillness in vase of roses.
At Paderewski Fine Art & The Sportsman's Gallery on King Street—a much more subject-focused gallery than the others I visited—I was transported to exciting natural spaces to join a duck hunt. Wilderness scenes, handsome hounds and outdoor life in every setting await visitors.
There were more than two dozen patrons inside a string of King Street galleries at one point—a lively crowd perusing collections, filling their glasses, looking more closely at jewelry and artistic dinnerware. Every wall an opportunity to start conversation.
While these galleries are open during business hours welcoming patrons from all walks of life, the First Friday Artwalks offer an accessible and comfortable way for you to dip your toe into the art scene and personally gave me an appreciation for what these fine art institutions offer to the city.
Whether the Friday Friday Artwalks is your destination or simply an inspirational detour to your evening out downtown, this peek into Charleston's world-class art scene is a gem, and not to be missed.