Brushing Up on Art
29 Sep 2013
Discover the artist in you with a fun night of guided instruction and a little wine on the side
By COLLEEN TROY Photos by BRITTANY CALLAHAN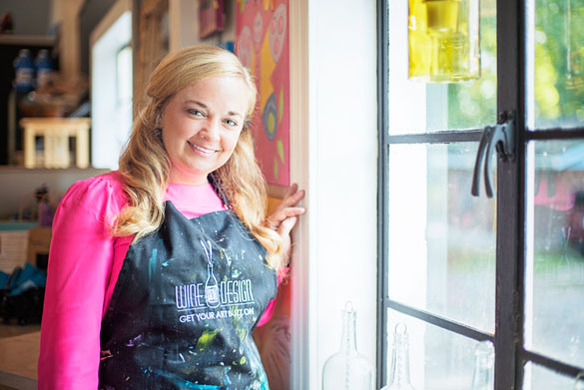 Sarah Dubay harbored a dream for years—to create a welcoming, friendly place for people to come and make art.
About a year ago, the former elementary school art teacher realized that dream with Wine & Design, a cozy cottage nestled along Ashley River Road in West Ashley. The converted house is infused with natural light, and nurtures a welcoming level of disarray – perfect for putting painters of all stripes at ease.
And they do come in all stripes, Dubay says. As one of a handful of local "social art" businesses, the idea behind Wine & Design is to give customers the joy of creating. Book a class, and you get guidance from artists, a blank canvas, brushes and paints.
But truth be told: customers get more than that. "I love watching people transform from nervous when they arrive to being accomplished when they leave," says Dubay, who clearly likes to mix things up.
On this day, she's hosting a camp for kids. A visitor marvels at their quiet concentration and the talent they're showing on the canvas. Young artists also clamor for birthday parties at the studio, which makes a private room available for smaller groups.
The business's bread and butter comes from the near-nightly calendar of guided paint classes. Individuals choose a night based on subject matter they'd like to create. (Palm trees, peacocks and bridges are crowd favorites.) On arrival, they choose an easel, don an apron and turn their attention to the evening's guiding artist, who breaks down the painting step by step.
The studio also offers Open Studio Nights, when painters choose any piece they'd like to recreate from a wall full of samples. Staff artists work with them to recreate the original. That guidance is key to the social painting experience. "We hire really nice people who love this work. They want everyone to be happy with the result. We tell people all the time—you can't mess up your work, because we can show you how to turn around any mistake."
In Dubay's experience, children put little pressure on themselves. "But we adults have such high expectations of ourselves. Kids are happy with anything they create; it's nice to see adults find their way back to that, too."
Having just finished a corporate class on Kiawah for 20-plus adults, Dubay said their collective attitude was perfect for the concept. "They just wanted to have fun, and cared more about the experience than the finished product."
Of course, there's also room at the studio for accomplished artists. Individuals have arrived for their first class with zero experience, and then transform over time to being strong painters. Experienced artists also find a home at Wine and Design, where Dubay is offering a sketching class this fall.
Another aspect of the studio that Dubay enjoys promoting is the Paint it Forward events, which contribute funds to charities on special class nights. "Lots of people will come to support the charity, and leave feeling like they really want to continue with painting."
Never Too Old
We like to think of great artists as young rebels, born to shake things up. But as proof that you're never too old to learn a new trick, here's a list of artists who bloomed relatively late in life:
» Vincent Van Gogh started painting in his late 20s, and created his most famous pieces in his last 2 years of life.
» Claude Monet was in his 40s when he found his "voice", creating work he's known for today. His inspiration: his wife's death.
» Edward Hopper sold his first painting at the age of 31.
» Theodor Seuss Geisel "Dr Seuss" was 34 when he wrote his first book.
» Louise Nevelson was in her 50s when she finally sold her work (to 3 NYC museums), and it's now shown worldwide in 80 public collections.
» Julia Child was just shy of 50 when she collaborated on her first French cookbook.