Building a Roadmap
28 Jan 2014
Linda Page sets her vision as the newly elected Mount Pleasant mayor
By HOLLY FISHER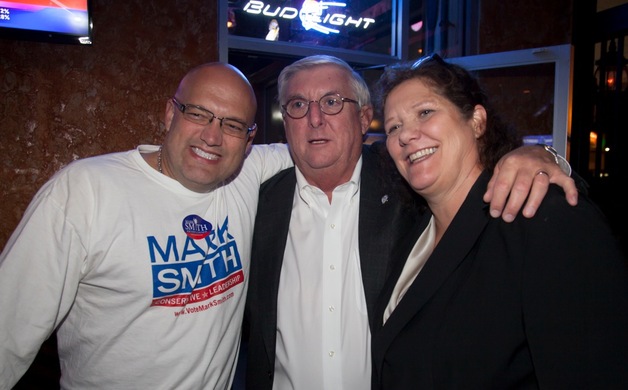 In her first four days in office, Mount Pleasant Mayor Linda Page attended three ribbon cutting ceremonies along with meetings for Mount Pleasant Waterworks, the Charleston County Aviation Authority, and the Charleston Regional Development Alliance.
"It's been a whirlwind," she said.
It's likely, though, Page wouldn't have it any other way. She seems to thrive under a busy schedule as business owner, public servant, single mom to two grown children, sister and friend. Page has been a staple of the Mount Pleasant business community for years. She took over Page's Thieves Market from her parents in 1981. She and her brother, Tony Page, started Page's Okra Grill. Page later sold her half to her brother, finding her efforts were better spent as an auctioneer and doing personal property appraisals while running the retail business her parents started in 1959.
The signature red barn that houses Page's Thieves Market has become a Mount Pleasant icon where Page is a fixture, selling antiques and home décor as well as hosting estate auctions.
Time to 'fix things'
Page certainly had plenty on her plate, but felt the pull of public service. In 2009 she was elected to Mount Pleasant Town Council.
"Women run for office because we want to fix things," Page said.
In her tenure as councilwoman, Page served on the Planning Committee, Finance Committee, Fire Committee and chaired the Annexation Committee. One of her areas of interest while on council – and a platform for her mayoral candidacy – was filling the "doughnut holes" within the town. There are several pockets of land that aren't within the town limits, although they may be surrounded by property that is within the town.
In the last two years, Page was instrumental in annexing 1,500 aces into the town limits. She doesn't want to force any property owners to annex, but she is interested in making sure people are educated about the annexation process and the benefits of being in the town limits so they can make an informed decision.
Those living within the town limits typically have cheaper property taxes, Page said, as well as reduced insurance, sanitation service and discounts on town recreation facilities and activities. But one of her biggest concerns is safety. Those pockets not within the town limits rely on Charleston County services, which means those residents might have to wait for a fire truck to arrive from Awendaw, as opposed to town fire services that could be closer.
The issue of annexation is particularly sensitive in cultural communities, Page said. The largely African-American communities are often more deeply rooted to their land and have a greater respect for property that has been passed down through generations. But Page worries about what happens when a younger generation decides it doesn't want the property and annexes into the town. "My fear is that these communities will be picked off one at a time," Page said.
Page has been working with town councilwoman Thomasena Stokes-Marshall, who is passionate about property rights. They will be working together to educate community leaders and open the lines of communication, Page said.
Encouraging public discourse
The themes of "community" and "communication" are core to Page's plans as mayor, and she's eager to engage Mount Pleasant residents and business owners in the future of the town.
Pointing to a recent controversy over a new I'On development in the Old Village, Page said she's happy to see 100 people show up to a meeting because they are passionate about an issue. What she wants, though, is for people to come out during the planning process to voice concerns or opinions, instead of waiting until a building is coming out of the ground.
Town council is in the process of reviewing the overall comprehensive plan. A 10-year road map for Mount Pleasant, council reviews the plan at the five-year mark. It's the ideal time for citizens to offer up ideas, criticisms or even a thumbs up for the direction in which the town is headed.
Page grew up in Mount Pleasant so she knows all too well how the town has grown and developed. Density is an issue and she encourages residents to speak up and have a voice in the long-term plans for the town. "It's our roadmap," Page said of the comprehensive plan. "And I want the citizens to help draw that roadmap."
Mount Pleasant's prosperity has brought new residents, more business and added opportunities for the people who live and work there. But, as Page said, "prosperity is a heck of a problem to have." With it comes the distinct challenge of maintaining quality of life while encouraging smart growth, she said.
When it comes to growth, Page considers herself somewhere in the middle. She's not opposed to development as long as it's mindful of the infrastructure that's in place. While Mount Pleasant hasn't had any trouble attracting residents or even retail, Page's vision is to encourage more industry and affordable housing for young workers and the senior population that often retires to the area.
"It's easy to have the vision," Page said. "It's hard to make it come to fruition."
But Page will devote the next four years to achieving her vision the best she can. "I think the next four years will pass with the blink of an eye," she said. "My hope is the community is better with my public service."
Mount Pleasant's most recent mayor, Billy Swails, said he's happy to pass the torch to Page. "She signs the front of the check, not the back of the check, so she understands businesses, property taxes and how to run a business – and that's what the town of Mount Pleasant is."
Swails, who has known Page for years, called her a "strong, determined get 'er done woman." He added, "She's going to be a great mayor and she's going to work extremely hard."
A role model for women
Page's public service includes a role that extends beyond comprehensive plans and budget approvals. She is a role model for women considering public office, and for future generations of young women. Initially, Page didn't think too much about being a woman and running for office. With two older brothers, she's naturally competitive. "I want to do what the boys do," she said.
Since 1960, only seven women have been on town council or served as mayor, Page noted. And yet of the 55,000 registered voters in Mount Pleasant, 27,000 are women. "It's time for women to step up, or I guess the new term is 'lean in,'" Page said.
Page's successful run for mayor grabbed the attention of those in the community who have been pushing for more women in office, including Project XX, a non-partisan organization focused on getting more women elected and appointed to office in South Carolina.
"Linda Page showed folks how a female candidate can talk qualifications, experience and the importance of being a woman," said Ginny Deerin, co-founder of Project XX. "With only one woman of eight members on Mount Pleasant Town Council, balance is lacking. Linda Page was not afraid to talk about it. For too long, female candidates have put the 'woman thing' in the closet, fearing that bringing it up would discount the importance of qualifications. Linda believed she had what the town needed – and being a woman was just the icing on the cake."
Recently Page was part of a panel of women speaking to a group of Girl Scouts at Mamie P. Whitesides Elementary School. Page was delighted to find the girls really responded to her position as an elected official.
"They thought I was a rock star for being mayor," she said. "They asked for my autograph."
As young girls (like these Girl Scouts) grow up, they won't think twice about women in office. It won't be a big deal, Page said.
Page said her own big personality has maybe insulated her from many of the ways women running for office get beat up in discussions, like the color of a woman's suit, or whether she has adequate childcare. Page said in 2013 it's "shameful" if issues like that even come up in a conversation.
Page did face some family tragedy just as her campaign was getting started. Her son, Andy Parker, was injured while working on a tree. He remains in a wheelchair after suffering a spinal cord injury. But it didn't derail Page's quest to become mayor.
"Once he was medically stable, I knew I would stay in the race," she said.
An open door
Juggling family, a business and public office is all in a day's work for Page. You'll find her in jeans, boots and a T-shirt working at Page's Thieves Market, having lunch at Page's Okra Grill or enjoying a glass of wine with friends. A self-described workaholic, Page said she loves all facets of her busy life while maintaining a balance of work and time with her family and friends – even stopping to wish Facebook friends a "happy birthday" each morning.
Page wants her tenure as mayor to have that same openness. She's quick to share her phone number and encourages residents to contact her with questions or concerns.
"I want to let people know I'm here to listen," she said. "I can't always fix their problems, but I'm truly concerned."