At Tom's Toys, unique wooden building blocks stimulate imagination, and brings out the kid in all of us
By JASON A. ZWIKER » Photos by ASHLEY WALKER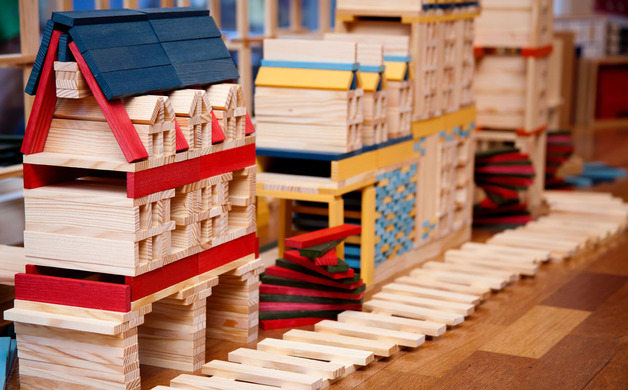 Walk into the play area at Tom's Toys of Charleston and the urge to build becomes almost irresistible.
That's okay. That's precisely why the play area is there.
No glue, no screws, nothing to snap and lock – KAPLA is all about balance and creativity. It's not just brain-stimulating, it's fun. Kids love to plop down on the floor and stack the planks, creating castles, skyscrapers, bridges, or whatever else the imagination dreams into being.
"It's fun to watch," says store manager Judy Manners. "Kids will immediately sit down on the carpet and start playing. Parents will stand and watch for a little while, maybe look around, but after awhile, they are right down there on the floor with the kids."
"KAPLA is perfect for kids ages 3 to 99," she adds with a laugh. "It is great for drawing kids away from the video games and bringing families together for playtime."
Art historian and antique dealer Tom van der Bruggen came up with the idea for KAPLA when he left the Netherlands to restore a medieval castle in France. After drawing up plans for his restoration and attempting to build a scale model with wooden blocks, he found the materials entirely unsatisfactory. Floors, roofs, and lintels simply did not work when constructed from chunky cubes.
So he invented his own building material, small planks based on a 1:3:5 progression; i.e. the width of each plank was 3 times the thickness and the length 5 times the thickness.
He called these Kabouter Plankjes, Dutch for Gnome Planks, KAPLA for short. The planks are certified green, made from pine harvested renewably in the Bordeaux region of France, and only non-toxic paints are used.
KAPLA comes in kits based on number of blocks – anywhere from 40 to 1,000, with color options ranging from natural wood to black and white and multicolor. "We suggest beginning with the natural blocks," Manners says. "The natural blocks have a lot of resin and that helps the blocks stay where you put them. When you are ready to add accent colors, there are many different options available."
Tom's Toys also features another plank toy invented by Tom van der Bruggen: TomTecT. The planks are longer and thinner than KAPLA and blue clips are used to fasten them together, allowing a more technical building experience.
"KAPLA is about balance and gravity, while TomTecT is about strength and structure. It has a more mechanical feel to it and it is for ages 6 and up."
Browse the KAPLA side of the store and you will see fantastic displays of everything from a freestanding lion to a scale model of the Eiffel Tower. On the TomTecT side, there are airplanes and Ferris wheels. While the two plank systems are not interchangeable, they each stimulate different aspects of the creative learning process.
If you need inspiration, art books are available, filled with ideas ranging from simple designs for beginning builders to advanced concepts for those ready for a challenge.
So how did a retail store exclusively dedicated to toy planks invented by a Dutch native living in France come to be in Charleston?
"Tom was traveling up and down the southeastern coast while visiting the United States," Manners explains. "He happened to stop in Charleston. He immediately fell in love with the city because it reminded him of the kinds of places he loved in Europe."
In addition to being a local retail store, Tom's Toys also distributes KAPLA and TomTecT to toy stores, museums, and schools across the United States.
KAPLA is a sponsor for the Masters of the Building Arts Festival, presented every year in Charleston by American College of the Building Arts. KAPLA is also shown at toy festivals throughout Europe and the United States, including Great Home School Convention in Greenville, SC, Southeast Home School & Educational Expo in Atlanta, GA, and Chicago Toy & Game Fair.
"Homeschooling is growing rapidly, especially in the South," Manners notes. "And we're seeing a lot of interest in educational toys like KAPLA and TomTecT among homeschoolers."
For some, KAPLA can become a lifelong interest. Ideas for what and how to build with KAPLA abound on social media sites such as Pinterest and YouTube. Formal and informal structure building competitions happen all around the world. Highly experienced builders may use thousands of planks to produce intricate designs that take hours to build.
"This is the kind of playing that most of us grew up with. Building is just plain fun. Best of all, we're learning while we do it." 843-720-8943, kaplaus.com