Celebration of Style
06 Sep 2023
Shaniequa Washington's bold take on fashion
By Liesel Schmidt
Photos by Shaniequa Washington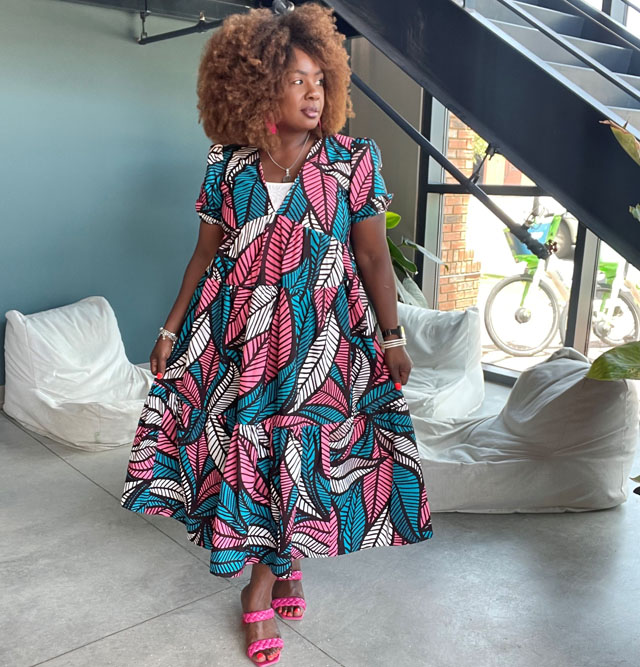 For Shaniequa Washington, faith is the foundation of her life as well as the basis of the strength that she relied on to walk away from an insanely lucrative career to start her own fashion brand. On the inspiration of that faith, she launched Zuriel Kingdom Collections and named her African-inspired label as a testimony and a witness—and a hope that she would give women the freedom to express themselves in the clothes and jewelry she created.
"This is about standing firm that my company will create a space of belonging for all women from all walks of life, as many women only fit in but rarely experience a place where they can just be exactly who they are," Washington says. "This is why I always emphasize the fact that I don't just create fashion, but fashion that speaks to the soul, from the prints and the colors to—most importantly—the experience."
And experience is, indeed, what she offers, as Washington's pieces are invariably bold in color and boast tribal, geometric and palm prints that make them both eye-catching and unique. "My designs are created for women who are bold and unapologetic, but they also speak to women who are ready to embrace their uniqueness and create their own space in style," Washington says. "My ultimate inspiration is to create designs that speak to the soul. Harmony and community are my love language, bringing colors and patterns together to create soul fashion that allows women to let their unique beauty and creativity shine through. When women feel good, there is a magical language that uplifts souls and environments everywhere."
A lifelong lover of fashion, Washington recalls spending countless hours as a teenager, cutting up and upcycling her clothes to suit her own sense of style. She also created all of her dance team clothing and started a hair bow and shoe design side hustle while in school. "I learned design by sight," Washington notes. "I would cut images from magazines or take Polaroid pics of things I saw in the store and recreate them."
Washington's creativity took another direction in 2017, when she dedicated herself to learning the technical aspects of design from her mother, Odessa, who graduated from FIT in New York. Three years later, in 2020, she officially branded herself and launched Zuriel Kingdom Collections. "Launching was so many things: exciting, a dream come true, scary, and a mix of a thousand other emotions," says the Charleston transplant. "The fear of launching with so much fast fashion on the market was always a worry, but what I found was that I was in the perfect city—one full of culture and a deep appreciation and support of artisans. The feeling when I am out and about and someone says, 'I love your…' whatever I'm wearing that day and I can tell them I made it and then hand them a card is so rewarding in so many ways."
Her process is, of course, as layered as her look. "It normally starts in a visual way," she explains. "I will see something or see colors, and downloads will begin. In my creative process, I always consider who I am serving—mainly curvy women, like me, who are often left out of the fashion equation—so I am sensitive to patterns and styles that will complement our curves. I then move on to a style that is versatile and can serve as a staple to be worn every day, and, with the right accessories, can become an elevated look."
Featuring kimonos, dresses and dusters as well as headwraps, bonnets and clutches, the Zuriel Kingdom Collection is perfect for anyone who wants to present confident style and look incredible while doing it. Speaking directly to all the Queens of all kinds who want to celebrate their culture. Washington's Black Girl Magic offers a message of boldness and beauty.
Naturally, Washington loves accessories, and hers perfectly accent the clothing in her collection to complete the picture. "My jewelry is about being eclectic and comfortable," she says. "I know I'm not the only woman who has found a really cute pair of earrings, only to wear them and immediately snatch them out of your ears the minute you're in the car. My process was really created from a place of frustration and desire all at the same time. I wanted cute earrings that did not stretch my earlobes or cause pain, so I studied the polymer process for quite some time, even to the point of ordering earrings from other designers, wearing them, and weighing them to see if they were the most fashionable yet most comfortable earring."
Three years after launching, Washington is confident that her leap of faith was wisely taken. "There have been two experiences that have changed my life—one, the month that I spent in Africa, and the other being when COVID hit," she says. "In December of 2020, I made the decision to retire from Walmart and to put all of my energy behind my logistics company and dive deep into my fashion brand celebrating my culture and my faith. I did, and I don't regret any second of it." The full Zuriel Kingdom Collection can be found online at zurielkingdomcollections.com.