Charleston Date Night
05 Jan 2022
Quintessentially Charleston outings & activities
By Jenny Peterson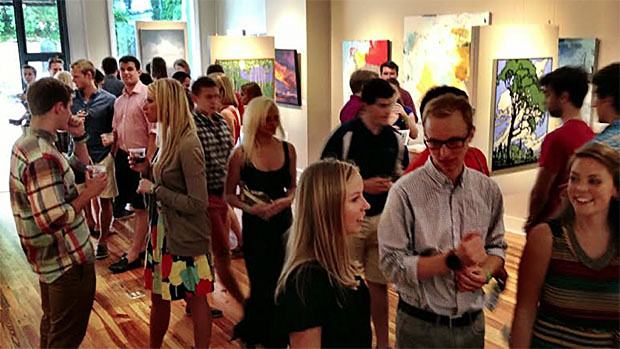 Not sure where to bring your sweetheart to celebrate Valentine's Day? Check out our list of unique date night (and day!) ideas around Charleston. These activities are available year-round, so keep this guide handy the next time you're looking for something celebratory to do for a birthday, anniversary or even a random weekday when you want to change up your routine.
Wild Blue Ropes Adventure Park
Wild Blue Ropes Adventure Park in James Island has a Valentines' Day special for daring couples. On Saturday, Feb. 12 at 5 p.m. couples will conquer suspended obstacles together followed by a picnic dinner around the bonfire (BYOB). $75 per couple. Reservations encouraged. www.wildblueropes.com
Fondue at Fast and French
This Broad Street restaurant downtown offers cheese fondue and seafood fondue nightly, where you dip an assortment of breads into a piping hot pot of melty cheese or cook your own seafood meal at the table. Thursdays is beef fondue. Reservations at www.fastandfrenchcharleston.com.
Stroll through Middleton Place
Stroll through America's oldest landscaped gardens at Middleton Place, a West Ashley landmark that exudes romance at every turn. The formal gardens, which were created in 1741, emulate the style found in Europe and England in the early part of the 18th century. The butterfly lakes are not to be missed. www.middletonplace.org.
Ride horses on the beach
Horseback riding on Seabrook Island is one of the few beach rides on the East Coast and a thrilling one-of-a-kind experience. Riders of all levels are welcome to book beach rides, which often come with a side of dolphin sightings. www.seabrookisland.com/club-life/equestrian/
Visit the Morris Island Lighthouse
Take in a breathtaking view of a former lighthouse that safely brought ships into Charleston in the late 1800s. To get to the lighthouse on Folly Beach, walk a quarter-mile through a nature preserve until the top of Morris Island lighthouse peeks out at you from its place in the Atlantic Ocean. End of East Ashley Avenue, Folly Beach.
Book at custom picnic
Like the idea of a picnic, but don't want the hassle of hauling it? Enter Picnic Charleston, where owner Elle Moseley can bring a custom over-the-top charcuterie plate to you and your date. Each picnic includes rugs and blankets, plush pillows, trays, or a table and chairs, a Bluetooth speaker, candles or lanterns, real flatware, plates, cloth napkins and fresh flowers. Hire her to bring the picnic anywhere you are! www.picniccharleston.com
Catch a live jazz show
Forte Jazz Lounge on King Street is a premiere jazz lounge that books acts weekly like the Joe Clarke Trio. Forte Jazz Lounge is patterned after famed New York-style jazz clubs with an eclectic wine and beer selection and light bites at the bar. A Valentine's Day big band show will be held from 7-10 p.m. www.fortejazzlounge.com.
Walk along the Pitt Street Bridge
The Pitt Street Bridge and park in Mt. Pleasant was once a trolley bridge, but now is a public space with walkways and benches with stunning Lowcountry views, a hidden gem in the Old Village Historic District. End of Pitt Street, Mt. Pleasant.
Stroll through Hampton Park
At over 60 acres, Hampton Park in downtown Charleston is the city's largest park. There are many activities at this expansive park: foot bridges and benches, a running track and many areas to admire the many floral displays and centuries-old oak trees. 30 Mary Murray Dr., Charleston.
Walk the Ravenel Bridge
Charleston locals know what it means to "get over it." The Ravenel Bridge, the cable stay bridge that dots the Charleston skyline, is open to runners, walkers and bikers year-round and is a five-mile roundtrip trek. Park at either Mt. Pleasant Waterfront Park or off East Bay Street downtown and don't forget your camera for when you get to the top.
Book a Private Carriage Ride
Palmetto Carriage Works offers a romantic outing with a private carriage ride all to yourselves. You can customize your experience with a guided tour of the city or book head-turning transportation to a romantic dinner. Day and evening availability. www.palmettocarriage.com.
Take a Rickshaw Ride
A personal pedicab is a unique way to see downtown Charleston. Peddlers are friendly and knowledge. Call from almost anywhere in downtown and have a pedicab arrive in minutes. Bonus: Often, there's a blanket in the back to cover up with during cold nights. (843) 723-5685 or 843-532-8663
Peruse Magnolia Plantation
Walk hand-in-hand through Magnolia Plantation, the oldest public gardens in America, which first opened to visitors in 1870. Visitors wind their way along paths and footbridges in this large-scale romantic garden setting in West Ashley. www.magnoliaplantation.com.
Rent Bicycles
Cruise around on baby blue bikes through the city's bike share program downtown. Just download an app on your smartphone. $8 per hour or $20 for an all-day pass. Visit charlestonbikeshare.com/system-map/ for a map of bike locations.
Visit Riverfront Park
North Charleston's Riverfront Park, on the banks of the Cooper River, has lots to enjoy free of charge. Walk to the Admirals dock and bridge and check out the newly-refurbished Admiral's House, which used to house the commandant of the Charleston Navy Yard. 1061 Everglades Ave.
Catch a movie at an independent theatre
The Terrace movie theatre on James Island shows both blockbusters and smaller indie films, with a variety of beer and wine available for purchase to make your movie night extra special. www.terracetheater.com.
Rent paddleboats
Two Charleston County Parks offer pedal boat rentals for a romantic afternoon—James Island County Park and Palmetto Islands County Park in Mt. Pleasant. Rentals are $4 per half hour or $6 per hour. Park admission is $2 per car. www.ccprc.com.
Take a ferry to Daniel Island
The Daniel Island Ferry shuttles passengers from downtown Charleston's Waterfront Park across the Charleston Harbor to Daniel Island and comes back a few hours later for a return trip. Each way takes about 30 minutes and beer is available for purchase. Make a unique date out of this new way to cross town. $20 per person round trip. www.diferry.com.
Visit the South Carolina Aquarium
With over 5,000 animals, including sea turtle species, sharks, river otters, alligators, eels, an octopus, jellyfish and even a bald eagle, you'll be struck with awe as you journey through exhibits representing the mountains to the sea of South Carolina. www.scaquarium.org.
Go Ice Skating
The Carolina Ice Palace in North Charleston has weekly public skates and one happens to be on Valentine's Day. Public skate times vary throughout the year. Bring your own skates or rent them. Dress warmly! $10 per person, $4 skate rental, $3 walker rental 7665 Northwoods Blvd.
Sip and Paint
A date activity where you leave with a souvenir, Sip and Paint classes are held at area breweries and restaurants around Charleston. They supply the canvas, aprons, paint and live instruction for you to follow along and paint your own masterpiece. Visit www.charlestonpaintparty.com for a schedule.
Walk the College of Charleston campus
The College of Charleston campus was voted the most beautiful college campus in the country by Travel + Leisure. The good news is you don't have to be a co-ed to enjoy the beautiful brick-lined walkways, historic houses and grand oak trees in the heart of downtown. Don't miss The Cistern, the college's most iconic landmark and gathering place. 66 George Street.
Harbor Cruises
SpiritLine Cruises offers Charleston Harbor tours, dinner cruises, private dining events, sightseeing and more on the Charleston Harbor. Tours leave daily from both Mt. Pleasant and downtown, www.spiritlinecruises.com. Fellow tour company, Charleston Harbor Tours, has announced it will bring back its Blues & BBQ dinner cruise on Fridays, leaving from downtown. www.charlestonharbortours.com
The Halsey Institute of Contemporary Art
This free admission art gallery downtown promises one-of-a-kind exhibits and galleries that explore the connection between art and life. Monday-Saturday from 11 a.m. – 4 p.m. and Thursday from 11 a.m. – 7 p.m. 161 Calhoun St. www.halsey.cofc.edu.
Culinary Cooking Class at Zero George
Spend an intimate night in a professional demonstration kitchen at Zero George downtown. Classes are led by executive chef Vinson Petrillo and sous chef Tyler Chavis and include three courses along with paired wine. $195 per person plus tax and gratuity. Saturdays, 11 a.m. – 1 p.m. and Sundays, 11 a.m. – 1 p.m. Limited to eight guests per class. www.zerorestaurantcharleston.com/cooking-school/
Moonshine tasting at Firefly
The Tasting Room at North Charleston's Firefly Distillery offers a tasting of six spirits from rum to moonshine, vodka and whiskey for just $10 a person. Don't miss the sweet tea vodka! In addition to the tasting room, a large outdoor area hosts live music and food trucks. Monday-Saturday, noon- 6 p.m. 4201 Spruill Avenue. www.fireflydistillery.com/
Wine blending classes at Grand Bohemian Hotel
Enjoy a 90-minute journey into winemaking where you'll learn how to blend your perfect glass at the Grand Bohemian Hotel downtown and bottle it. At the end of the class, the team will create a customized label for your bottle using any pictures or artwork that you like. $99 per person. Tastings and light bites included. 55 Wentworth St. www.charleston.classesbykessler.com.
Catch a performance at the oldest theatre in the country
The Dock Street Theatre in downtown Charleston was the first building in America built exclusively to be used for theatrical performances. The theatre has been fully-restored and welcomes audiences for performances put on by Charleston Stage. 135 Church Street. www.charelstonstage.com.
Axe throwing
This bar game became wildly popular across the country to compete to see who can throw an axe closest to a wooden bullseye in a controlled environment. Chucktown Axe Throwing, adjacent to Rusty Bull Brewing in North Charleston, will get you set up with everything you need for a different kind of date night. 3005 W. Montague Ave., North Charleston.
Couples Comedy Improv
A seasoned improv professional from Charleston's Theatre 99 offers a "Couples Game Night" private improv lesson. The instructor will facilitate 75 minutes of pure fun. You will laugh together and play together while doing improv games. Or, let the professionals entertain you with many comedy shows at Theatre 99. www.theatre99.com/couplesgamenight. 280 Meeting Street.
Take a trolley at Charleston Tea Garden
Take a charming trolley ride through the only tea garden in North America that holds hundreds of thousands of tea bushes on picturesque gardens in Wadmalaw Island. The Bigelow family welcomes guests free of charge daily to walk the grounds and tour the tea factory. The trolly tour is $14 per person. Open daily. www.charlestonteagarden.com
Indulge in a decadent dessert
What's date night without some chocolate? Thankfully, Charleston has no shortage of places to grab a sweet treat—even late night—including Kaminsky's Dessert Cafe downtown and in West Ashley, Carmella's Café and Dessert Bar downtown and newcomer the Honey Hive on King Street. Two forks please!
Bar trivia
Test your trivia knowledge with a live host while enjoying dinner and beverages. You might learn something about your partner that you never knew before, and your combined skills could win you a bar tab. On Mondays (that includes Valentine's Day!) head to Home Team BBQ in West Ashley for their weekly game starting at 7 p.m. 1205 Ashley River Rd.
Visit a winery at Deep Water Vineyard
Deep Water Vineyard on Wadmalaw Island produces authentic muscadine wine. There are five different labels from four varieties of grapes, both white and red varieties. There are self-guided tours and tastings as well as private tastings available on their picturesque grounds. Tuesday-Saturday. www.deepwatervineyard.com.
Catch a concert at Charleston Pour House
If live music is your fancy, look no further than a date to Charleston Pour House in James Island, which books quality local and national acts on their outdoor deck stage and their main stage inside. Many deck shows are free of charge. Weekly schedule varies. www.charlestonpourhouse.com.
Go fishing
You don't need a boat to go fishing in Charleston—there are many piers and bridges in which to catch desirable saltwater fish. No pole? No problem! Rent poles at the Memorial Waterfront Park Fishing Pier and then cast out along the 1250-foot long pier that stretches out into Charleston Harbor. 71 Harry M. Hallman Jr Blvd.
Hit some golf balls at a driving range
The Charleston area has no shortage of stunning golf courses—from traditional links courses to breathtaking oceanfront courses. For a fun date activity, buy a bucket of golf balls and take your best shots. Golf club rentals are almost always offered. Visit www.charlestoncvb.com/blog/golf-courses for a list of the top courses in the area.
Walk the ArtWalk
First Friday Artwalks allow participants to peruse the hottest art galleries downtown. From 5-8 p.m. on the first Friday of every month, participating galleries extend their hours and showcase special exhibitions. 125 Meeting Street. www.charlestongalleryassociation.com
Eat steamed oysters
A Lowcountry staple during the winter months, oyster roasts bring people together around a wooden table to shuck steaming hot oysters. Bowen's Island on James Island serves steamed oysters in half trays, full trays and all-you-can-eat, freshly harvested from the nearby waterway, Tuesday-Saturday for dinner. www.bowensisland.com.
Visit the Angel Oak Tree
Spanning a remarkable 187 feet, The Angel Oak tree in Johns Island is estimated to be in excess of 400-500 years old. At over 66 feet tall, the sheer size of this Charleston landmark is something to behold. Free. Angel Oak Road, Johns Island.
Walk through the same halls at George Washington
In 1791, city leaders entertained President George Washington at the Old Exchange Building at the corner of Broad Street and East Bay Street with a lavish dinners, concerts and dances, attended by hundreds of members of Charleston's elite. Walk the same Great Hall where Washington was wined and dined. Then pop down into the dungeon where a guide in period clothing will walk you through a 20-minute tour of the notorious pirates who were held captive in that very room. $12 per person. Dungeon tours every half hour. www.oldexchange.org
Canoeing at Cypress Gardens
Recreate a scene from one of the most romantic movies of all time, The Notebook, at Cypress Gardens, where the movie was filmed. Take a rowboat out into the Lowcountry swamp surrounded by bald cypress and tupelo trees. Beautiful trails and a butterfly house are also on site. $10 per person admission, rowboat rental included. 3030 Cypress Gardens Rd., Moncks Corner.
Take a stroll on the beach
With mild temperatures year-round, it's always a good time to walk on the beach, even if you need to bundle up. Folly Beach, Sullivan's Island, Isle of Palms and Kiawah Island are brimming with sea birds, shark's teeth and dolphins at sunset.
Gateway Walk
Charleston's hidden alleyways and paths are part of the city's charm, and there's no better path than the Gateway Walk. The historic path begins at the gates of St. John's Lutheran Church on Archdale Street, crosses King Street and Meeting Street and concludes at St. Philip's Episcopal Church. www.thegardenclubofcharleston.org.
Take a cheese making class
Learn how to make cheese on a goat farm in Johns Island. Participants gather in the farmhouse kitchen at Jeremiah Goat Farm and learn to make three cheeses using fresh grade "A" goat milk. Farm owner Casey Price also offer tips on using the remaining whey. Bring your appetite! $50 per person. www.jeremiahfarm.com. 3853 Platt Rd, Johns Island
Snuggle with baby goats
Snuggle baby goats on Jeremiah Goat Farm on Johns Island. Sessions are held in early spring when baby goats are newborn to 20 pounds. $10 per person. Email jeremiahfarmsc@aol.com or call 843-276-3115; 3853 Platt Rd., Johns Island.
Book a private yoga lesson on the beach
Melora Morgan, owner of Serenity Tree Yoga, offers weekly beach yoga classes during warmer months and also holds private yoga sessions for couples and friends. Have a private shavasana by the sea, park, or even in your backyard with this relaxing and healing practice. www.serenitytreeyoga.com.
Plan a Food Truck Date Night
Switch up restaurant date night and seek out one of Charleston's many food trucks for a to-go food experience. Low Tide Brewery on Johns Island regularly hosts food trucks and the Container Bar in downtown Charleston has a regular rotating lineup.
Bowl at the Alley
This boutique adult-centric bowling alley in downtown Charleston comes with a full bar and eight lanes for a fun night out. A full suite of arcade games lets you bring the competitive spirit all night. $35-$45 per hour to bowl and includes shoe rentals. 131 Columbus St., Charleston.
Rent a golf cart
Zip around downtown or Charleston beaches with a golf cart rental. Many companies offer day rates or weekend rates, giving you a new perspective of Charleston's amazing neighborhoods.