By the bottle or the glass, these Charleston restaurants have the pairings to please
By Elise DeVoe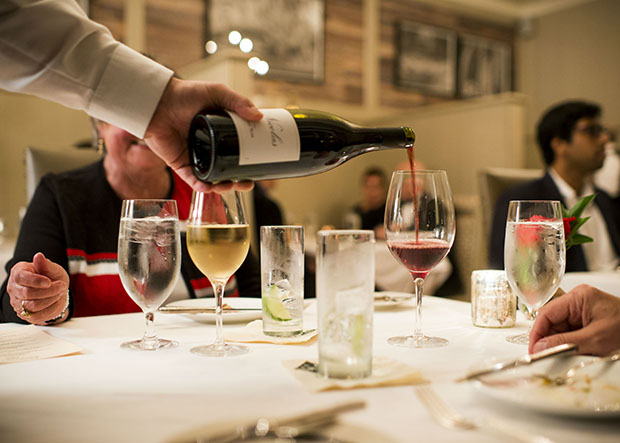 When scoping out romantic restaurants, the atmosphere and the style of food are often the focus of the search, but one aspect that should not be overlooked is the wine selection. Having the right wine pairing with your meal can elevate the evening and awaken your tastebuds. The following restaurants have put extra time and care into their wine program for the best guest experience possible.
Park & Grove
730 Rutledge Avenue, Charleston
@parkandgrovecharleston
Park Cafe downtown has evolved into Park & Grove and while the name has changed, the space remains a neighborhood staple. Those who have visited Park Cafe in the past will notice the transformation of the space from a bright cafe to a slightly darker color palette of gold and green to solidify Park & Grove as an evening dining destination. Their menu is a seasonal spin on New American cuisine with items like mushroom toast and sweet potato mezzalune. To round out the dining experience, they recently welcomed sommelier Jonella Orozco to their team. Jonella and Chef Ramon Taimanglo once worked together at Peninsula Grill, and she is excited to pair wines that are elegant, terroir-and acid-driven and versatile to go along with Taimanglo's seasonal dishes.
Charleston Grill
224 King Street, Charleston
@charleston_grill
At Charleston Grill, executive chef Michelle Weaver creates a menu that changes with the seasons and is rooted in Southern cuisine, but with an international flair. One of her signature creations that captures her unique style is the Charleston Grill crab cake with shrimp, tomatoes, and a warm lime-dill vinaigrette. The wine program at Charleston Grill is carefully selected by advanced sommelier and beverage director Andrew Marshall to complement the delicately balanced dishes. "The wine list is truly its own living and breathing entity, shaped by decades of ever-changing trends, tastes and cycles. I feel very lucky to be able to steward this wine program as the world of wine continues to grow and evolve," said Marshall.
Water's Edge
1407 Shrimp Boat Lane, Mt. Pleasant
@watersedgeshemcreek
As the name of the restaurant suggests, Water's Edge is located directly on Shem Creek and the waterfront views add an extra aspect of romance. If you've never seen a Shem Creek sunset, Valentine's Day is a great reason to get out there and experience it. They specialize in seafood and their locally-sourced crispy fried whole flounder would be perfect to share right next to the same waterway it was caught. To complement the seafood, Water's Edge has a robust wine program. They offer over 230 wines by the bottle and 21 selections by the glass. In fact, Water's Edge is the only restaurant in Mt. Pleasant to be awarded the Wine Spectator Award of Excellence every year it has been open.
Zero Restaurant + Bar
0 George Street, Charleston
@zerorestaurant
Zero Restaurant and Bar is a quiet escape tucked back from East Bay and George Street that serves fine dining fare from executive chef Vinson Petrillo. Stroll through their courtyard, one of Charleston's most romantic and magical spaces, to reach their elegant dining room. They serve a fixed multi-course tasting menu with refined choices like "Day Boat" scallop with mango, vanilla and hazelnut and Carman Ranch beef Wellington, and the menu is available with or without wine pairings for $120 or $200, respectively. The wine pairings come highly recommended. Zero George's wine program has a culture of collaboration and they often have "Guest Somms'' from the Charleston community.
Circa 1886
149 Wentworth Street, Charleston
@circa1886
Circa 1886 is located within the original carriage house of the historic Wentworth Mansion and the menu reflects the historical space by honoring the past foodways of South Carolina with a modern twist from executive chef Marc Collins. Chef Collins' menus change with the seasons, incorporating only the freshest local seafood and produce available and the same principle applies to the wine list. For example, their winter wine list is rich with bold reds from around the world, from California to Bourdeaux. Another unique aspect of their wine program is that they offer half bottles of nearly 45 wines, which come highly recommended from the wait staff.
NICO
201 Coleman Boulevard, Mt. Pleasant
@nicoshemcreek
French cuisine is certainly associated with romance and the wood-fired flavors at NICO are sure to heat things up for the evening. NICO also serves a carefully-curated selection of raw oysters. Before opening NICO, chef/owner Nico Romo travelled up and down the East Coast in search of the best oysters possible for the restaurant, so only the best of the best made it on the menu. Oysters are meant to be enjoyed with a glass of wine and assistant general manager and sommelier Robie Cecil's recommends pairing the Domaine du Collier Chenin Blanc with their local oysters, Single Ladies & Lowcountry Cups, because the clean, briny oysters take the already stellar wine to another level.
Melfi's
721 King Street, Charleston
@melfischarleston
Head to Melfi's for a romantic evening at their pizza counter where diners can watch the magic happen in the kitchen and get extra comfy next to their two wood burning ovens. This cozy space serves fresh pasta, salads, larger plates and Roman-ish thin crust pizza. If you're looking for comfort in a bowl, they are known for topping their pasta dishes with a tiny mountain of cheese. Their extensive wine list allows diners to enjoy wines by the glass, half liter and by the bottle. Usually wine menus are broken into the categories of sparkling, rose, white, and red, but at Melfi's they take the extra step of separating the full and light white wines and the richer and bright red wines for a more curated experience.
39 Rue de Jean
39 John Street. Charleston
@39ruedejean
The first restaurant tucked back in Hutson Alley in downtown Charleston, 39 Rue de Jean emanates the characteristics of a late 1800's Parisian Brasserie. Fans of mussels will appreciate their six different preparations, ranging from classic aioli to red curry. They also offer comforting stewed dishes like braised short ribs and coq au vin. It's not a Parisian experience without wine, so they offer selections for all different levels of wine consumers. They have a mix of affordable and high-end bottles to pair with their classic French cuisine. Their current list highlights small sustainable vineyards as well as some classic names within the wine world.
Wild Common
103 Spring Street, Charleston
@wildcommonchs
If you're looking to shake up your normal date night spot, Wild Common is the place to go. Their four-course tasting menu changes daily and diners can expect wildly uncommon contemporary American cuisine that showcases the best of local, seasonal ingredients from executive chef Orlando Pagan. Their four-course tasting menu is available for $75 per person and wine pairings can be added beginning at $55 per person. If you choose to forego the wine pairing, they do have a separate menu of wines by the glass and the bottle. This elevated dining experience is available by reservation only and is filling a unique niche for private dining in Charleston.
Halls Chophouse
434 King Street, Charleston
@hallschophouse
Halls Chophouse has solidified itself as a destination for special occasions, and a Valentine's Day dinner is no exception. Nothing says decadence like a juicy steak, plenty of sides and a great bottle of wine to go with it. Hall's wine list is closer to a book than it is a list, as it's broken down by type of wine and then further organized by region. They truly have something for everyone, so if you go to Halls and decide to order seafood instead of a steak, they have plenty of wines that will pair perfectly. Their top-notch service from knowledgeable wait staff will help you decipher their massive wine list.