A day in the life of Charleston oyster farmers
By Jenny Peterson
Photos by Aleece Sophia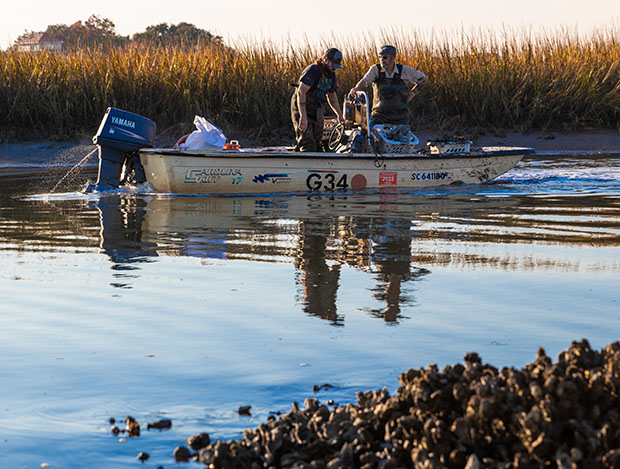 It's low tide on the marsh in James Island on a quiet winter day. The only sound is the rhythmic tapping of flat pry-bar nail-pullers against oyster shells.
Donning hip-high waiters, father-son duo Mike and Bill Huff are knee-deep in mud, bent over, almost hidden through the tall wheat-colored grass, chipping away at the oyster beds. Plastic laundry baskets sit nearby, where they throw the salty, muddy, clusters.
Bill, 70, is technically retired after selling long-time Folly Road family seafood market Huff Seafood. But he can't stay away from water.
He's still guided by the tides, often helping his son, Mike, harvest oysters on their three-acre commercial oyster lease on James Island, which the family has held and maintained for 25 years.
As the tide lowers, the tips of the oysters grow longer on the shores of the marsh, popping vertically out of the mud like stalks.
The Huffs' meticulously-maintained oyster beds are the secret to their elite oysters that they supply to Lowcountry all-you-can-eat oyster roast tables.
This particular harvest is a long time coming.
"This spot is something I've been saving—it's an area we planted four or five years ago. I've gotten it to where I can get 15 bushels of oysters a year just off that stretch," said Mike, the second-generation owner of the company.
For Mike, evaluating oyster beds is second nature. He knows which oyster beds grow the best—where there's plenty of good, soupy mud—and he knows what parts of the marsh are unsuitable for growing oysters due to the tide getting too low and the oysters exposed to too much sun, or where boat traffic splashes too much water onto the beds.
The Huffs cruise their lease as high tide changes to low tide, waiting for the oysters to show themselves and be accessible for harvesting. If oysters aren't up to par, they're dumped on the bank in the hopes of growing again into a better bed.
Mike has his favorite spots, navigating his 2-stoke engine flat bottomed boat into the shallow marshes behind Teal Marsh Road. Here, the oysters are bigger and more separated from one another. While oysters for harvesting must legally be three inches in length minimum, you're not going to find an oyster smaller than five inches in a Huff bushel.
"Mike always has a plan in his head of where he's going to pick, and what the tide is doing," Bill said.
The Huff men make moving through the mud look effortless, a skill that can only be acquired with decades of practice. They say it's relaxing tapping on oyster shells as close to nature as possible.
"I like the birds and sandpipers that come up near us while we are picking," Bill said. "When we pull stuff up out of the mud, they'll be looking for little worms and fiddler crabs." They've seen racoons and mink in the marsh.
Bill adds, "Everything you see out here is life in action. This is a nursey for the whole East Coast right here; nobody's got the kinds of marsh we've got and everything grows here, from shrimp to fish and you can see how everything changes all year long, with every rainfall."
In 46 minutes, they've collected a bushel and a half.
"My best day I've had on this lease was 28 bushels in one day," Mike said.
The work is not for the faint of heart. A full basket is 65 pounds of oysters, which then needs to be carried through the mud and hauled back onto the boat.
"When you have mud up to (your waist) and you have to move yourself and move the oysters, it's like you're wrestling gorillas," Bill said.
They fill up two baskets each before moving to another part of the lease to harvest. After 10 bushels are on board, the boat sits significantly lower in the water.
"Sometimes when you get home, you're too tired to sleep," Mike said. "After two days of this, you're out cold for 14 hours."
Feeding the beds
In oyster harvesting, it's as important as what you pick as what you leave behind.
Oyster beds aren't like mowing grass, where it grows back once cut. Beds take years to regrow and need to be tended to with new shells to provide a base for future oyster spat to grow.
The Huffs see the damage to state and public beds as their boat flies through the waterways: stripped beds where only dead shells remain. Areas where commercial and recreational harvesters have taken everything they can find and left.
The Huffs say their success comes from being conservative and sustainable.
They deliberately spread less desirable oyster shells back into the marsh while picking so that the reef will regrow larger than before.
"If you pick all the big ones, then you really have nothing to pick for next time," Mike said. "I'll pick a bed and I won't touch it until next year."
Mike goes a step further to grow their beds, regularly stopping his boat to haul chunks of oysters that aren't growing well in a certain area onto his boat and relocating it to other areas that have seen success.
"I call these the mother beds," Mike said. "I take these big knots of oysters and drop them into soft areas so they float and lock together and hopefully take off. I'll also go to bridge pilings and scrape off big chunks with a shovel."
He points to many of their prime oyster beds as evidence of success.
"When we first got the lease, there were no oysters here. Zero," Bill said. "This is 25 years of trying spots and different methods."
Mike heaves the newly-picked "mother bed" off the boat and into a shallow area and crosses his fingers.
"If this lands in the mud just right, it will be three times that size in a year," he said.
In their lease stipulations, permitted by the Department of Natural Resources, they must regrow a certain portion of what they harvest each year.
"We plant probably ten times the requirement," Bill said, adding that DNR often consults with them personally about where to place new oyster reefs through the oyster shell recycling program.
"It's really just time, care, and not overpicking," Bill said. "We'll leave plenty of good, fully-ready oysters on a bank. They grow on each other and we don't want to kill the bank for when they reseed in the spring."
Feeding the public
Even though the Huff storefront was sold in 2020, Huff oysters still have a place on Lowcountry tables, namely at all-you-can-eat oyster roasts and bushels sold directly to customers.
"People find my oysters by word of mouth," Mike said.
He partners with several catering companies that steam oysters on site at restaurants and for private events. Gary Miller, owner of Islands Oyster Co., a catering and event company, is one of the purveyors of Huff oysters.
"I get better compliments doing an oyster roast with Mike's oysters than any others," Miller said.
Mike likes to pick oysters the day of the event if possible, to keep them as fresh out of the water as possible. He stores oysters waiting for pickup in an industrial cooler set to 41 degrees.
His love for the product is evident. Mike smiles as he shows off long, thin blades, upwards of six inches long and "cups," fat oysters found deeper in the waterline at low tide. Both go into the plastic basket.
"I like the fatter ones, they taste like they've been soaked in butter," he said.
He has no desire to reopen a market; he finds harvesting for partners and customers and running charters with Sip-n-Sea during the off-season to be a better use of his days.
"I just want to be on the river," said Mike.
To inquire about Huff oysters, visit the Huff Seafood Facebook page or for private oyster roasts, email islandsoysterco@gmail.com.