Charleston Grill
23 May 2023
The Charleston Place's Award Winning Restaurant Raises the City's Culinary Bar
By Wendy Swat Snyder
Photos by James Stefiuk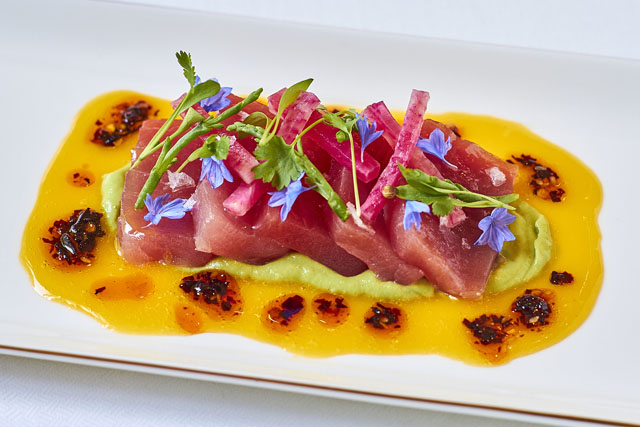 The Charleston Place—one of South Carolina's top luxury hotels—began 2023 with the closure of its Forbes 4-Star dining room, Charleston Grill, for a refresh. A few weeks later, the restaurant was back on the Holy City culinary scene—its fine dining concept completely reimagined—with a new look, chef and menu. A new direction for the Lowcountry landmark that's promoted lauded executive chef Michelle Weaver to culinary ambassador, and her mentee of seven years, Suzy Castelloe, to chef de cuisine. Helping to celebrate the renewal were such notables as former maître d' Mickey Bakst and James Beard Award winning chef Michael Anthony of New York City's Gramercy Tavern.
Driving change at the iconic property is Beemock Hospitality Collection founder Ben Navarro, a businessman and philanthropist whose acquisition of The Charleston Place brought it under local ownership for the first time in its 30-year history.
"It's been phenomenal," said Weaver, whose culinary leadership at Charleston Grill spans 14 years. "All our goals are going in a very positive direction. As a chef, I want to stay fresh and new. For so many years I was focused on the Grill alone. Now, to be able to reach out and help others build their team, to research new cuisines, it's a new way to use your brain."
"I'm really excited about what we've accomplished and the changes coming for the hotel," says Castelloe, who worked under acclaimed executive chef Craig Deihl at Cypress and chef/ owner Ken Vedrinski at Coda del Pesce after attending Johnson & Wales in Charlotte, North Carolina. "It's great to see the evolution of the team. They've really embraced what we're doing in a short time."
"It is a great progression for the hotel, our team, and for our local community as well," says master chef Olivier Gaupin, who joined the hotel's team as director of culinary in 2022. "The Charleston Place is a local institution, it has a connection to the community. Part of its evolution mirrors the evolution of Charleston. It's such a great project to be part of."
As culinary ambassador for The Charleston Place, Weaver will focus her attention on curating and cultivating talent within the organization, using her years of experience to mentor its young leadership.
"Everyone's struggling for staff since the pandemic," notes Weaver. "We're going to approach this in a different way—be our own little culinary school. I'm excited about it."
Weaver says she looks forward to expanding her role in both the local and culinary communities.
"We have plans to start up multiple new programs," she says. "I'm hoping to create whole weekends of culinary adventures with guest chefs from around the country. "We're going to build a demo kitchen where I'll do cooking classes and demonstrations."
A major component of back of house innovations is the Charleston Grill dinner menu. Long gone is the longstanding quadrant format, but the influences still remain French and Southern.
"It was time for something different," notes Weave. "We've always used product from local farmers and artisans and we wanted to highlight them more with our offerings. Plus, we are going for 5 (Forbes) stars—to do that, you have to look at how to elevate the menu."
The day of our visit, my guest and I were wowed, first, by an eye-popping installation of flowers framing the hotel's King Street entrance. Designed by Charleston-based luxury event design firm The Drifter, the large-scale sculpture was handcrafted by Hana Form.
Inside the restaurant, designers Gregory Blake Sams and Athalie Derse produced a fresh interpretation of Southern elegance with a lighter touch throughout the space.
"The inspiration is Old World," notes Gaupin. "We wanted to create the elegance of the classic European restaurant, and at the same time, an environment that feels good to be in."
The candlelit dining room, bathed in warm afternoon light, felt like a big hug. Light jazz played in the background. Sumptuous seating, rich upholstery and a color palette of pale whites and touches of gold created an ambiance that was both intimate and grand.
We were greeted at our table by Bryan Austin, who guided us expertly through the menu, offering suggestions for wine pairings for each dish from the restaurant's award-winning list of 1,000-plus labels.
From start to finish, every detail of the dining experience was intentional—such as the basketful of pain d'épi, a small plump version of a baguette from Brown's Court Bakery.
We began with truffle caviar—intensely flavored bits of truffle fashioned to look like fish eggs, presented with all the accoutrements of a conventional caviar plate. An elegant appetizer, it elevated the menu and demonstrated a whimsical side of Castelloe's culinary approach.
"I like to take something familiar to the guest," she explains, "whether a flavor profile or an ingredient, and change the appearance so the dish is something totally different than what they expect."
Next came a tuna crudo that hit all the right spicy-sweet notes with a housemade sesame-chili crisp and mango vinaigrette. Sea beans from local Heron Farms, the only sea bean farm in the country, added a brininess that rounded out the dish perfectly. A tip from Castelloe—you can find the beans on Sullivan's Island beaches if you know where to look.
We shared the jumbo lump crab cake for which the restaurant is famous. The tomato vierge—a traditional sauce Castelloe favors for its simplicity—is the one tweak to the 95 percent crabmeat-filled cake. Outstanding.
We chose entrées from the "water" and the "fields" portion of the menu: Snapper, perfectly cooked, bathed in a rich tomato broth simmered for hours with fish broth and vermouth. Chorizo and white beans finished the decadent yet light dish.
The Wagyu New York Strip, also perfectly cooked and melt-in-your-mouth tender, is sourced from Georgia-based Chatel Farms. The lovely presentation—pomme purée and charred vegetables—was elevated by details like blending the potatoes with Lowcountry Creamery crème fraîche. The classic red wine jus accentuated the beef flavor deliciously.
A shared dish of profiteroles and coffee French-pressed at the table brought our meal to a delightful close. The classic puff pastry was enriched with housemade pistachio ice cream and a warm chocolate sauce. Simple and elegant.
A perfect experience and enticing harbinger of what's yet to come.
Charleston Grill - at The Charleston Place
224 King St., Charleston