A Perfect Balance
23 May 2023
Spoleto Festival USA's formula for selecting world-class performances
By Adie Lee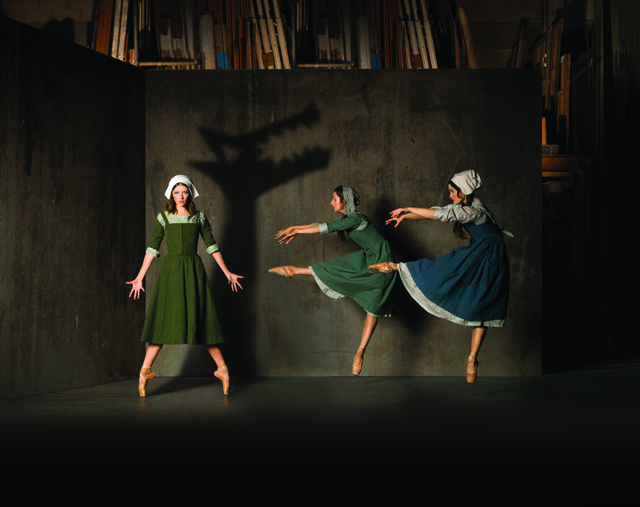 "Enchantment is everywhere." The 2023 Spoleto Festival USA tagline is more than an alliterative description of the 47th iteration of America's marquee performing arts festival.
Lead producer Liz Keller-Tripp might have us think of it as an invitation. A welcome offer to come as we are, to experience the exquisitely assembled talent in Charleston's front yard each spring.
Curating this chef's kiss of an international festival is lead producer Liz Keller-Tripp and her producing team.
Held from May 26 through June 11, the dedicated Spoleto Festival USA staff safeguard and share more than 100 innovative, multidisciplinary events at historic churches, outdoor venues and theaters downtown. Through the years, Spoleto has produced and/or presented 20 opera, dance, and theater world premieres.
Keller-Tripp oversees programmatic elements while supervising Spoleto's stage management and production operations.
The unique Spoleto Festival USA programing presents a myriad of masters alongside creators poised to introduce influential works in dance, theater, opera, music, jazz, physical theater and more.
"Various elements go into the delicate equation (of selecting creative content) and artists bring the audience urgent messages about the state of the world," Keller-Tripp said.
Thrilled to share artistic endeavors with relevant, entertaining and important messages, Keller-Tripp said "the multiplicity of perspective" makes for vibrant discussions long after a performance is over.
"While a performer might tell a story, there will always be more than one way in for the audience," she said. Resonance is unique to the individual, and Keller-Tripp sees different interpretations as opportunities for dialogue, which should be both safe to express and celebrated.
Before taking over her role at Spoleto Festival USA, Keller-Trip entertained dinner invitations the world over during a career as an acclaimed flutist. She sat down to play at the homes of local artists and patrons and during performance tours across Europe, Asia, the US, and the Middle East. It all became the backdrop for connections to other musicians and music enthusiasts alike.
"The hospitality I experienced was an opportunity. It was about more than expression, it was about listening and learning," she said.
Keller-Tripp parlayed her experiences and an unwavering inclination to "become that home" for other artists into a career where she both supports creativity and packages it.
Before joining Spoleto Festival USA, storied institutions like the Boston Conservatory at Berklee trusted her to oversee theater and opera production, concert logistics, strategic planning and more as the director of performance services.
She joined Spoleto Festival USA six months ago with extensive touring experience, three recordings to her name, including the 2016 Grammy Award-winning Sing Me Home and having managed interdisciplinary learning workshops with refugee communities in Jordan and Lebanon. She's deeply studied the cultural and social implications of music.
Additionally, Keller-Tripp's background provides the performer's mentality, which led to her nearly decade-long run, producing more than 30 international events each year with Silkroad, the brainchild organization of Yo-Yo Ma.
Spoleto Festival USA's founding purpose to provide a fertile ground of experimentation, exploration, and artistic learning. It's reach extends far beyond its stages. Vital to the Festival's endurance are its endeavors to engage audiences across a broad spectrum. With programming that includes sending artists into schools, holding public discussions, and organizing workshops for budding artists, the Festival aims to spark connections and leave lasting impressions.
Additionally, at this year's festival, Keller-Trip notes several opportunities to see the familiar through a different lens. Consider the Scottish Ballet's interpretation of Arthur Miller's The Crucible, told from the women's perspective.
Think you know Homer's Iliad? Tony Award-winner Denis O'Hare (Assassins, Take Me Out) brings An Iliad, an adaptation he wrote and stars in this spring. The Good Wife and American Horror Story have nothing on this take on mankind's compulsion toward violence.
Keller-Tripp is also looking forward to musicians Abdullah Ibrahim and his ensemble Ekaya. Deemed "South Africa's Duke Ellington," the 88-year-old Ibrahim is a pianist and jazz genius.
The platinum selling, Grammy Award-winning bluegrass/"newgrass" trio Nickel Creek features celebrated mandolinist Chris Thile, guitarist Sean Watkins and fiddler Sara Watkins and is one of the festival's hottest tickets.
Back from last year's world premiere production of Omar, don't miss tenor Jamez McCorkle present Schumann's "Dichterliebe," when he sings and accompanies himself on the piano.
McCorkle's performance features gorgeous, family-friendly animations that seem to come to life. Young and experienced theater-goers will enjoy the brand-new performance.
Check out Alisa Amador, winner of 2022 NPR's Tiny Desk Contest. Performing is in her blood. She grew up touring with her parents' bilingual Latin folk band and spent childhood loading in and out of venues.
For a show that might have you saying, "Wait, did I just see what I thought I saw?" check out Australian-based Gravity & Other Myths: Out of Chaos.
Feel the local love with the Quentin Baxter Quintet, the Grammy Award-winning producer and performer is a must-see for jazz lovers.
Chasing Magic with Ayodele Casel features the fanciest footwork, from six tap dancers and jazz virtuoso Arturo O'Farrill and other live musicians. Upbeat and exciting, tapping out sans smile is impossible.
New Orleans-based, Grammy-nominated Tank and the Bangas will end the 2023 season at the Wells Fargo Festival Finale on June 11. Held at Firefly Distillery in North Charleston for the second year, the evening event invites guests to pack picnic baskets, blankets, and chairs for this blend of funk, jazz, and hip-hop—followed by a stunning display of fireworks to culminate the Festival.
Each show has been carefully curated to be thought-provoking and stunning in its sets, performances and messages. Keller-Tripp is already workshopping performances for the 2024 and 2025 seasons with a revived focus on new work.
For tickets and more information, visit www.spoletousa.org or call 843-579-3100.
Helen Pickett on choreographing The Crucible
By Spoleto Festival USA
the Scottish Ballet will present The Crucible, an award-winning reimagining of Arthur Miller's seminal play at Spoleto Festival for three performances. This chilling account of the 1692 Salem witch trials recalls a community destroyed by hostility and hysteria. As a ballet, Miller's play is brought to life by choreographer Helen Pickett, one of today's leading choreographers who works internationally.
For her full-length version of The Crucible, Pickett collaborated with director James Bonas, designers David Finn and Emma Kingsbury and composer Peter Salem, who created a haunting new score—which will be performed by members of the Spoleto Festival USA Orchestra.
Spoleto caught up with Pickett about the performance.
How do you turn a play into a ballet? What is that process?
It begins with research, which I love when creating a new ballet. I create my own version, figuring out the beats that can be turned into dance and which characters to focus on. I heard a fascinating talk about what historians think really might have happened to Abigail to shape her character…which made me think deeply about her humanity. Abigail wanted to belong to a family. In that moment, I knew I didn't want to vilify her.
Can you share a bit about the other main characters in your version?
The center of my ballet is Abigail, Elizabeth Proctor and John Proctor. Elizabeth is the most courageous character in the play. She doesn't show all her cards. John is a complex character—but his cards are visible. We know about his choices and actions. Abigail is at once overt and covert, but she is a child and so she is transparent to the thinking adults—to the superstitious adults she is gospel. A problem.
In developing the treatment, James Bonas, my artistic partner, and I were interested in the stories that aren't overt. The moments that aren't really shown, but whispered about, are what I wanted to highlight with dance. For example, the dance in the forest and the prologue.
Your choreography is so sweeping, so full bodied, so intricate. How does that translate to Puritan characters? How did you think about their movement—or rather, their non-movement—style?
I focused the freedom of sweeping movement and freedom in the prologue, the dance in the forest, the affair between John Proctor and Abigail, the love duet between Elizabeth and John, and the solos of the townspeople.