Rustic & traditional food of the south of France
By Wendy Swat Snyder
Photos by James Stefiuk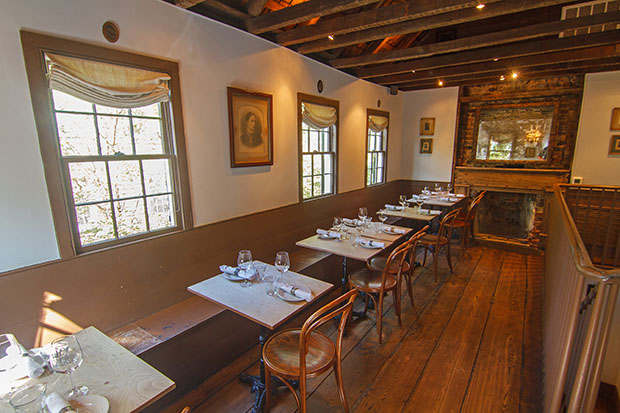 Fanny Panella dreamed for years of opening her own restaurant. The French native fell in love with the hospitality business waiting tables as a teen, and would bring her dream to life years later, a world away, with husband Patrick Panella.
Yet the inspiration for Charleston's much-respected Chez Nous, with a new menu scrawled by hand each day, remains rooted in "the City of Love."
"I read this book, Chez Moi, about a woman who opened this tiny restaurant in Paris," says Fanny. "It had a community table and she would serve one lunch and one dinner, and it would be the same menu for everyone."
"The other restaurant that was a big part of the inspiration behind Chez Nous was called La Laiterie," adds Patrick, formerly of Hôtel Biron in San Francisco, California. "It was my first ever meal in Paris, and what I loved most about the restaurant was its simplicity. And the small, energetic family that ran the operation was so warm and genuine."
The couple colluded with another wife/ husband culinary team, Jill Mathias and Juan Cassalett, who frequented the wine bar they'd opened a few years earlier—Bin 152—for after-work downtime.
Mathias, then executive chef of Charleston's renowned Carolina's, invited Fanny to her kitchen to expand her knowledge of cooking and staging. The four became friends, and eventually partnered to create Chez Nous.
Inspiration for the menu concept would come from the south of France. Fanny points to her ties to the southeast region near Italy, and family in the southwest near Spain, where traditions routinely cross borders.
"You have so many dishes that are similar," explains Fanny. "That's what I wanted to showcase with Chez Nous. I have many recipes from my family, and Jill also did her own research."
"The Panellas asked us to come up with 1,200 recipes for authentic dishes of France, Italy and Spain," says Mathias, a Johnson & Wales graduate whose credentials also include stints in Puerto Rico and Martha's Vineyard, and extensive travel in Italy.
"It was overwhelming at first, we'd never done anything like that before. We met every Thursday for eight hours for a year. We'd cook all day, and then critique the dishes, scoring each one on its merits."
"I don't know where we came up with that number, but we decided not to open the restaurant until we had these 1,200 recipes," explains Fanny. "We didn't want to leave anything to chance. It's unusual to have a daily changing restaurant in the U.S., in France it's widespread."
Meanwhile, the home for Chez Nous was in the throes of an extensive renovation. The unlikely site for the eatery—a run-down property the Panellas owned in Cannonborough—was hidden in an alleyway in a transitional neighborhood on the fringes of the downtown historic district. Yet the Charleston single-house, built in 1835, with classic elements like heart pine floors, wood beamed ceilings and old brick fireplaces, had potential the team saw.
"Layers upon layers of bad renovations had to be removed, taking care not to damage the true identity of the building," says Fanny.
"We did some of the work ourselves, while running Bin 152," adds Patrick, "and while Jill and Juan were still working full time in other kitchens."
The Panellas also credit their friend Chris Kellogg, a Charleston-based antiques dealer and partner in the team's latest venture, Malagón Mercado y Taperia, for décor choices throughout the project.
"It's a really great partnership," notes Mathias. "Everyone has their role, and trusts the other person to do their job—it just works."
Chic and loaded with charm, Chez Nous works on so many levels. Long and narrow, the small footprint feels right for an eatery with European roots; the alley it resides on—secluded and quiet—couldn't be better for guests dining al fresco in the fenced courtyard.
When we visited, my guest and I were seated in the sun-filled first floor dining area near a compact bar stocked with wines Patrick curates from regions across France, Italy and Spain.
"He has a lifetime of wine knowledge," notes Mathias. "Patrick develops the wine list like we develop the menu. And all the wines on the list can be paired with any given food on any given day. The idea behind it is that when you live in the south of France, you drink the wines produced where you live."
The menu for that day (and every day) features two appetizers, two entrees and two desserts handwritten in each dish's native language, and the English translation as well.
Our gracious and knowledgeable server, Trevor Purcell, recommended a favorite white, 2016 Domaine Faury Saint Joseph Marsanne & Roussanne Blend, that he guaranteed would go down smoothly with all the day's selections. It did.
Starters were two warm dishes, perfect for the brisk day: squid, sauteed with a bit of garlic and crushed red pepper, was tender and nicely balanced with a hint of heat, served with sweet chick peas and savory escarole in a delicate white wine and mussel broth.
Housemade sourdough bread was toasted and topped by a thick slab of warmed boucheron goat cheese, with grill marks adding a flavorful char to the creamy dish. A frisee salad dressed with a red wine vinaigrette and shaved radishes offered a perfect balance of acid.
Local fish and chicken from Springer Mountain Farms comprised the day's main offerings: pan seared filet of flounder, served over butter-braised fingerling potatoes with a side of piquant chervil mayonnaise and baby carrots, was delightfully crisp and perfectly cooked. Abundant Seafood, Growfood Carolina and Lowland Farms are among the kitchen's local sources.
A pair of lightly dredged boneless thighs were pan roasted, producing a crunchy exterior and tender light meat within. A rich red wine jus, oven roasted cipollini onions and sauteed butternut squash completed this immensely satisfying dish.
"The food is very simple," notes Mathias. "The core of cooking in the south of France is very rustic—cooking with what you have. It's the way I cook, allowing the ingredients to shine through."
Keep an eye on @cheznouscharleston on Instagram for daily offerings. Fanny says she looks forward to cold weather dishes like magret de canard aux chous—duck with brown butter, onions and cabbage.
She adds, all smiles, "Jill's cooking takes me back to France and my grandmother's cooking."

Chez Nous
6 Payne Court
Charleston
(843) 579-3060
www.cheznouschs.com