The Power of Poetry
06 Nov 2020
Marcus Amaker, Charleston's Poet Laureate, inspires the community
By Jenny Peterson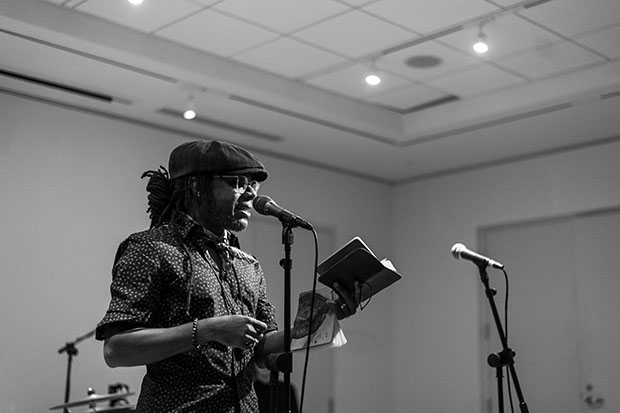 Historically, a poet laureate is a poet officially appointed by a government who is expected to compose poems for special events and occasions.
But if you ask Marcus Amaker—the city of Charleston's first poet laureate—he considers the position to serve as an important advocate for the arts.
"Poet laureates are actually at the table with elected officials telling them about the world and inspiring the community," Amaker said.
Amaker is musician, poet, spoken word performer, and graphic designer who has been a fixture in Charleston's art scene for nearly two decades.
He is breaking down barriers as an artist-in-residence at the Gaillard Center. In that role, he curates his own performances, including a poetry festival, and brings his craft to thousands of students at local schools.
He creates his art in a thoughtful and immersive way. Rather than just write the poems, Amaker performs them. He does many in-person poetry readings, records himself reading them with his own music and often creates videos of the words scrolling across the screen.
His poems have been read at the inauguration of Mayor John Tecklenburg and during the opening day of the Charleston Wine + Food Festival.
Amaker's poems have also provided insight into difficult subjects surrounding social justice. He has emerged as an important voice in the African-American community.
"I am a non-fiction writer and I write about my life and write about things that affect me, things I've seen, things I've experienced and things friends of mine have experienced," Amaker said. "I write just like folk artist Ani DiFranco, who writes about what she sees in the world."
He has several books of poetry and more than 30 albums of electronic music and spoken word covering an array of subjects, from social justice, to travel, to becoming a dad for the first time.
He was recently approached by The Citadel to write a poem honoring the military college's first African American students.
"Art has the power to help you focus on what's really going on and be the voice for a lot of people who are unable to speak on a large scale," Amaker said. "Poetry in particular is a very nuanced, detail-oriented artform and I think if you are a reader of poetry, time slows down. Poetry allows you to verbalize things that are happening in a way that conversations don't."
A Writer's Journey
Born into a military family, Amaker moved all over the world growing up—including England and Japan—before settling in Columbia, SC where he graduated high school and attended the University of South Carolina.
"I went to USC with a major in journalism and a minor in English," Amaker said. "My journalism teacher always told me to write short and compact and my English teachers told me to expand."
He gravitated towards graphic design and moved to Charleston, working as a designer for the Post & Courier. He currently designs websites for several clients and is the lead graphic designer for the magazine No Depression.
Before COVID-19, Amaker was very active in local schools, traveling to classrooms monthly to teach students the power of words.
His proudest moments in his career have come from students who reached out to him about how expressing their feelings on paper has helped them cope with stressful situations.
He also takes pride in being a positive role model to the students.
"I love to see young Black students at a school and say, 'I am you!'" Amaker said.
He's inspired thousands of students through a curated show at the Gailliard called Poetic Hip-Hop: From The Page To The Stage that combined hip-hop and spoken word poetry.
Dad Life
Amaker's most recent book of poetry and accompanying album is called The Birth of All Things, which tackles his proudest accomplishment—the birth of his daughter Rei, born in late 2019. The album even incorporates her heartbeat in the womb.
"Being a dad helped me realize how strong I am, and more aware of my habits and helps me prioritize and be just be real with her," Amaker said.
Next on the horizon is a new electronic music album to be released in November.
"It's about a character who wants to get out of reality because reality is too rough right now," he said.
Also on the horizon is another collaboration with renowned jazz musician Quentin Baxer, who just won a Grammy award.
"When we are in the studio, I'm reading the poem and he's doing drumming, working off the energy that I bring," Amaker said.
He hopes to be the first of a long legacy of poet laureates for the city.
"Three hundred years from now, there still needs to be a poet laureate doing things even better than I am," he said.
For more information about Marcus Amaker's work, visit marcusamaker.com.
The poem Marcus Amaker wrote to kick off the 2017 Charleston Wine + Food Festival
break bread
We've come here
to feast on the flavors
of the Lowcountry:
To breathe in
the ocean's salty safe haven,
where serenity and shellfish
are served every day.
To learn about
the after taste
of our history's
fresh lessons,
built on the backs
of West Africans.
To appreciate
farmers and fishermen
whose passion feed
the entire city.
We've come here
to raise our glasses
to the spirits
of the South
and drink
carefully crafted cocktails
inspired by the coastline,
to sip wines
that crossed the sea.
We are free to pour pints
and drown in our love
of libations.
We've come here
for conversation.
To realize that food
is more than
just the ingredients –
food is family,
food is community,
food is our soul.
We break bread
to bond with our
sisters and brothers,
to be mindful
of the alliance
we've formed
with mother earth
and thank her
for her gifts
of nourishment.
-Marcus Amaker