The Fire of 1871 Led to An Architectural Explosion in the City Home to the World's First Skyscraper and Many Festive Holiday Events.
By Katie McElveen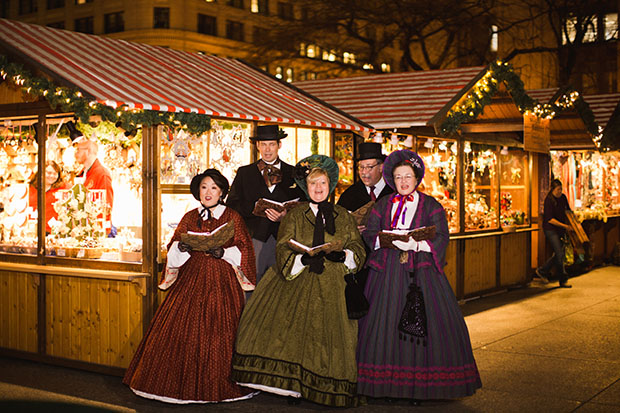 Standing amid the forest of skyscrapers that comprises Chicago's Loop, or main business district, it's hard to imagine that after the city's infamous fire of 1871, this part of the city would have been completely razed, leaving me with an unobstructed view all the way to the river, more than five blocks away. In all, the fire cut a three-mile-long, one-mile-wide path of destruction that sheared more than 17,000 buildings to the ground.
Chicago's fire was an undeniable tragedy, but, according to Dan O'Connell, Director of Communications and Public Affairs at the Chicago Architecture Center, it wasn't without a silver lining. "At the time of the fire, innovations in structural engineering allowing for buildings to reach new heights, such as elevators and lighter-weight frames, were being perfected," he explains. "After the fire, city leaders invited architects from all over the world to help rebuild the city. The buildings they designed set the stage for Chicago to emerge as an architectural showplace."
It worked. In 1884, work was completed on the world's first skyscraper, a 10-story marvel that housed the Home Insurance Company. Before long, it had been joined by a bevy of architectural marvels, including the Wrigley Building, with its European-inspired clock tower, and the Gothic-styled Tribune Building. Before long, as buildings continued their rise to new heights, architects began to have fun with their designs, crafting the 1929 Carbide & Carbon Building to resemble a Champagne bottle and topping the 1930 Chicago Board of Trade Building with a three-story-tall statue of the Roman goddess of agriculture. In 1974, with the completion of what was then called the Sears Tower, Chicago became home to the tallest building in the world.
The Chicago Architecture Center celebrates the Windy City's architectural heritage with a series of programs designed to not just get visitors excited about buildings, but to inspire exploration of the 77 neighborhoods that surround them as well. Throughout the gleaming center, which is set with scale replicas of some of the world's most iconic skyscrapers, maps and interactive displays highlight a rotating half dozen or so in-town communities, offering a glimpse into their history, details on notable buildings, easy-to-use directions and even suggestions for eating and shopping. For those who don't want to explore on their own, the center offers guided tours – via bus, "L" train, on foot and, during the warmer months, by water – that are led by informative and enthusiastic docents.
Chicago's architectural explosion did more than create a striking skyline: as those gorgeous buildings filled with corporate headquarters, banks and federal agencies, Chicago grew into a world-class city filled with outstanding restaurants, shops and cultural offerings.
Late fall and winter may seem like an odd time to make a trip – Chicago is, after all, one of America's chilliest cities, but the city's huge variety of unique holiday events paired with a regular menu of art exhibitions, live theater and music productions, sporting events and other diversions might tempt even the most cold-blooded among us to don their layers and head north.
Start in mid-November, when two of Chicago's most popular free (skate rental is extra) outdoor ice-skating areas open for the winter. Located within easy striking distance of Cloud Gate – which is better known as The Bean – Millennium Park's McCormick Tribune rink opens in mid-November with a full lineup of theme nights, free lessons and steaming hot chocolate. Closer to the river, the half-mile-long skating ribbon at Maggie Daley Park winds through the landscaped park. Try it at night, when the city's lighted skyscrapers, all lighted for the holidays, make a dramatic backdrop.
Inspired by the Christmas markets in Nuremberg, Germany, Chicago's Christkindlmarket is a true Bavarian experience: many of the event's 60 or so craftsmen fly in specifically for the event from all over Germany, bringing with them collections of ornate, handcrafted cuckoo clocks, glassware, carved wooden toys, Christmas ornaments, pewterware and lace. Then there's the food: you'll find spicy gingerbread, wursts of every variety, warm pretzels, cheese and schnitzel, along with hot mulled cider and wine and a selection of German beers. It's the largest Christmas outdoor festival in Chicago.
From its humble beginning as a way to honor the holiday traditions of the twelve Allied countries who fought alongside the United States during World War II, the Museum of Science and Industry's Christmas Around the World and Holidays of Light exhibit has grown to encompass more than fifty trees, each decorated by volunteers and representing a world's worth of holiday customs and traditions. At the Art Institute of Chicago, several of the 68 miniature Thorne rooms – historically-correct scale models of European interiors from the late 13th century to the 1930s and American furnishings from the 17th century to the 1930s – have been decorated for the holidays. Also on exhibit is the Art Institute's 18th century Neapolitan crèche, which features over 200 figures – including about 50 animals and 41 items of food and drink – all set within a spectacular Baroque cabinet with a painted backdrop.
Shopping abounds throughout the city. On Michigan Avenue, the Magnificent Mile Lights Festival, which is held the weekend before Thanksgiving, kicks off a month of celebrations and light displays along one of America's most notable retail locales.
Where to Stay
Can't get enough of Chicago's brisk winter weather? Book a room at The Gwen, which celebrates the season with a pop-up curling rink on the hotel's 5th floor terrace. Reserve a 30-minute session and you'll also have access to the Curling Cabin, a cozy little shelter where you can sip hot drinks and snuggle under (faux) fur throws.
Located in the landmark McGraw-Hill Building, the 311-room Luxury Collection hotel is named for Jazz-Age Chicago artist Gwen Lux, whose bas-relief sculptures of Greek deities and signs of the Zodiac decorate the façade of the building. The sculptures were deemed so valuable that before the building was semi-demolished in 1998, the sculptures were removed so they could be re-installed on the new structure. Stylish rooms are done up in charcoal and white with colorful accents; an oversized drawing inspired by the building's façade sculptures decorates the wall behind the bed. Suites are old school, with two completely separate rooms and oversized windows overlooking the bustling scene below on Michigan Avenue.
For more information, visit choosechicago.com and consider purchasing the City Pass, which offers free admission (and, often, a chance to skip the line) to several notable cultural institutions and attractions.