Chiropractic Medicine
30 Mar 2013
We sit down with Dr. McPhail and learn that chiropractic care can help with more than just lower back pain.
By JOHN TORSIELLO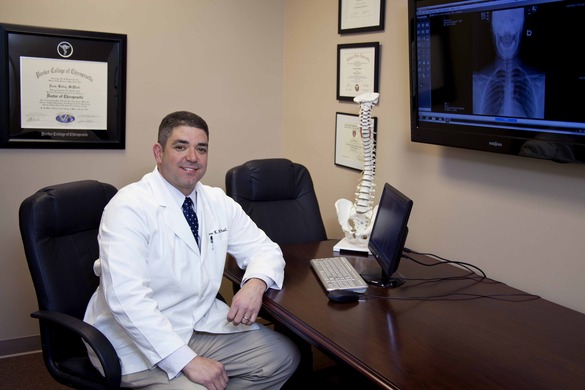 Dr. Drew McPhail came to the practice of chiropractic medicine in a very real, visceral manner.
Dr. McPhail had played football at Valdosta State University in Georgia and was fortunate enough to be injury-free during his college days. But when he was lifting some items into a truck he injured his L4 and L5 discs in his vertebrae, and found himself in agonizing pain.
"I had always admired the chiropractic field because my father's friend was a chiropractor and I thought a lot of him. But it wasn't until I became injured and went to a neurologist and an orthopedic doctor that my eyes were opened. An MRI showed the injuries to my discs and the recommendation was surgery. I didn't like that. I went to a friend of a friend who was a chiropractor, and after some X-rays and low back adjustment, I went from being bent over to upright within a week. I thought how wonderful it would be to do the same thing for other people that was done for me, so after talking to my wife I headed to grad school to study chiropractic medicine."
Dr. McPhail, who lives with his wife Sherry, and their two children, Grant, 8, and Abby, 5, in Summerville, studied pre-medical at the Life University in Atlanta, Georgia and graduated from the Parker College of Chiropractic in Dallas, Texas. The Gainesville, Florida native's decision to move to the Charleston area was another somewhat serendipitous event.
"My wife was in a wedding here and when she was out with the other bridesmaids, I went to downtown Charleston and saw everything that the area has to offer. It has everything you can want from a city, the beaches, fishing, fine dining, and golf. And we also wanted the children to have a special place to come back to once they went off to school."
Dr. McPhail set up shop in Summerville in January of 2006 and has built a thriving business. He attracts clients from as far away as North Carolina and Georgia, some who fly into Charleston for treatment at his practice, located in a 4,000-square foot space on Old Trolley Road.
"The area has optimal demographics for a chiropractic practice," he said, noting the desire of residents to continue to lead active lives as they age. "We are seeing more retirees moving to the Charleston area and into communities that have a wealth of activities for them to partake in. They want to continue doing these things as long as they can and lead healthy lives. We can help them do that."
Dr. McPhail, who cites his main hobby as "work" and attending post graduate conferences and seminars, lights up when he talks about new advances in his field.
"We are doing some exciting things helping scoliosis patients deal with their situation. Of course, some scoliosis is genetic in nature. But the lifestyles of many young people, and adults, lead them to hunch over at the computers, and when spending hours on cell phones, the head becomes tilted way out in front of the body. We can train the body to hold itself in a more upright position without surgery or bracing."
He adds, "Just recently, we have been able to more effectively treat people, often those with diabetes, who are suffering from neuropathy. Typically, treatment is medication to help individuals cope with the pain. But by using low-level laser treatments and manipulation of the body, we can increase blood flow to the legs and feet to maintain a healthy nervous system, and prevent pain and amputation. We employ instruments that allow us to be very specific in the areas we treat."
Dr. McPhail is invested in the greater Charleston area, serving on the board of directors for the Summerville Rotary Club and also the Dorchester Children's Center, which assists children in jeopardy from abuse or neglect.
"The Center sees close to 1,000 children a year, in a child-friendly atmosphere and minimizes the amount of trauma to the child. It provides rehabilitation and counseling after the initial investigation of abuse or neglect. It's sad that we have to have a place like this, but I'm proud that I am able to be a part of helping these kids."
When he does have some free time, Dr. McPhail enjoys helping out with his son's Cub Scout endeavors and his two children's soccer teams.
Having grown up in small towns of the South, Dr. McPhail and his wife Sherry are enjoying all that the Lowcountry area has to offer, and have found a home here. 843-873-2225, drmcphail.com.