Treasure Trove
30 Mar 2013
There's something for every room at this delightful antiques shop.
By JASON A. ZWIKER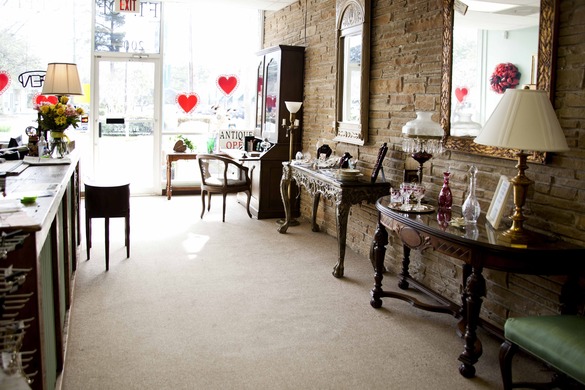 Walking room to room through Main Street Antiques and Consignments, it's easy to see how that space you're redecorating or the house you're moving into could all come together. All the elements are present, carefully arranged in an eye-pleasing way. That's by design.
Meet Carol Buddin. Her background in one-day room makeovers and real estate staging provides Main Street with a special touch of artistry. "It was intentional that we not be set up in 10 by 10 booths," she says. "I wanted a continual flow, with items presented as they would be in the home."
Walking the rooms is a treat for the antique shopper. The rooms and the treasures therein just keep coming, one after the other―hours could pass just taking it all in. If you're on the lookout for old architectural pieces, salvaged from historic homes and inns, make your way to the back where you'll find doors and mantles with tales to tell, true conversation pieces, just waiting to be repurposed.
"A lot of people are taking old doors and using them for custom table tops," she offers. The weathering and the old layers of paint on a spectacular mantle resting nearby is an artist's dream. There are old windows and frames sure to enchant anyone with a creative turn of mind. As are the light fixtures―once they hung in the kind of old estate houses that tourists would snap photos of for the historic charm.
There is a special Summerville section near the front, which is full of wonderful gift ideas for those visiting the area, including books and ornaments. Hand carved cameos, sterling silver, and Charleston Gate jewelry can all be found here as well. Looking for a nice piece of art to hang on the wall? There is a collection of Silhouette cuttings on hand just waiting to find an appreciative home. Larger paintings are available as well as smaller pieces aplenty in the display cases.
The variety is impressive. Carol attributes that to the fact that over three hundred consigners bring in inventory on a regular basis. She and her husband both grew up in the South Carolina Lowcountry (Carol was raised west of the Ashley, while her husband is third-generation Summerville), so the understanding of what makes the area so special, in history and design, is natural to them. There are items here that are pure Southern charm, and there are also items from all over the world ready to accent them.
Looking for kitchen and dining room items? How about a 1903 Singer sewing machine? Perhaps you need fabric, quilts, and pillows. The best part is that it's all here. Let's say you find an antique chair you love the look of, but it's stripped down. Here's your chance to have it recovered with your choice of fabric. Moments like that, when you begin to see how one lucky find will fit with the next lucky find to create a whole new look for a room, are what it's all about.
Carol notes that many people are finding consignment to be a good choice when they are relocating or downsizing. "They'll bring in the large items and leave with pieces better suited for a smaller space. It's a way of recycling."
Or it might be one special room in need of styling. In the back, Carol has a delightful grouping of model cars, vintage beer mugs, bar ware, tools, and pulp magazines she's dubbed "the man cave". Not far away, there are vintage gardening tools and a nice copy of the American Boy's Handy Book, that old time handbook of timeless activities and forgotten life skills.
In the two years since Main Street Antiques and Consignment opened, it has rapidly become an integral part of the local antiques scene.
"If you wanted to, you could find enough to decorate your entire home here, and affordably. That's why so many people shop consignment." She flips the price tag on real wood furniture and it's priced for less than you'd pay for some particle board furnishings – that's a true bargain.
Savings is a big part of the thrill – okay, a very big part – but the rest of it is the simple joy of discovery, of chancing upon something that is a perfect fit for your personal style. 843-879-9529