Community Table
05 Jan 2020
Fine dining in I'on
By Wendy Swat Snyder
Photos by James Stefiuk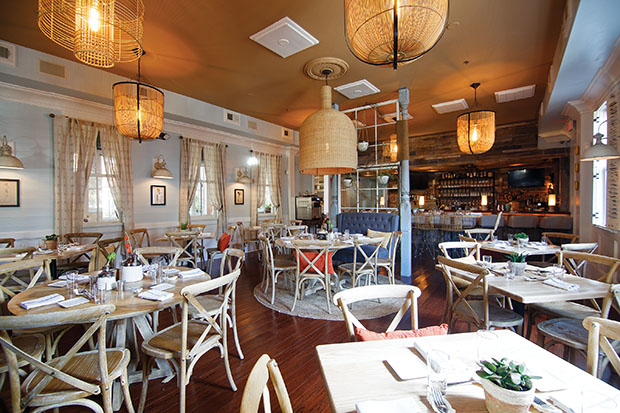 As I trekked through a blanket of fall leaves toward Mount Pleasant's newest eatery, I marveled at the willingness of owners Ryan and Kelleanne Jones to invite scrutiny so soon after opening.
In fact, within less than a week, and the week of Thanksgiving, to boot. New staff, untested menu, no time to work out any start-up glitches—here was a recipe for a potential free fall.
Followers of the husband/wife team know they are fearless restaurateurs with a track record of success, both in Charleston and their former hometown in Connecticut.
Commuity Table is their first fine dining endeavor since moving south, and with a pan-regional approach and a can-do attitude, I would say the Joneses have hit the ground running.
Community Table shares space with the Inn at I'on, a bed and breakfast property as charming as the I'on community itself—one of the country's earliest examples of a new urbanist tradional neighborhood development. The Joneses quickly zeroed in on it during scouting excursions a few years ago and made it their home when they moved to the Lowcountry.
"We had our eyes set on this little village," says Ryan of I'on's quaint town center. "We would pass this space—it's the perfect restaurant space. We started negotiating with the owner
but, at first, he wasn't sure he wanted a restaurant and it fizzled out. Then, the end of the summer we got a phone call and the deal was back on track."
"We love the space, the bones, the neighborhood," says Kelleyanne, "And we felt the surrounding area needed another dining option."
The pair shares a long history in hospitality that began with part-time stints in their teens. Ryan went on to graduate from The Culinary Institute of America in Hyde Park, New York, and Kelleyanne started up a catering business in 1999 that became busy enough for her to hire a chef—Ryan.
"Since that day, we've worked side by side—for twenty years," notes Ryan. "It's what we do best, we don't know any other way. We work well together and translate that into the entire restaurant experience—front of house and back of house. We really try to synergize the two."
With the help of friends and family—even the couple's kids are involved in the family business—Kelleyanne and Ryan channeled their energy and managed a total renovation of the former restaurant property, from design concept to execution.
"The kitchen was pretty well equipped," notes Ryan. "We fine-tuned it. But the front of house looks like a completely different space."
"We painted, installed new lighting—brightened it up," explains Kelleyanne. "I call it farmhouse chic: We used light woods, driftwood, the walls are a pale palette and there are pops of yellow and orange. It says 'happy.'"
Outside, Community Table offers sidewalk seating under strung white lights. The warmly lit interior welcomes with rustic décor and plenty of potted plants. The cozy eatery offers additional seating at the bar and in a semi-private room outfitted with a long community table that seats 20.
"We also have 20 seats on our covered porch that has that community feel again," adds Kelleyanne.
She and Ryan cite Workshop, a local exploratory food court, and their three-month experience operating a pop-up there they called Free Reign, for nudging them back into being their own bosses.
"It gave us the opportunity to get out and do our own thing again," says Ryan.
"It was fun," agrees Kelleyanne. "We'd worked for Mex 1 Coastal Cantina—Ryan was director of culinary operations and I was involved with training development and catering for the group."
"When you're used to working for yourself, it's difficult to try to execute someone else's vision," notes Ryan.
Asked to describe the Jones vision, Ryan response was, "modern comfort food."
"We want to be approachable for everybody, every day—whether it's a burger on Monday
or a more elevated experience on Friday—foods that are relatable, on a higher scale. What we did at Free Reign was wood-fired coastal, a little twist on the Lowcountry. Here it's more regional American, with different influences from everywhere."
Local influences are evident in the kitchen's sourcing of produce and proteins for which the Carolinas are known.
"All our greens are sourced from Vertical Roots," says Ryan. "We bring in trout and pork from North Carolina, and shrimp from Lowcountry Shellfish. The bar offers local microbrews, gin and vodka. We squeeze juices to order for all our cocktails."
The evening we visited, our table started with a "ginloma," a refreshing, not-too-sweet mix of gin and fresh grapefruit juice, lime and salt, and a basket of housemade popovers warm from the oven.
Salt roasted beets with whipped feta were next. The garnish of orange and mint was kicked up with the salty/ sweet surprise of crunchy candied proscuitto. A must-have.
Community Table's signature cast iron Carolina shrimp followed, cooked perfectly and lent a little char by smoked jalapeño, and a fresh green edge by Tuscan kale and garden herbs. "Simplicity," as Ryan says, "with great flavors."
The pickled shrimp was also packed with flavor: An inspired mixture of pickling spices combined with fennel, citrus jalapeno and saffron delivered a sweet and briney dish.
The pan seared North Carolina trout was a beautiful presentation, again, with tons of flavors and textures, and vegetable-heavy with lentils, shaved Brussels sprouts, dried cranberries, toasted pumpkin seeds, and Calabrian chili honey.
The double cut Berkshire pork chop was exactly what you wish for on a perfect winter plate:
A lightly brined pork chop, cooked to tender perfection. Sour apples balanced out a cheesy sweet potato lasagna.
Comforting sweets included warm brioche doughnuts served with a drizzle of autumnal caramel and a moist slice of classic olive oil cake. Simple and refined.
Two decades of experience and confidence shine through in Kelleyanne and Ryan's latest place to gather. Welcome to Mount Pleasant, Community Table.
Community Table
148 Civitas Street, Mount Pleasant
843-910-6111
https://communitytablechs.com