Old-World inspiration close to home
By Jenna-Ley Jamison
Photos by James Stefiuk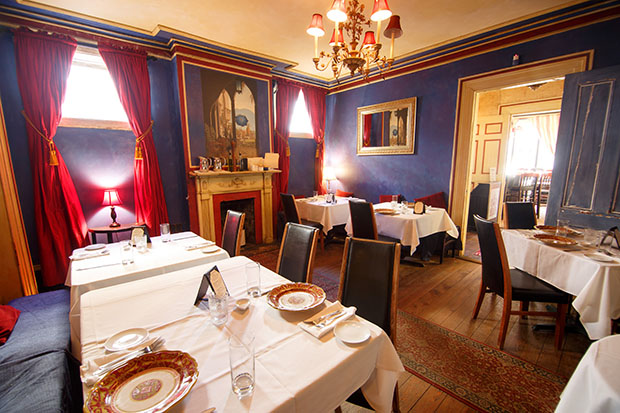 Nestled along quaint Society Street off King Street sits an historic 19th-century haven for authentic, European and Mediterranean cuisine plus 75 wines offered by the glass.
For years, the artsy and ornately-decorated eatery, long celebrated for its handmade everything—pasta, sausage, sauces, breads, dressings and desserts—has seemingly stood the test of time in a city ever-changing with restaurant options.
Owner Beth Anne Crane realized her dream business 13 years ago and said the journey to her tenure in the Lowcountry hasn't been easy.
"It's challenging to be an independent operator and competing against the big, corporate dogs isn't always easy," she said.
But rather than focus on the competition and trendiest list, Crane keeps her heart set on her initial passions—food, art history, and people—even likening customers and staff members to "family," in order to keep Muse successful.
"It's not only about the food, the bar and the wine," Crane said. "It's about the people."
Crane always knew the Holy City would be the perfect location for her own restaurant endeavor. She waited a year-and-a-half for the Society Street property to became available for purchase. Once a house—built in 1858—the site maintains its cozy, charming setting.
"It's a big contributor of why I established here and I wanted to mimic the idea of a neighborhood place, a local place, a place that is sort of tucked away," Crane said. "I wanted this place to grow in a grassroots way, from the ground up."
But Crane is also no stranger to the food industry—the Philly native comes from a family of four generations in the restaurant business. Her seasoned resume even includes a joint business venture with her father.
The duo owned and operated the still-thriving Crane's Tavern and Steakhouse in Hilton Head. That establishment, however, isn't as near-and-dear to her heart as Muse.
"This is more an expression of myself," she said, gesturing at the décor surrounding her and reminiscing about its origin.
It was during her time in Italy, researching the history of wine for a graduate school project, that her inspiration for Muse was born.
"That was where the spark came about," Crane said.
She specifically studied material about a culturally iconic "Villa of Mysteries" in the Italian city of Pompeii.
According to Crane, prior to the Italian city's first century volcanic demise, it served as the center of the wine world.
But it wasn't just the city that captivated Crane. It was learning about a seemingly magical chamber inside the villa—a chamber with vibrant frescos depicting the life of a woman. A "center of scholarly debate for more than a century," the paintings represented Pompeii's female-centered culture.
"The chamber was a site for women to gather and have female power," Crane said.
It seemed only natural, then, that her own female-operated restaurant—complete with similarly elaborate artistic elements, like that of the chamber, and Italian fare—was named Muse, meaning "inspiration."
There are lots of details that speak to Old World charm at the restaurant.
In addition to the bar area, lined with art, there's also a relaxing outdoor patio and a quaint upstairs balcony space—dubbed the "Romeo and Juliet" room because of its private seating for two—along with four dining rooms.
Each dining room boasts its own unique name and personality with unique details like hand-painted dishware's chargers. Among the rooms are the "Unicorn Room," with wallpaper displaying glimpses of the iconic, white horse of fantasy tales a "Music Room" and a red-curtained "Echo Room."
"Each room has its own muse," Crane said.
And no less impressive than the restaurant's physical appearance—and occasional celebrity sighting, including Hollywood A-listers Daniel Craig and wife Rachel Weisz—is the carefully-crafted menu.
While Crane said the kitchen utilizes local ingredients when possible, other products—like the signature sea bass—are imported. The delectable $30 dish is the median entrée price at Muse—with most menu items costing anywhere between $20 and $35.
Crane also pointed to the "Tagliatelle Bolognese"— ribbon pasta with traditional tomato, veal, pork and beef ragu topped with parmesan oregano—as one of the most popular "comfort food" dishes.
But no meal is complete without the perfect pairing of wine, or sugary treat to close out the night.
The dark chocolate torte, gelato and walnut-crusted ricotta cheesecake among the decadent options. Of the more than 200 wine labels available, about 75 are "pour-by-the-glass" wines, Crane said. And don't forget the cocktails—many of them, including the "The Bette" and "The Jolly Roger," named after frequent local patrons.
Muse cares for its close-knight community by offering a 25-percent discount to local residents. The "Local Sunday Special" is offered during the winter months (through February).
And with Muse open daily for dinner, except on major holidays, there's no excuse not to reserve a next romantic date, celebratory occasion or simple weeknight outing here.
For more information on Muse, visit charlestonmuse.com.