Remembering Bill Hall
06 Nov 2020
Patriarch of Hall Management Group leaves a legacy
By Wendy Swat Snyder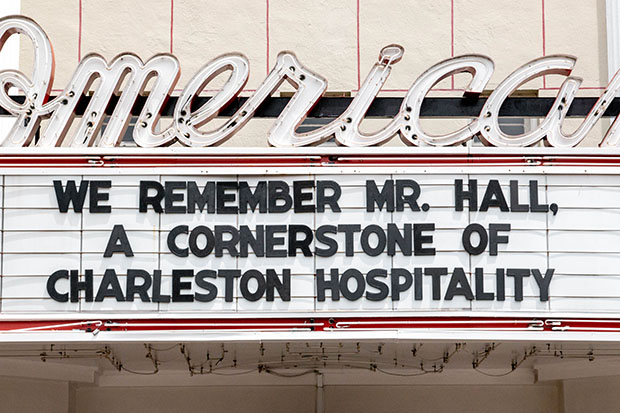 Countless lives have been touched by William Ames "Bill" Hall, whose sudden passing on August 19, 2020 is a loss to his family and the entire community he served and supported.
In a little over a decade the restaurateur built the Hall Management Group into a culinary powerhouse, with dining establishments in Charleston, Folly Beach, Summerville, Columbia and Greenville, South Carolina.
Born November 2, 1946 in Seattle, Washington and raised in Sausalito, California, Bill Hall, Sr. began his hospitality career as a teenager working in the family grocery store and a local eatery.
After college, he moved into luxury hotel operations, first at Fairmont Hotel in San Francisco, then Sir Francis Drake. In 1968, he relocated to Washington D.C. where he spent ten years working for Westin International Hotels.
Bill's portfolio also included a number of prestigious resorts: Pinehurst in North Carolina, Mayacama and Pebble Beach in California, Wigwam in Arizona and The Cloister in Sea Island, Georgia.
Bill spent the final leg of his 46-year corporate career with The Ritz-Carlton, opening, renovating, and building properties in Naples, Florida, San Francisco, and Pasadena, California.
Chapter two of his hospitality career unfolded in Charleston, where the Hall family had strong ties. In 2008, along with his wife Jeanne and son Billy, he realized a life-long dream: partnering with his son Tommy, who had been managing Del Frisco's of Dallas, to open a restaurant of their own.
A year later, Halls Chophouse opened on upper King Street. Three more locations followed that success. The group would also purchase Rita's Seaside Grille and, in 2015, High Cotton, Slightly North of Broad and Old Village Post House from Maverick Southern Kitchens.
We asked Tommy Hall and a few members of Bill's extended "family"—folks who worked closely with him and knew him well—to share their thoughts on the man and his legacy.
"This was so suddden. Dad had so much going on—charitable work, the future growth of the company—I had to jump right in. The loss was tremendous, he was a father, grandfather, my best friend. The great part was that we got to work together for the past 13 years," Tommy Hall said. "Dad had that vision in 2008—when upper King Street was a fringe neighborhood and there weren't any restaurants there—to open one. He wasn't afraid to take the risk. And it wasn't the best economic time. People said he should do a sports bar, but dad stuck to his guns. The future of Halls Management Group is bright. Dad paved a path, and we're going to keep growing. We have always strived to grow organically—we have great waiters who want to become managers, sous chefs who want to move up—we always want to do the right thing for our employees."
Corporate executive chef Matthew Niessner, who assisted with the opening of the original Halls Chophouse location and now oversees all eight properties, remembers Bill for his compassion and care for people.
"It's that simple. I've never known a person with a bigger heart. He was happy if he could make you happy," Niessner said. "We both came out of a hotel and restaurant background and shared core values. The Ritz-Carlton has a credo, and The Sanctuary on Kiawah Island, where I had worked, had items—honesty, empathy, education, expectations, grooming—he and the family and I implemented those embedded values. It was always paramount in our success."
"I've grown immensely under his leadership and his mentoring, not only as a chef but as a person. He was brilliant—his attention to detail, his care for guests and people in general—I've never seen someone with that much empathy. It showed in his work and in our company."
Niessner adds, "He was like a father to me—we battled cancer together. During treatments, I continued to work and so did he. We really knew what each other were going through."
Operations director Jim Wahlstrom joined the Hall Hospitality Management Group in 2017, and also heads human resources for the company's 900 plus employees. He notes that when the pandemic struck, the first thing Bill said was, "we're paying our employees, whether we have government money or not."
"Bill Hall understood the impact he had on our company. He always made you feel good, he always showed up with that authenticity, that good will, it affected everyone around him. He understood that a happy employee meant a happy guest," Wahlstrom said. "It's been hard. You have those overwhelming moments every once in a while. We celebrated the one-year anniversary of Halls Chophouse Nexton, in Summerville—that was the last restaurant he had a hand in. It was so sad, and a moment of happiness at the same time. I wanted him to be there, he was so proud of that restaurant. Everyone told him he wouldn't do well out there."
King Street Marketing Group (KSMG) founders Susan Lucas and Gregg Hoffman collaborated with the Halls on marketing initiatives that included the Charleston Author Series Luncheon and Small Business Lunch.
"It was 2009, we had just launched KSMG and were bringing aboard clients. We met with Bill and Jeanne and Tommy—they were in the process of ripping out the former art supply store and Halls Chophouse was just bare walls and a dirt floor. They were very receptive to joining.
But the Halls didn't really have a need to market themselves. Some of it was more a way of supporting the other businesses, the publications. They didn't need it to draw people to their restaurants—the business came from their wonderful reputation, great food, a top notch performance every night," the couple recall.
"There isn't a single charity that Bill didn't contribute to in some way, shape or form. He was happy to give back to the community. He served on several local boards and chaired the Patriots Point Development Authority board. He was also one of the founding partners of Beacon Community Bank. It was another way of giving back, by lending money to local businesses, to strengthen the Charleston economy."
"His legacy is a standard of excellence not exceeded by anyone here. He raised the bar for every restaurant in Charleston—there's not a restaurant in town that would greet you at the door with a handshake or a hug."