Culinary Dream
01 Sep 2012
The finest cuts and even finer hospitality is the daily special at Halls Chophouse.
By STEPHANIE HUNT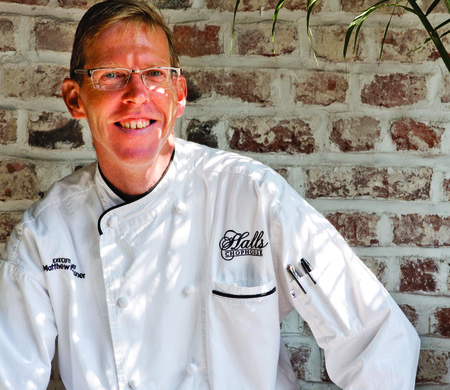 When Charleston passed a sidewalk dining ordinance three years ago, I doubt they had Billy Hall in mind. Parisian-style café fare at cozy round tables, sure, but gregarious red heads with a ready handshake?
The folks at Halls Chophouse redefine things — sidewalk ordinances among them. They take the stuffy steakhouse stereotype and imbue it with comfortable elegance, give the mom-and-pop concept a sophisticated élan, and transform sidewalk real estate into an integral part of the fine dining experience. Because that's where the Halls experience begins — out on the sidewalk, when the door swings open and Billy Hall flashes a killer smile, makes serious eye contact, and says, "Hello, welcome to Halls, so glad to have you with us tonight," before you ever pass through the door. Like Radar on *MASH (but with more charm and aplomb), he has some sixth sense that intuits guests' approach. Southern hospitality has no finer ambassador.
Actually primo hospitality is the key ingredient, flavoring the primest of prime beef, that distinguishes Halls Chophouse. Diners can be assured of two things when they come to Halls: an H.O.D. (Hall on Duty) – usually more like three or four cheerfully attentive Halls on duty – and incredibly tasty, tender filets, prime ribs and New York strips (dry aged if you're splurging) from the renowned Allen Brothers of Chicago. The upper King Street see-and-be-seen establishment opened in early 2009, which, as you may recall, was the dark heart of the recession, a time when The Dollar Tree had a more robust clientele than, say, purveyors of eighty-dollar steaks. But that didn't deter Bill Hall, Sr., a seasoned hospitality executive whose track record includes managing top hotels and resorts in Hilton Head, Pinehurst, Sea Island, Georgia, and Napa Valley.
"Dad knew this was risky, he was leaving behind a successful four-decade-long career and putting it all on the line in his mid-sixties. We had one shot to get it right," says son Tommy, who oversees day-to-day operations as Chophouse general manager. And when Tommy says "we," he means the whole Hall clan, including Jeanne (mom), who does the restaurant's flowers, greets guests and lends her name (and high standards, as a Maryland native) to the to-die-for, no-filler crab cakes, and his older brother Billy (a.k.a. Mr. Gregarious) who is chief host and hospitality maverick—not that the other Halls lack for genuine amiability. Even their younger sister, the only family member who is not a Chophouse proprietor, played arguably the most crucial part – she lured them to the Holy City in the first place, introducing her family to its charms while a student at the College of Charleston.
When they happened upon the vacant storefront at 434 King, the former Charleston Artists Supply store, a space with ample character and delightful exposed brick, the Halls knew they'd found the perfect blank canvas for realizing their dad's creative culinary dream. Architect Reggie Gibson helped achieve their vision for a tony New York-style steakhouse interior, complete with wood paneled walls, antiqued mirrors, leather banquettes and a handsome, always hoppin bar. Up the curved staircase, there is both a private dining room and a beautiful, open dining room perfect for romantic occasions, special celebrations or serious business deals. A jazz duo and/or piano music nightly adds an extra touch of wow.
"I guess you gravitate to what you love," says Bill Hall on why he chose the steakhouse concept. "People in Charleston travel the world, and I wanted them to be able to say the finest steakhouse in the world is right here in their backyard." Hall hired Chef Matthew Niessner, formerly executive chef of The Sanctuary and a 20-year veteran of Charleston's finest kitchens, as executive chef and a key member of the extended Hall family. "What attracted me to this job? The Halls themselves. When I found out Bill Senior's experience level and met them and saw their passion, I knew I could bring a lot to the table," Niessner says. "As a chef, to try to deliver 100 percent excellence on a daily basis, which is what we do, is really exciting."
Halls' menu may be traditional turf, surf and chop fare (with vegetarian and even vegan options, as well as a popular Sunday gospel brunch), but the delivery is where the restaurant excels. From Chef Niessner's exacting and often imaginative execution to the wait staff's informative and attentive service, the Hall's team doesn't miss a beat. Dinner begins with show-and-tell as your server presents a silver platter of fresh beef cuts along with the 4-1-1 on each cut's distinct personality and merits. Fresh oysters on the half shell, local fried green tomatoes or Jeanne's Lump Crab Cakes are some of the appetizer fare, and salad courses include a classic Caesar and Niessner's show-stopping chop salad – a tangy, fresh crunch of lettuces, celery, watercress and crisp, crumbled bacon rimming the salad, so you can indulge with moderation.
But forget moderation. You don't go to Hall's to skimp. One bite of the absolutely perfectly tender filet with a dab of decadent truffle butter (why not?) will undo even the most disciplined diner. Dare I even mention family-style sides like the creamed corn skillet, or the 14-layer (yes, I counted) caramel cake topped with bananas Foster? Outrageous, yes; Illegal, quite possibly. Thankfully, they graciously box up leftovers and send you out with a fancy bag and smiling face.
"This restaurant has been 40 years in the making," says patriarch Bill. "It's the hardest thing I've ever done, but also the most rewarding, because at the end of the day, it's about the family, it's our all-star team. We all have the same eye and the same drive to be the very best. And thanks to the good people of Charleston who keep coming back, we are able to do what we love, which is to take care of our patrons."
Halls Chophouse
434 King St., Charleston (843) 727-0090 Mon-Sat 4pm-2am Sun 10:30-2pm www.hallschophouse.com