Seeking the Light
01 Sep 2012
Sandpiper Gallery migrates north on Sullivan's Island, and makes a smart move into a new and larger space in the thicket of the retail corridor.
By COLLEEN TROY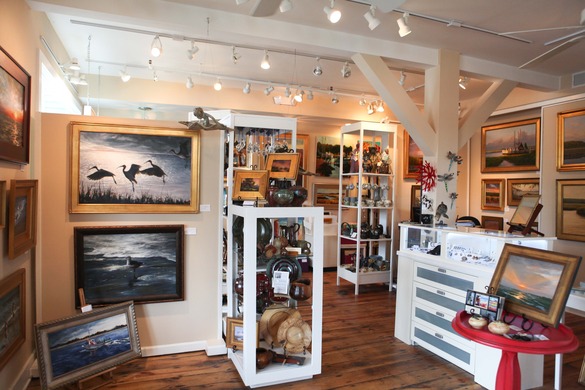 G
allery owners wear a lot of hats. Part coach, they encourage artists – many of whom are rather introverted sorts – to keep toiling away, so they might bring their vision to the public's eye. Galleries also work as marketers, helping the artists they represent develop work that customers will desire. They also occasionally engage in a little helpful art direction, sharing with gentle feedback that can steer work in a direction that feels true to the artist – and manages to please the public. And, of course, they are business people who have prosaic responsibilities, like meeting payroll and covering the rent. Julie Sweat, owner of Sandpiper Gallery on Sullivan's Island (and the downtown Edward Dare Gallery) is so enthusiastic about all of those roles, that one is practically inspired to go out and open a gallery, too! However, touring the bright, airy new space Sandpiper occupies, it becomes quickly clear that this business is not for the feint of heart. Spilling over with fine arts, crafts and hand-made jewelry, Sandpiper specializes in work that represents "a taste of Southern coastal culture." Carefully curated by Sweat and her staff, the works here range from whimsical pottery to masterful paintings that look almost photographic. Bold colors share a space with muted nature tones. Coral branches inspire a crave-worthy lighting fixture even as a playful metal pelican rests playfully near the front door. "We're so fortunate to be part of a thriving, wonderful and energetic community," enthuses Sweat. "Charleston has become a great place for artists, collectors and gallery owners all to meet and share their interests." Indeed, Sweat notes, in the 11 years since she opened Sandpiper (formerly two blocks down the street and removed from the island's bustling heart), greater Charleston's art world is booming. "It's something about the light," she says. "For centuries, artists have been coming here for the light, and they still do. You see it in the work we represent. People respond to it, and want it in their homes. Charleston now inspires collectors all over the world, who seek this light." Sweat's is a job that never really ends. In addition to operating what is essentially a retail business – i.e., every day, all day – she's an ambassador, a sleuth, and a mentor. "My favorite thing is spending time in artists' studios. This is a partnership, and working together we can all be successful." Cooperation, Sweat says, tends to define the local art scene in other ways, too. Gallery owners enjoy knowing what others are showing and doing. "That way, if a customer comes looking for something specific, I can send them to the right place. There's a lot of that going on in town." Trying to get Sweat to name her favorite artist would surely be a folly. She speaks so admiringly of everyone she represents, each of whom renders work as unique as, surely, their creators. On one wall, Kathy Sullivan's bold acrylic painting of a horse hangs astride a gigantic, boldly hued pelican. Five feet high, the canvases are bright and fun. "We can barely keep those around," she says. Nearby, Beth McLean's "beautiful, sensitive portrait" of a young couple at the beach evokes a twilight of youth that few of us would wish to forget. This one is likely, also, to sell quickly. The "highly collectible" Doug Greer's work has a realistic bent, while Patricia Lusk's slightly abstract palm leaves demand a deeper look. And each is equally at home in the gallery. Potters also get a star turn here. Jim Jones' whimsical work is starkly different from the Raku being produced by Sweat's custom framer, Tim Tyler. And as unique as each artist's vision is, when studied in this environment, it's also clear that Sweat has indeed managed to collect works that evoke the Southern light and life. A former engineering student, Sweat knew she wanted to spend her life with art. "I associated art with my mom, it was something we did for fun when I was a child." She still has fun with her art, that's clear. But it's not just fun and games. Sweat says gallery life brings challenges, like any business. "We credit strong customer service, wonderful customers and artists, and positive attitude with our longevity," she says. The gallery offers custom framing, private shopping services, giftwrapping and interior design consultation.
Sandpiper also holds special events several times a year. For more details visit
www.sandpipergallery.net. (843) 883-0200.