Devouring Charleston's Hottest Brunch Spots
29 Aug 2016
We raise a Bloody Mary and toast the Holy City's chosen meal. Whether standing in line to consume a coffee-fueled meal at one of the city's top a.m. spots or getting together with friends around your kitchen table to nibble a meal of your own making, one thing is clear―we Charlestonians love brunch.
By JENNA-LEY HARRISON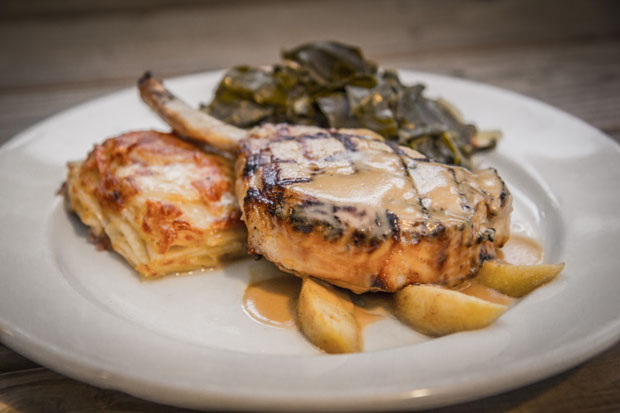 Acme Lowcountry Kitchen
Don't stress if you can't make the strict weekend brunch times served at most other Charleston-area restaurants. Acme serves it daily! This Isle of Palms eatery maintains a menu with a plethora of options, whether you're a seafood-lover or not. But many dishes do combine breakfast basics with shrimp, oysters, flounder and crab. For instance try jumbo lump crab cakes or fried oysters paired with spinach and poached eggs on an English muffin topped with hollandaise sauce and seasoned with garlic. Swap out the seafood for fried green tomatoes and you'll get a slightly different dish called the "Mount Pleasant." Also yummy is the "Southern hospitality," which couples fried shrimp and pimento cheese grits with Lowcountry collards. In need of a healthier spread? Substitute eggs for egg whites only or spoon up a sample of shrimp or chicken succotash, each serving made with a vegetable medley of peas, corn and butter beans mingled with bacon. 843-886-3476, acmelowcountrykitchen.com.
Cannon Green
With Mediterranean-inspired cuisine, this downtown Charleston hotspot blends the historic world with the modern, luring customers through its doors by way of its classic mid-19th century exterior — the perfect contradiction to its hip Sunday brunch. From 11 a.m. to 3 p.m. every week, you can tap your foot to the sounds of a live DJ while indulging in a plate of fresh French toast, eggs benedict, soft shell crab, shrimp n' grits or the unique Diablo Roja dish, a blend of salsa, queso, chorizo, roasted potatoes, egg scramble and cilantro. Don't forget to pair that appetizing meal with a refreshing mixed drink including a simply orange, cava or grapefruit Mimosa or Bloody Mary. Or try one of two drinks unique to Cannon Green: the Tuscan Smash — striped Gin, cherry tomato, basil syrup and Jack Rudy tonic — or the Ancholada — Ancho Reyes, lemon, pepper, hot sauce and beer. 843-817-7311, cannongreencharleston.com.
Charleston's Café
Named by East Cooper in recent years as the best brunch spot in the region, there's something to be said about this charming, snug café just over the Ravenel Bridge in Mt. Pleasant. It's atmosphere and menu have also been revered by Food Network, Southern Living Magazine, among multiple other established publications. Bite into a warm muffin, scone or cream cheese iced cinnamon roll, build your own omelet or decorate a waffle with layers of fruit, caramel sauce, candied pecans and whipped cream. Pancakes, French toast and a list of "novelty items" also fill the menu. Such platters cover everything from huevos rellenos — eggs, black beans, pepper, cheese, salsa and sour cream wrapped inside a fried tortilla shell —to housemade corned beef hash, classic shrimp & grits and an amped-up "2.0 version" with a fried grit cake, crab cakes, eggs and Tasso gravy. In the mood for more of a lunch plate? Select from a long list of sandwiches including a grilled turkey cranberry or a blackened salmon BLT. 843-856-7996, charlestonscafe.com
Chez Nous
At this downtown Charleston dining scene nestled within a neighborhood cul-de-sac, get your fix of more than one European cuisine — Spanish, French and Italian to be exact. You'll feel elegant but cozy and romantic in an atmosphere that's a leg up from the casual eating experience but not so fancy you can't loosen that top pant's button and feel at ease over a delicious meal. Presentation is everything at Chez Nous, where the Sunday brunch menu, available 11:30 a.m. to 3 p.m. only, is always changing. Some staple dishes include mushroom crepes, smoked salmon, braised chicken with lemon, tuna confit paired with potato and caper salad, grilled sardines, and fromage blanc — a soft, sour French cheese — mixed with granola. More simple dishes include butcher steak and vegetable side, quiche and omelets. Wine selections are also always on hand. If this food preview gets your stomach growling, don't rely on a reservation to schedule a next meal, because they can't be made. So hurry on over, but don't miss the unmarked spot. 843-579-3060, cheznouschs.com.
Congress
With an unlikely combination of Italian and Mexican cuisine, there's certainly no lack of customers lining up for brunch 11 a.m. to 2:30 p.m. Saturdays and Sundays at this modern, rustic Mt. Pleasant establishment. Make your mouth water with a starter item of fresh mozzarella, a seasonal ceviche, tuna tartare with Dijon and capers or housemade guacamole — a blend of lime, jalapeno, cilantro and mango. And there's certainly no shortage of mixed beverage options. Try a Mexican martini or a lemon-mint mimosa — just one of multiple flavorful varieties the bar provides. Munch on a cinnamon and sugar churro to satisfy a sweet tooth or make a meal out of any number of breakfast tacos, chili flavored with dark chocolate, or spaghetti carbonara mixed with pancetta, arugula and poached egg in a Romano sauce. The lighter fare meals include salads with chicken, beets, charred corn, creamy avocado, watermelon radish, goat cheese and other toppings. 843-654-9210.
Fat Hen
This French-inspired eatery on Johns Island is quaint and cozy and the perfect dining location for filling up on a robust brunch, served 10 a.m. to 3 p.m. on Sundays. Meals average $12 apiece and include more than breakfast. Try a warm bowl of crab or French onion soup and pair it with a fresh cheese or homemade farmers plate, along with a wedge salad or even more unique: a boiled peanut salad. The gluten free option combines the special salty nut with roasted corn and oven-dried tomatoes, all sprinkled across a bed of greens. As for the entrees, they're strictly Southern and the epitome of comfort food. Order a plate of grilled shrimp over bacon cheese grits drizzled with Tasso gravy, country fried steak, duck and apple sausage gratin made with layers of crepes, fried eggs and caramelized onions, or a simple omelet of the day. But if it's sweet you want, look no further than the Crème brulee French toast served with strawberries freshly marinated, fresh-squeezed orange juice, sugar and orange zest. 843-559-9090, thefathen.com
Feathertop Café
If it's traditional brunch you're craving, this menu is anything but conventional. We're talking rabbit sausage, lamb hash and recipes integrated with the most uncommon food fusions. That doesn't mean you won't be impressed by flavor or presentation. Think oysters with green tomato relish or a dish made of heirloom tomatoes, peach, ricotta and lavender granola. There's also more commonplace kitchen favorites like roasted potatoes, sunny side up eggs and smoked salmon. But if it's sweet breakfast food your palate desires, you'll be sure to get your sugar fix. Try the banana bread with homemade whipped pecan butter, the oatmeal griddle cakes topped with spiced honey butter or the rosemary donuts drizzled with peach buttermilk glaze. You can also pair any meal with a special cocktail — six total, including the Blithdale Romance, comprised of white rum, sherry, banana, orange, grapefruit and falernum, a sweet syrup with a Caribbean taste. 843-306-0101, feathertop.scarecrowandco.com.
Fleet Landing Restaurant & Bar
Located at the foot of downtown Charleston's City market, this waterfront restaurant is a maritime destination that serves brunch 11 a.m. to 3 p.m. all weekend. It's housed inside a facility that once operated as a World War II U.S. Naval post and gives customers an unforgettable 360-degree view of the Charleston port and U.S. Customs House across the street. The eatery includes a plethora of seafood-lover favorites at fair prices, even during brunch hours. Some favorite entrees include quiche of the day served over creamy Lowcountry grits, pulled pork BBQ with fried eggs and biscuits, as well as pan roasted crab cake with poached eggs and grits and Crème brulee French toast with banana rum walnut syrup and cinnamon whipped cream. A vegetarian menu is also available upon request. 843-722-8100, fleetlanding.net
High Cotton
Discover elegance at its finest at this sophisticated space, where nicely-dressed waiters serve delicious Lowcountry brunch both Saturdays and Sundays. Either slip through the doors on a spontaneous whim or call ahead and make a reservation so you can laugh and dine with friends and family — in a private dining area if you choose. And live music while you eat is just an added bonus. But before ordering up a main course, first tickle your appetite with a buttermilk-fried oyster, bacon, apple and bourbon glazed donut hole or blue crab stuffed mushroom smothered in chives and hollandaise sauce. Next, satisfy your hunger with a main entrée — perhaps a seafood crepe filled with spinach, crab and shrimp. Or arouse your taste buds with a more sugary reward like the brioche French toast made with berries, bacon, almond streusel and Chantilly cream. Other menu selections include lighter portions such as the peach and grilled chicken salad. Sides range from apple chicken sausage links and mixed fruit with honey to standard breakfast potatoes and biscuits and jam. 843-724- 3815, highcottoncharleston.com.
Lost Dog Cafe
Exclusive to Folly Beach, this popular brunch stop is a favorite among locals and tourists who rarely leave the place with an empty chair or short line at mealtime. And if it's pups you like, then the décor will add to your memorable experience, since the eatery is filled with pictures and fixtures mostly canine related. Plus you don't have to dine on your beloved breakfast eats only on the weekends. Any day of the week you can pop in starting as early as 6:30 a.m., find a seat, "staaaay" and order a fresh-baked muffin — think blackberry, chocolate chunk, banana nut, cranberry orange and raisin bran — or feast upon Lost Dog's own huevos rancheros dish. Imagine chomping down on two fried eggs atop a bean and cheese quesadilla topped with a messy blend of salsa, sour cream, peppers and onions. The Mexican-inspired menu item is a favorite. So step off the beach, brush off the sand and stop on in. 843-588-9669, lostdogfollybeach.com.
Old Village Post House Inn
Housed inside a cozy white inn in Mt. Pleasant's historic Old Village, this restaurant feels more like dining at a close friend's kitchen. And there are several options for eating locations including one of three private dining rooms — a reservation is required — the main tavern room and the outside patio. Even before a soup, salad or starter, sip on a blood orange mimosa, "Sunrise Sparkler," Dibon cava and orange juice mixed with peach, blueberry and pomegranate flavors, or a unique "Hot Mary," a twist on the bar favorite made special with house-infused jalapeno vodka. For a filling entrée, pick out a braised beef short rib served with hash and eggs, an 8-ounce filet mignon or a "Post House" quiche with spinach and caramelized onions. For a more hearty meal, bite into a steak chimichanga, with corn, cheese, fried eggs, black bean cream and chipotle salsa. How about dessert? Share a strawberry shortcake French toast sprinkled with cinnamon sugar topping, fresh strawberries, smoked bacon and crème Anglaise. Brunch is served 10 a.m. to 2 p.m. Saturdays and Sundays. 843-388-8935, oldvillageposthouseinn.com.
Poogan's Porch
Located inside a Victorian-style townhouse, this brunch dive won't break the bank. Menu options rest between $5 and $14 so it won't be hard to find something that fits your budget. But don't dive right into an entrée; scan first among the multiple starter items including lump crab toast made with caviar, fried green tomatoes with goat cheese and chutney, pimento cheese fritters with green tomato jam, or classic mac n' cheese and biscuits and gravy. For your main course indulge in a sweet potato waffle paired with chicken and maple syrup drizzle, or opt for pulled pork and poached eggs smothered in BBQ hollandaise sauce. There's also a pimento BLT sandwich, sunrise shrimp 'n grits and a vegetable frittata served with a kale, fennel and farro salad. A decadent French toast dish is also a favorite. The dessert-style served with champagne macerated raspberries and whipped Mascarpone cheese, all finished off with a sprinkle of toasted almonds. 843-577-2337, poogansporch.com.
The Darling Oyster Bar
It's all about vintage and fresh, local ingredients at this seafood-heavy downtown Charleston eatery tucked away in one of the Holy City's busiest spots — upper King Street—and known for both its one-of-a-kind raw bar and mixed drink bar. Brunch is served 11 a.m. to 2 p.m. daily with a full menu to choose from. You won't be disappointed whether you opt for classic shrimp & grits, a broccoli and pimento cheese stuffed omelet, smoked salmon cake benedict on pumpernickel bread, a simple fried chicken sandwich or the basic "Darling breakfast plate," a combination of all our favorite breakfast items: biscuits, eggs, bacon or sausage and grits or potato casserole. But if it's French toast you're craving, the kitchen does pump out its own spin on the celebrated brunch treat. It's served with mixed berry compote and maple whipped cream. There's also a "cold or hot" menu that features items like an oyster shooter, Creole shrimp and hushpuppies, a blueberry and cinnamon biscuit and spice shrimp salad, to name a few. So make it a point to stop in this more than century-old restored storefront to experience one of the best brunches around. 843-641-0821, thedarling.com.
The Glass Onion
If you pop in Sundays looking for a traditional Lowcountry brunch, you won't find it here. That's because this Charleston hotspot for appetizing eats is served 10 a.m. to 3 p.m. on Saturdays. So whether you choose to rise with the sun or sleep in past your alarm clock, don't stress; you'll still have time to sip a fresh mimosa — always only $2.50 — or fork up some sweet potato hash and spread melting butter on a fluffy, warm buttermilk biscuit. If you're looking for something a bit farther from the ordinary, your taste buds will be happy to try buttermilk fried quail, a scrambled egg and cheese Po boy sandwich, a chicken and Andouille sausage gumbo salad or French toast with a fried pork chop and candied pecans. There are multiple menu combinations that put a spin on the usual lunch and breakfast choices you've always sought to modernize. 843-225-1717, ilovetheglassonion.com.
The Lot
At this laid-back joint, expect a menu jam-packed with recipes that use natural flavors and simple seasoning to please your palate with plates that change daily based on what's available and freshest on the market. Served 11:30 a.m. to 2 p.m. Sundays, brunch is always a hit with customers who can eat either inside or out under the partially-covered deck, where the eclectic décor sets a relaxing tone for locals and tourists alike. Feast upon a shrimp frittata with fried okra, a "Bibb lettuce" combo — white peaches paired with toasted pecans, cured egg yolk and blue cheese vinaigrette; a pastrami biscuit topped with mustard, curtido sauce and an egg, made sunny-side-up; or chow down on a simple grass-fed burger with a side of shoestring fries. But the options don't end there, since the menu week-to-week is rarely the same. Other favorites include the chickpea and quinoa salad, Geetchie Boy grits bowl, grouper sandwich and porridge bread―cashew butter mixed with a special fig sauce and bacon pieces. 843-225-0094, thelotcharleston.com.
The Palmetto Café
One step inside this upscale eatery with white linen tablecloths, a winding staircase, picturesque chandelier and garden-style theme, you'll never want to leave. With lush plants inside a glass-enclosed common area, you'll feel tropical and content while munching on brunch. The special menu is available 8 a.m. to noon Saturdays and 8 a.m. to 1:30 p.m. Sundays. Everything from stacks of pancakes — topped with flower décor and choice of fruit, chocolate chips or pecans — eggs benedict, Belgian waffle, corned beef hash or smoked salmon. The options are classic and will leave you begging for more. If you're watching your waistline, there's also a menu just for you with healthy alternatives like oatmeal, cereal and an exotic fruit plate with yogurt. But the most decadent menu item is the Continental: a robust option with a variety of tasty eats. They include a Ricotta cheese blintz with berry compote, a caramel brioche, assorted breakfast pastries, seasonal fruit, yogurt, bagels and toast, among others. It also comes with a juice or piping hot coffee. 843-722-4900, Belmond.com/CharlestonPlace.
The Shelter Kitchen & Bar
This laid-back Mt. Pleasant restaurant gives customers a chance to sip on a cold beer and hot food while finding time to compete in a game of pool or cornhole sometime in between. Stop in over the weekend with family and friends and try a hand at a match either before or after brunch, served 9 a.m. to 3 p.m. Friendly servers and Southern staples make this place a popular pit stop for fueling up on food. With a brunch menu filled with comfort food, it's also hard to settle on just one to fill your belly. Feast on fried chicken biscuits served with Cajun honey and cheese in skillets sizzling with potatoes or grits; pamper your palate with an order of banana-stuffed French toast fried with peanut butter and honey; slice into a juicy 5- or 10-ounce ribeye steak alongside eggs and Texas toast; or opt for a seafood-filled omelet called "Peek of the Creek," cooked with local shrimp, spinach, goat cheese and roasted red peppers. 843-388-3625, theshelterkitchenandbar.com.