Seasonal & sustainable on Daniel Island
By Wendy Swat Snyder
Photos by James Stefiuk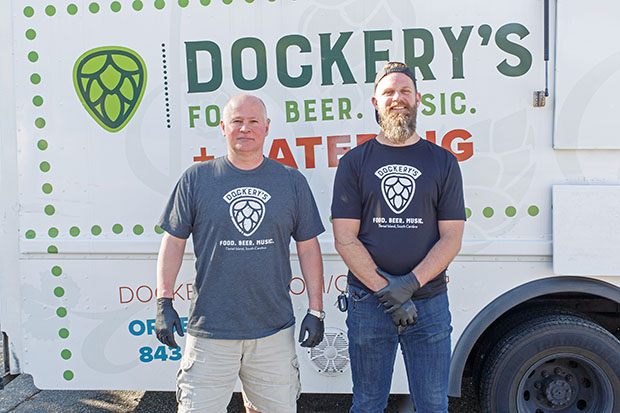 The site visit for this issue's dining out feature unfolded in anything but the normal way. It was early April and all non-essential businesses in Charleston and South Carolina had been shuttered for weeks to help flatten the curve of COVID-19.
Dockery's on Daniel Island was among the several dozen area eateries that had managed to keep their kitchens alive, cooking an abridged menu of some its most popular dishes for takeout.
Our photographer and I met in an empty dining room, elbow bumped, and chatted up a strategy. A few minutes later, executive chef Andy McLeod made his way from the exhibition kitchen with a gorgeous soft-shell crab sandwich.
"We've had a really awesome response from the community, everyone's really shown up," said McLeod, at arm's length and all smiles. "There's a sense of teamwork—if we're really busy, we have a list of people who have volunteered to fill in when we need delivery drivers."
Dockery's general manager Chuck Isenberg says the restaurant wants to give local residents an option when they don't want to cook and offers free delivery to keep people safe.
"So many restaurants that close will struggle to stay open," said Isenberg. "Andy and I share the same core values—taking care of people—guests can feel that energy in the restaurant. It takes the food to another level. We hope to bring back the hourly staff as soon as possible."
In April, the kitchen offered free Easter meals to those workers. And every order gets a roll of toilet paper and a note, handwritten—thanking customers for their support.
Isenberg and McLeod took over Dockery's as managing partners a few months after the locally-owned property opened in 2017.
A native of Seneca, S.C., McLeod's culinary credentials include six years with restaurateur Steve Palmer's group, The Indigo Road: first at Oak Steakhouse and later helping to open downtown rustic Italian restaurant Indaco.
Isenberg spent 24 years with Atlanta-based Rare Hospitality Management where he helped open 75 restaurants for the group.
The synergy of staff and management has helped Dockery's to emerge as a centerpiece for Daniel Island that draws crowds from Mount Pleasant, surrounding islands and Charleston.
With farm to table fare, an in-house brewery with over 100 unique beers and vibrant music program, the high-profile mega-pub offers an innovative venue for foodies and music fans, plus plenty of elbow room for couples with kids.
The eatery's community-centered focus extends to culinary approach, with McLeod taking cues from the region's farming community.
"Finding the identity for the food is challenging, there are so many influences," he explained. "Locality and seasonality is a cool place to start for us—it doesn't limit us to a certain cuisine or style—we just start with the best products we can find. With so many farmers in Wadmalaw and Johns Island, we're really blessed in Charleston."
Chris Grimes' Local Seafood hauled in the local crab for the seasonal softshells on the menu, and Abundant Seafood is Dockery's primary source for fish. Pork and chicken come from Keegan-Filion Farm, while Growfood Carolina and Spade and Clover Gardens provide produce. The restaurant's greens are grown hydroponically in shipping containers by Vertical Roots.
"COVID-19 its putting a spotlight on why container farming is such a powerful tool," says Stefanie Swackhamer, vice president of mission, marketing and business development for the Vertical Roots parent company, AmplifiedAg. "We've been able to pivot quickly and adjust—
we're very spread out and segmented—for us, it's been a little bit easier than for others."
With take-out bags in tow, I began my in-home dining experience with a big bite of B.L.T. The highly anticipated soft-shell crab was lightly dredged in cornmeal and flour and pan fried. Get 'em while you can! Chef recommended pairing it with the crisp notes of Dockery's flagship Bloom lager.
Next, I dove into a thick wedge of piping hot pot pie—loaded with tender chicken and all the traditional vegetables—every forkful, a much-needed dose of comfort in a rich, silky sauce, enveloped in a thick flavorful crust finished with a sprinkling of sea salt.
The brisket is a Dockery's top seller, and one bite told me why. A thick bark gave way to a tender, perfect-pink interior, infused with a savory flavor developed from an 18-hour stint in a smoker. Ember roasted wedges of purple cabbage were a nice foil for the rich dish, which would pair well with a porter.
The mac & cheese was another crowd pleaser—a deep dish of pasta in a rich sauce of white cheddar and Italian fontina, topped with a thick layer of Gruyere before being brûléed.
Food has taken a front row seat for so many during the Covid 19 shutdown, and Dockery's is doing its part to serve some semblance of normalcy to get through it.
In addition to its food menu, Dockery's is also serving it's craft beers to-go, a rotating list that can be purchased in a six-pack or "crowler" a 25.4-ounce can.
McLeod says he also enjoys working with the brew team to complement the dishes. The kitchen and brewery share the Dockery's synergy, mixing it up with ideas that are exciting for the guests.
"Their creative process is very similar to a kitchen," says McLeod. "The brewmaster is inspired by an ingredient and builds a beer around it. I use their beer in my food and they'll brew a beer just for something I'm putting on the menu."
The Dockery's catering program also expanded in the past year with the onboarding of chef Todd Ladd and his popular Daniel Island Dinners food truck operation.
"It's a great opportunity for us to support him and for him to work in a bigger format," notes McLeod.
In addition to catering events and delivering box lunches, Ladd and McLeod have joined forces to amp up the in-home dining piece, providing customized menus for multi-course dinners.
"We have pull-behind smokers, oyster roasters—a lot of different options to offer," says McLeod. And the team brings everything to your home, flatware, set-up and break-down.
McLeod believes the restaurant will have "an amazing reboot" when it's dining area can reopen to the public.
Let positive thoughts prevail.
Dockery's
880 Island Park Dr., Daniel Island
843-471-1130
Dockerysdi.com
dockerysdi.com