Saltwater fly fishing strikes big
By Bryce Donovan
Photos provided by Capt. Henry Tomlinson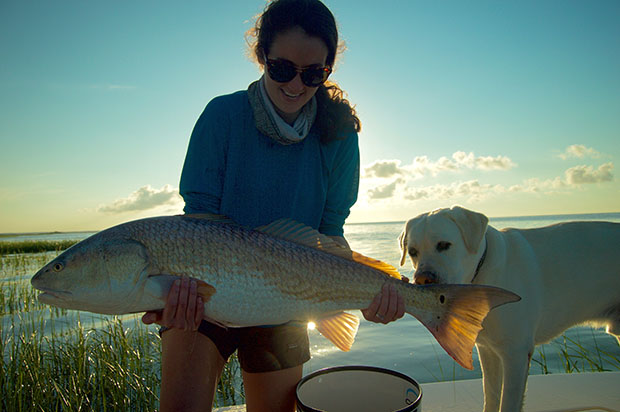 When Harry Tomlinson was a young boy, his dad took him fly fishing in the North Carolina mountains. They had gone bass fishing before – it was fun and all – but this. This was different.
"It's more like hunting than fishing," he says. "I'm too hyper to just sit there, cast and wait. I've got to be doing something."
With fly fishing, Tomlinson explains, it's about spotting the fish. Watching their activity. Anticipating their next movement. It's about angles and intersections. Leading and influencing.
"Sometimes it can be easy and sometimes it can be incredibly frustrating. But it's always beautiful to watch how the fish move," he says.
Part geometry, part art, fly fishing captured Tomlinson's imagination that day and never let go. Every summer from then on, he and his dad would return to the mountains to fish. Eventually he went off to college, and those summer fishing trips began to happen less frequently.
Then, at a fundraiser at Colonial Lake in Charleston, he crossed paths with professional fly fisherman named Baker Bishop. Tomlinson had never really thought about the sport existing in the coastal regions before that day, let alone in Charleston.
Though their encounter was brief, Bishop saw something in Tomlinson. He promised to take him out fly fishing when he got a little better at casting.
Just like that, the bug took over his body again and he couldn't shake free.
"All of a sudden, I realized this whole world existed in the Lowcountry and now I wanted to take my dad fishing here," he says.
So he practiced and practiced.
"I remember standing on top of this parking garage near where I lived and I would just spend hours up there casting," he says. "I'm sure people thought I was nuts, but it was the most open space I could find."
As his abilities progressed, Bishop took Tomlinson under his wing. Over time, he taught him the best places to fish in the Lowcountry, how to read the tides, to understand the marsh.
"Like anything in life, you're only as good as the people who show you the way. He gave me the tools to go forth and figure things out on my own," he says.
From then on, Tomlinson spent every chance he could on the water, learning as much as possible.
After graduating from the honors college at the College of Charleston, he knew fly fishing would be his calling.
In 2010, he attained his captain's license and began working full time as a guide. Eventually, he started his own charter company, Charleston Fly Fishing Expeditions.
Redfish Rush
"During a flood tide, there is no better fly fishing than in the Lowcountry. It's the epitome of the sport," he says. "Yes, clear mountain streams are great, but watching the redfish slip up into the flats, where the spartina grass is short and the water is like glass, it's breathtaking."
Unlike freshwater fly fishing, where you often see people wearing waders, saltwater fly fishing is mostly done from a boat. Redfish is the primary target for fly fishing in Charleston.
Tomlinson says one person typically stands on the bow, spotting the fish.
Once the fisherman finds one – or often, a group of as many as 20 fish– the next step is to look for the direction they're moving. Then the game is on to try to intersect with them.
"Angles are very important," he explains. "Prey always runs away from what's trying to eat it. So, you want to move away from the fish with your fly. You want to create a point of intersection."
If an angler does everything right in fly fishing, Tomlinson says, they are often rewarded. On the flip side, an unsuccessful cast isn't as disastrous as with a classic rod and reel, where a fisherman might spend upwards of 15 seconds reeling their line back in.
"That's precious time," he says. "Time you could be catching fish."
With the summer months upon us, Tomlinson says it's some of the best time to get out on the water. The fish are fast, but their movements are often more predictable.
"There's really no such thing as a bad time to fly fish though," he says. "Honestly, even if you've never even cast a line in your life, it's worth giving it a shot. There's just something about it – I think it's the immediate sense of whether you're doing right or wrong – that draws you in."
To learn more about fly fishing or to book a charter with Fly Fishing Expeditions, contact Capt. Tomlinson at 803-727-0697 or visit www.chasflyfishing.com.