Don't Forget the Hair
07 Sep 2019
By Suzannah Smith Miles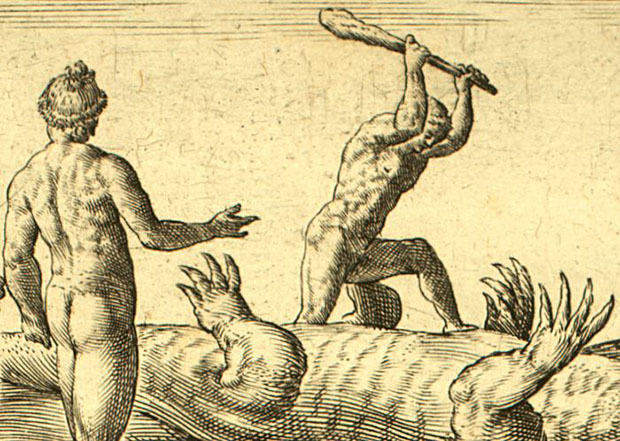 Given the fall fashion featured in this issue, and the "War on Fashion" exhibit at the Charleston Museum, in-depth examination of how and why fashion changed after the Age of Revolution, World War One, and World War Two, it it seemed only fair to write about the seldomly-discussed topic of hair in fashion—from curls to coiffures.
How do you 'do?
Yes, it's a whimsical historical fashion statement, but there's some real history here; you won't miss it.
Early curly period
Colonel William Rhett (1666-1723) sailed into history when he captured the nefarious "gentleman pirate" Stede Bonnet after a sea battle on North Carolina's Cape Fear River. Despite being imprisoned in the Half-Moon Bastion at the foot of Broad Street (now the site of the Old Exchange Building), Bonnet managed an escape. Rhett caught him again, this time on Sullivan's Island. After a speedy trial, Bonnet and 29 fellow pirates were hanged at White Point (now the Battery) on December 10, 1718. Rhett went on to make his mark as an important Charleston merchant and statesman. His portrait was painted by Charleston artist Henrietta Johnston (America's first professional woman artist) and shows him in military finery, sporting the popular, curly-locked coif so fashionable during the Proprietary period.
High hair coiffure
Charleston was abuzz with talk of the French Revolution in 1793. The execution of Louis XVI and his beautiful queen, Marie "Let them eat cake" Antoinette, was obviously newsworthy on the political front. Yet it also stunned the fashionistas. Marie was a fashion maven, a trendsetter—perhaps a wee bit lavish but her exquisite clothes and elaborate hair styles influenced those who had money to waste and who copy-catted her elegant extremes. Here she is pictured with her hair pouffed, powdered and oiled into a coiffure as high as the ever."
Hair of a feather
The painting by Joshua Reynolds of Sir Banestre Tarleton (1754-1833), parades the tight white breeches, fitted-to-the-calf leggings and snappy hunter's green jacket of the British Legion as Tarleton boldly presents his best side to his steeds, an act which apparently frightens them near to death. Tarleton was a main player on the British side during the Revolutionary War in South Carolina. He was such a brutal foe he became known as "Bloody Tarleton" for his cruelties towards patriots and their families. The fictitious Colonel William Tavington (played by Jason Isaacs) in the 2000 film "The Patriot" was based on Tarleton. Reynolds' painting also shows him wearing the ultra-tall, fur-plumed leather helmet Tarleton designed himself, used by British horse artillery troops until the end of the Napoleonic Wars. This look later became a model adopted by such later historic hairstyle trendsetters as Elvis, Kiss, and Marge Simpson.
Two buns are better than one
This image of the beautiful Mrs. Thomas (Elizabeth Allston) Lynch was done by artist Jeremiah Theus shortly before her death in 1755. Aside from her doe-eyed beauty (and youth; she was only 17 when she became mistress of Hopsewee Plantation on the Santee), Elizabeth Lynch is noted for being the mother of Thomas Lynch, Jr., signer of the Declaration of the Independence. Theus was Charleston's foremost portrait painter at the time. Yet like other artists, he only did the face from reality. The background, clothes and adornments (and sometimes the entire body) were copied from other paintings. In this instance, the dress and nosegay ornamentations were from a mezzotint done by a European artist several years earlier and two buns are adorned with sparkling beads. Artists of that period often substituted other people's hands. Here, Theus punted completely and put Mrs. Lynch's hands behind her back.
A manly mane
Members of early Native American coastal tribes are shown here wearing the traditional garb appropriate for alligator killing—nothing at all. While showing some skin while skinning had its drawbacks (consider the potential "oops" that might occur from an errant alligator claw), going bare in the Lowcountry's semitropical climate required protection. Thus from birth, coastal Indians were attired—covered from head to foot—with a concoction of bear oil and the juice of the root from a plant called sanguinaria, known as bloodroot for its reddish color. This not only worked as an early sunscreen but as an insect repellent. The tint the bloodroot gave to their complexion is perhaps the source from which the term "redskin" originated. The last thing you'd want to do in this instance is get hair in your eyes and early drawings show men's hair swept up in a hat-like bun.
The Charleston Museum's "The War on Fashion" exhibit runs until Dec 1. For more information visit www.charlestonmuseum.org.