Exceptional dishes abound at this James Island gem
Wendy Swat Snyder
Photos by Jim Stefiuk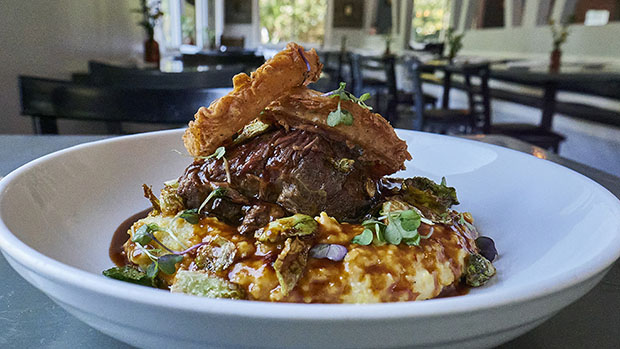 A bit off the beaten track, but full of surprises, Edison shines with an eclectic menu of global flavors. Tucked into a residential enclave not far from Charleston Harbor, those who find the cozy eatery usually do so by word of mouth. And its loyal fan base is not limited to the James Island community. Diners flock to Edison from places like Mount Pleasant, West Ashley and Hanahan, bellying up for the innovative spirit emanating from the back of house and congenial neighborhood feel in the front of house. It's a combination well worth crossing a couple of coastal waterways to experience.
Edison celebrated its fifth anniversary in April, with memories of pandemic challenges still fresh in the minds of the establishment's founders.
"Covid was jarring. Our last day of normal service was St. Patrick's Day 2020," recalls partner Chelsea Lucas. "We shifted, the next day, to carry-out only, with a minimal staff."
"James Island has really taken care of us," says executive chef Joel Lucas, who co-owns Edison with wife Chelsea. "We were very, very lucky—we had regulars who bought our gift cards, promising to come back and use them when things were back to normal."
"So we were able to stay afloat," adds Chelsea, "and were able to maintain our entire staff."
Chelsea reports that, unlike her path, Joel recognized his vocation from a young age. He credits an older brother for inspiring him to pursue a career in hospitality.
"He was a kitchen manager at a Latin restaurant in Maryland. I went into the kitchen with him when I was 14 and never looked back—I loved it," explains Joel. "I read and collected information, hopped restaurants to learn different cuisines—when I was 22, I landed my first executive chef job in Baltimore."
The couple met at Chef Geoff's in Washington, D.C. while Chelsea was studying international relations at American University and working part-time as a server.
"Ever since my first job at age 15 as a cashier at a grocery store, I've always been in some sort of customer service position," says Chelsea, who handles front of house responsibilities like payroll, onboarding, and, occasionally, bartending. "I love the camaraderie that comes with associating with restaurant staff, the food, the wine, and getting to know my guests."
After relocating to Charleston, Chelsea did a stint at Five Loaves in Mount Pleasant and Joel, downtown at Eli's Table, each getting a feel for the market. Eventually, the husband-wife team decided to parlay their individual strengths and shared passion for hospitality into an enterprise of their own, with an aim to fill a culinary niche in the community.
"It all came down to finding the right location," notes Joel. "I've worked in big cities here and in the United States and Virgin Islands, but Chelsea and I were really keen on having a neighborhood restaurant—the Cheers effect. It's so much more gratifying to us."
"We didn't know much about James Island when he found the property," recalls Chelsea. "It was a big, empty space that needed a lot of work, but he saw so much potential in it."
Surrounded by a lush, natural landscape, the building had good bones—a light filled interior, massive beams running floor to ceiling through the dining areas, and trendy polished cement flooring. The couple did much of the remodeling themselves with the help of general manager John Maxwell. The team lightened the color palette, added rustic wood overlays on walls and decorated sparingly with antiques. Seating includes a series of banquettes and a community table in the bar area.
"We wanted a bright, comfortable feel for our guests," notes Chelsea.
It was exactly the feeling my guest and I experienced during our visit. Add to that our server, Paula Rowland, setting an easeful tone for the evening, while offering expert recommendations for dishes.
We started with fromage & fig, a fragrant appetizer featuring whipped goat cheese, a house-made jam made with fruit sourced from Limehouse Produce, toasted almonds and wildflower honeycomb—a light, earthy/sweet Edison favorite, served with crusty crostini.
We sampled each of the three soup offerings. First, a flavorful West Indies seafood chowder Joel says was inspired by a "little restaurant in the rainforest," that shined with a saffron and sriracha base enriched with shrimp, crab, conch, roasted corn and chili oil.
Next up was a zesty ginger poached chicken and super fine vermicelli starred in a spicy Thai coconut broth laced with basil and a nice touch of heat. Outstanding.
The Lowcountry butter bean soup was another favorite at our table, with smoky notes from bites of sausage and tender beans in a delicate broth.
Joel says he enjoys introducing ingredients guests may not be familiar with in unusual combinations. The Moroccan salmon succeeds on every level with a perfectly-cooked fillet paired with a host of accoutrements like walnuts, watermelon radish and shaved fennel in a saffron vinaigrette sweetened with honey and luscious dates.
The ravioli special that evening arrived in a delicate lemon broth. Chef Joel says he likes to keep his sauces light during the summer months. Salty prosciutto and sweet local peas with tendrils blended to produce a perfect pasta dish.
They say you eat with your eyes, and the pan-seared wahoo was picture perfect. Crispy and moist, the fish came plated with a spicy pimienta chimichurri, bright green asparagus spears, roasted purple fingerlings and glowing orange sweet potatoes.
The short ribs braised with a hint of blackstrap molasses are another house favorite—and melt in your mouth delicious. Succulent beef came with stone ground grits, locally sourced from the Adluh mill, made even better with smoked gouda. Crunchy Brussels sprouts, frizzled onions and blackstrap barbecue sauce finished the dish.
As cloudy skies cleared that rainy evening, the garden patio quickly filled with diners. We crossed quite a few bridges to find you, Edison. Our experience was well worth the drive.
Edison James Island
1014 Fort Johnson Road
Charleston
843-872-5500
@edison.jamesisland