Looking to fill your social calendar even when staying home? We've got the rundown how to stay entertained while staying indoors as we wait for the coronavirus to pass.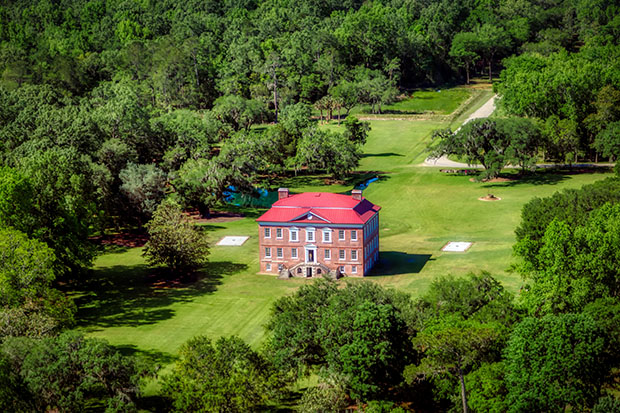 Drayton Hall Virtual Tours
During the current closure at Drayton Hall due to the coronavirus, curators are posting educational videos to enjoy from home. While these videos are educational, they also take viewers on a tour of secret, hidden places in the 18th-century plantation and discuss important artifacts, perfect for kids or even a historical happy hour. Videos are posted at facebook.com/DraytonHall
Mt. Pleasant Farmer's Market
Tuesdays in May & June
An Essential Farm Goods Market with farmers is still set to be held every Tuesday from 1 – 7 p.m. Non-essential vendors will not be at the market during this time. Hopefully, the festival-like atmosphere of the regular market, which traditionally has live music, people browsing, kids' activities and free samples, will return later in the season. 645 Coleman Blvd. Free parking. Follow the Farmers Market Facebook page for up-to-date info on the status of the market during COVID-19 containment efforts.
Gibbs Museum of Art Goes Virtual
While the downtown Charleston art museum is closed to visitors during the coronavirus, the museum is hosting virtual walk-throughs of museum exhibit and talks with artists for you to watch from the comfort of home. Check out the Gibbs Museum Facebook page for videos and visit www.gibbsmuseum.org and click on mobile app for a complete walkthrough.
Annual Moms' Run Goes Virtual
May 3-9
A virtual 5K is the perfect opportunity to get some exercise and fresh air, support a local nonprofit and adhere to social distancing guidelines. Postpartum Support Charleston is turning its 17th annual Moms' Run into a virtual 5K. Anyone can participate in the run/walk. Registration is $20 per person and all proceeds benefit Postpartum Support Charleston's work helping moms in the Charleston area who are struggling with postpartum depression and anxiety. Participants have the option to purchase a Moms' Run shirt—perfect for a post-run selfie. To sign up for the race and purchase a shirt, visit ppdsupport.org/events/momsrun2020

Chamber Music Charleston Virtual Concerts
May 4 & May 11
Grab a glass of wine, a plate of cheese or your favorite snack and settle down in the comfort of your home for a private recital by the chamber music Charleston. Each week a different Chamber Music Charleston musician will welcome you into their home, where they will play some of their favorite pieces from the solo repertoire – while also giving you a glimpse into their life as a performing musician. Visit youtube.com/ChamberMusicChs on Mondays at 7 p.m. for the live stream. On May 4, hear Irina Pevzner on playing Tchaikovksy's The Seasons Op. 37 on the piano and on May 11, check out
Charles Messersmith on the clarinet playing Brahms Clarinet Sonata No. 2 in E Flat Major.
Virtual Cooper River Bridge Run 10K
For those who can't make the rescheduled date for the Cooper River Bridge Run (now set for Aug. 1), run or walk 6.2 miles on your own now through May 13, submit the proof, and organizers send you all the 2020 swag including the official shirt, bag, and our 2020 finisher medal. Bridgerun.org
SC Aquarium Virtual 'Passport to Fun'
The SC Aquarium is joining many other aquariums and zoos to host videos about their critters aimed at school-age children who are learning from home. Still, it's fun for the whole family and a great way to see your favorite (and strangest-looking) aquarium residents up close. Videos are posted at www.facebook.com/scaquarium.

The Center for Birds of Prey Streaming Videos
The Center for Birds of Prey in Awendaw has been live streaming on Facebook lots of fun and informational videos for distance learning opportunities including bald eagle release, raptor and vulture talks, a sneak peek inside the Avian Medical Clinic, hooting owls and baby owl chicks. During the live streams, viewers can ask questions in real time. Videos are also posted on the center's YouTube channel.
The Terrace Theater Virtual Cinema
Do you want to see an exclusive movie and support local independent movie theater at the same time? The Terrace movie theater in James Island is offering at-home screenings of exclusive, selected movies only available to theaters for a one-of-a-kind on-demand video experience. Fifty perfect of the ticket price to stream the movie goes to support the Terrace and you get to see an exclusive movie. Visit terracetheater.com to find out what's streaming and check out the theater's Facebook page for more information.
13th Annual Charleston Carifest Caribbean Carnival
June 20
Charleston Carifest is a Caribbean Carnival celebration in honor of Caribbean American Heritage Month and still set for June 20. It is four days of food, fun, music, and costumes submerged in education and culture. This is the creative and artistic expression of Caribbean people and a celebration in honor of Caribbean American Heritage Month. Brittlebank Park. 843-557-6258, facebook.com/CHARLESTONCARIFEST/
Record Store Day
June 20
Record Store Day, an international holiday that promotes the sale of vinyl records and issues unique releases, was postponed from April 18 to June 20 because of the coronavirus. Record Store Day was established in 2008 to champion independent record stores, and hundreds of thousands of vinyls are sold during the event. Locally, Monster Music & Movies in West Ashley and Record Stop downtown are set to have special events and sales, including curbside sale, online shopping and the very least, virtual concerts. Visit www.monstermusicsc.com and recordstopchs.com and check out their social media pages for the latest updates.
Looking ahead
Rescheduled spring events
Cooper River Bridge Run now set for Aug. 1. bridgerun.com
Charleston Beer Fest now set for Sept. 26. chsbeerfest.org
Charleston Greek Festival not set for Oct. 23-25 charlestongreekfestival.com