Food For Fans
21 May 2023
RiverDogs food & beverage director melds his two favorite passions
by Fritz Esker
Photos provided by the Charleston RiverDogs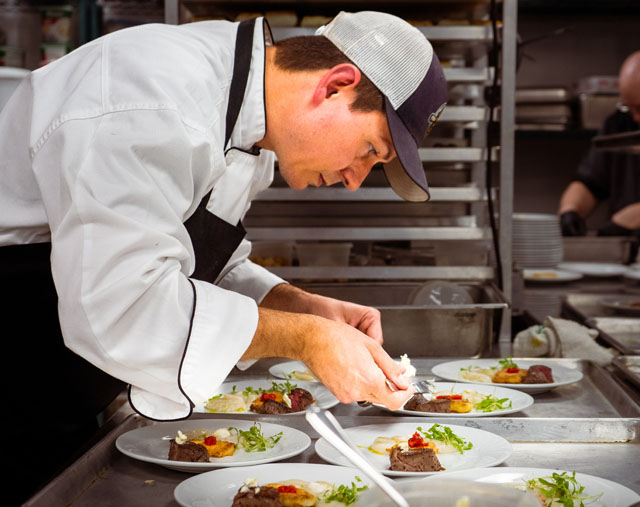 When the Charleston RiverDogs' vice president of food and beverage operations Josh Shea was growing up in Abbeville, SC, he enjoyed hanging around the kitchen while his mother and grandmother cooked. His mother, a teacher, expected good grades from him at school. If young Josh made his grades, he would get a reward after each report card. When he was thirteen years old, he told his mom if he got all A's on his next report card, he wanted to cook the family a three-course meal. He made the grades, and a career in the food and beverage industry was born.
For an appetizer, Shea made egg drop soup and crab rangoon. The main course was chicken teriyaki lo mein, and the dessert course was cheesecake egg rolls with raspberry sauce. Shea said the meal went mostly well for a first try.
After attending Clemson University and the Culinary Institute of Charleston, Shea gained experience in the food and beverage industry by working as the catering chef at Tidewater Catering on James Island, as well as a personal chef in Charleston. In 2013, he joined the RiverDogs, Charleston's minor league baseball team, as a food and beverage director.
The position was a good fit for Shea because it allowed him to merge his passion for cooking with another one of his passions: baseball.
He played tee ball and baseball throughout his childhood, sometimes with his dad as a coach and sometimes winning league championships. He knew he didn't have the stuff to make it at the college or pro level, but he was pleased when the opportunity to work for a baseball team arose. In 2019, he became the club's vice president of food and beverage operations.
Shea loves hearing suggestions and feedback from season ticket holders when planning new food offerings. The challenging part of the work is to be creative and finding new takes on tried-and-true favorites that many baseball fans enjoy, like hot dogs, cheeseburgers and chicken tenders.
"The classics are the classics for a reason," Shea said.
As such, Shea keeps one stand at Joseph P. Riley, Jr. Park (affectionally known as "the Joe") devoted to just the classics.
But he still offers creative variations on the classics for customers who want to branch out. Fans can have fun with not-so-traditional toppings on their hot dogs, like kimchi and collard greens, as well as mac and cheese.
At other food stands, fans can experiment and treat themselves to a variety of culinary options outside of ballpark food. One stand is a ramen bowl stand. Among the options there include hot ramen, Lowcountry brisket ramen, and a cheeseburger ramen bowl.
There are also seafood options at the park, isolated from the other food stands to accommodate fans with seafood allergies. The seafood offerings include honey biscuit battered shrimp and cod on a stick.
The beverage options strike a similar balance between old favorites like Budweiser and newer craft beers from local breweries. Local breweries with beers on hand include Palmetto, Estuary, and Common House. The RiverDogs also partnered with Rusty Bull Brewing for Bellyitcher Ale, a blonde ale with caramel flavors and a medium dry finish. At some games, a staff member walks around as the Bellyitcher mascot.
Shea also helped spearhead the RiverDogs Food Truck. The truck can be hired for weddings, birthday parties, baby showers, team celebrations, staff appreciation lunches, and pretty much any event where you want the tastes of the ballpark brought to you. Shea said the truck works with Charleston Parks & Recreation as well, bringing the truck out to youth sporting events.
Shea described the truck's menu as "ballpark-esque" but added customers can request additional items for a private event.
While food, beverage, and baseball take up a lot of Shea's time, when he is not working he loves to spend time with his wife, two-year-old daughter, and three dogs exploring Charleston's parks and beaches.
"I have an amazing wife who understands the demands of my job," Shea said.
The gameday experience and 2023 season promotions
While baseball may not be the first thing people think of when they think of Charleston, the RiverDogs have a rich history in the city. The city's single-A baseball team has served as a launching point for the careers of bona fide future superstars like last year's home run king Aaron Judge and hall-of-famer Roberto Alomar. Comedy legend and part-time Charleston resident Bill Murray is one of the team's investors and can often be spotted at the Joe (his official title is Director of Fun).
The team has also earned a place in the heart of Charleston residents with its wacky, out-of-the-box promotional nights. One of the most famous was 2002's "Nobody Night" when approximately 2,000 fans showed up to Riley Park to find the stadium gates padlocked. This was all planned, and the fans were treated to a tailgate party nearby as the team sought to set the world record for the lowest attendance ever recorded at a baseball game. Once the attendance became official during the 5th inning, fans were allowed in the park.
This year, the trend will continue in May with King Charlie Coronation Night when team mascot Charlie T. RiverDog will be crowned King of the Joe and other Lowcountry realms. British cuisine and special jerseys with the royal uniform will be featured. The first 1,000 fans though the gates will receive a foam crown.
Another May event will be TP night where fans will receive a single roll of toilet paper after the game and will be encouraged to toss them on the field.
There are still fun promotions to come this season. On July 8, fans will be given a bottle of bubbles at the end of the game for the Bubbles Bash and July 25 will be dog day where fans can bring their four-legged best friends to the park. August 5th will see snow imported to the Joe during the dog days of summer for a snowball fight.
BIO
Josh Shea
Food and Beverage Director for the Charleston RiverDogs
Hometown: Abbeville, SC
Education: 4-year business degree from Clemson and culinary degree from The Culinary Institute of Charleston
Family: Wife Jen and daughter Elloree
Hobbies: Hunting, fishing, going to the beach with family and watching Clemson football
The Suite Life
The RiverDogs made a big addition to Riley Park seven years ago when they built the Segra Club. Shea said the indoor club section provides a comfortable, air-conditioned option for fans who might love baseball but not love Charleston's sweltering summer weather. The club gives fans great views of both the field and sunsets on the Ashley River through floor-to-ceiling windows.
Fans who buy a ticket to the Segra Club get both seats and food and drinks all for one price, unlike major league clubs that make you buy food and drinks in the club after you paid for a ticket simply to access the club. The food options are top-notch.
"If you went to a steakhouse or pasta house in Charleston…we're doing food on that level," Shea said.
The club can be rented out for weddings, corporate events, and other social events. The club has banquet seating for up to 214 guests and on-site parking for 165 cars. There also sofas, armchairs, coffee tables, seven TVs, and WiFi access.